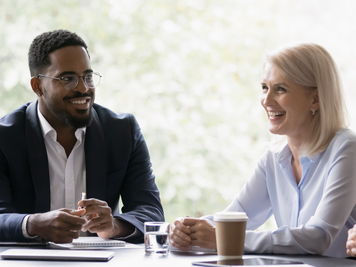 Set yourself apart by earning a Terry College of Business certificate based on current international D&I standards.
Program Information
Dates:
October 4-25, 2023
Program Fees:
$1,250
Contact
Faculty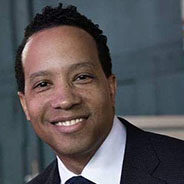 James Felton Keith
CEO and Founder

,

Inclusion Score, Inc.
James Felton Keith is an award-winning engineer, economist, and lecturer at the Terry College of Business. He was the first Black LGBTQ person to run for federal office in the United States when he ran for a U.S. Congressional seat.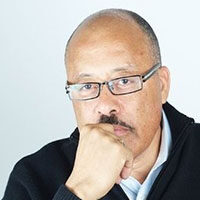 Effenus Henderson
Co-Director

,

Institute for Sustainable Diversity & Inclusion
Effenus Henderson is an internationally recognized global diversity thought leader and has been invited by numerous companies and organizations to share his expertise.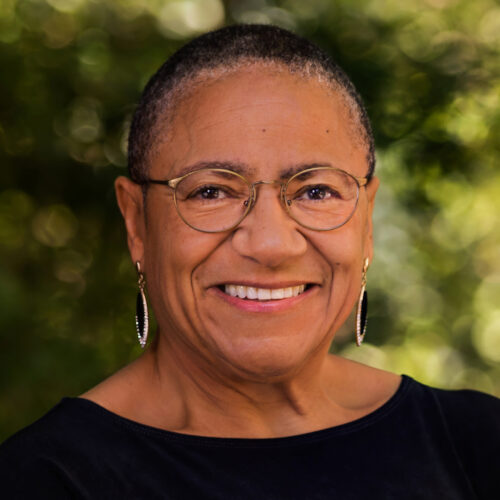 Dawn Bennett-Alexander
Professor Emerita

,

Terry College of Business
Dawn Bennett-Alexander taught at the Terry College of Business from 1988 to 2021. She amassed more than 60 awards and recognitions for teaching and service. Additionally, she co-authored the first and leading textbook Employment Law for Business (McGraw-Hill), which established the discipline in colleges of business and is now in its tenth edition.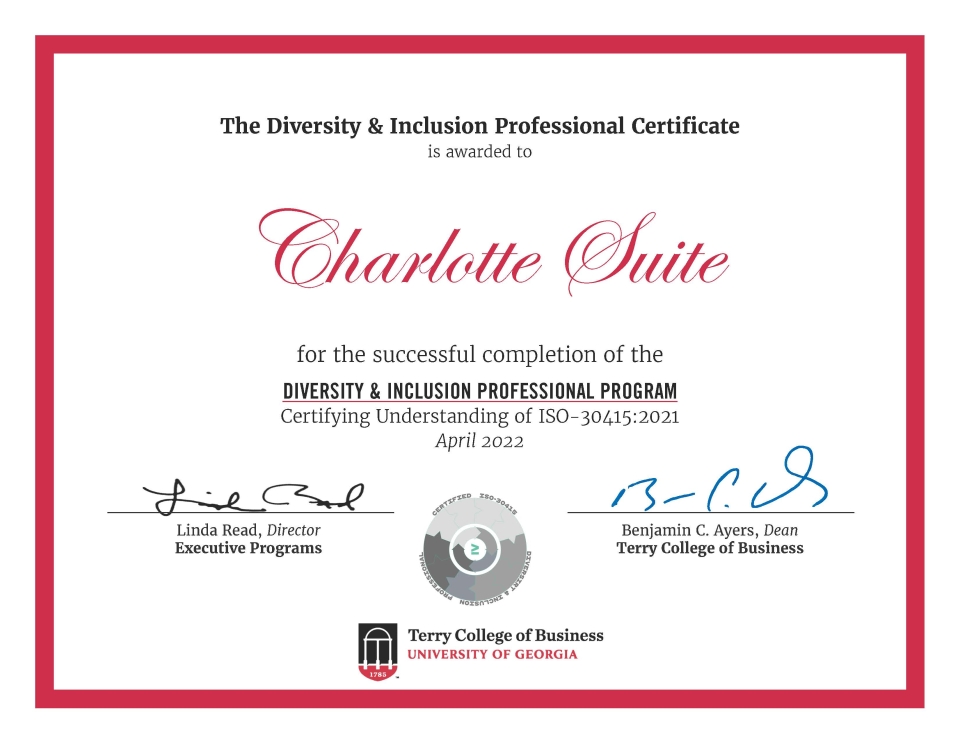 Overview
If you ask ten professionals what Diversity and Inclusion (D&I) means, you may receive ten different answers. Do you fully understand this crucial area? Are you successfully managing its associated risks?
Can your organization measure D&I and identify the business units that will deliver it? The key to these skills is gaining an understanding of ISO-30415:2021 by earning a Diversity & Inclusion Professional Certificate from UGA Executive Education. This program is presented in partnership with Inclusion Score, the operating system for assessing D&I organizational risk.With training from established experts in this area, you'll learn to minimize risk by creating inclusive business processes ─ from hiring practices to communications to supplier diversity. Upon completing the program, you'll receive a certificate verifying your understanding of ISO-30415:2021 and certification by Inclusion Score.
Who Will Benefit
Engaged leaders and managers of others
D&I consultants
Brokers
Product managers
Accountants
Human resource professionals
Executives
Auditors
Procurement professionals
Attorneys
Takeaways
Receive guidance on how to use the D&I Service Management (DISM) lifecycle from award-winning engineer and economist James Felton Keith
Learn about Maturity Models Policy Design with internationally recognized global diversity thought leader Effenus Henderson
Learn how to define the 27 Diversity Types with Dawn Bennett-Alexander, co-author of the first and leading textbook Employment Law for Business
Program Structure
This virtual program introduces the ISO-30415:2021 standard via the D&I Service Management (DISM) lifecycle framework. The program hosts weekly live Q&A sessions with lecturers to demonstrate the Inclusion Maturity Model Integration (IMMI) and use cases across organizational governance, product delivery, human resources and supply chain management.
The program requires asynchronous online work for 2 to 4 hours per week using an Inclusion Score case study. Participation is expected in weekly 90-minute live Zoom sessions from 12 noon EDT to 1:30 p.m.
Orientation Session: Sept 27 ─ Program Overview (30 min.)
Week 1: Oct 4 ─ Understanding the 32 Risk Domains (90 min.)
Week 2: Oct 11 ─ Applying Maturity Models (90 min.)
Week 3: Oct 18 ─ Defining the 27 Diversity Types (90 min.)
Week 4: Oct 25 ─ Supplier Diversity Roundtable and Preparing for Certification Exam (90 min.)
Upon passing the "open book" exam, participants receive an executive certificate from the Terry College of Business. Certificates are issued electronically.
Included Materials
Program materials, including access to the ISO Manual.
Location
Live online program kick-off orientation on Sept 27. Live online Zoom class sessions on Oct 4, Oct 11, Oct 18, and Oct 25.
Testimonials