More and more, good business is global business.
That's why we incorporate an international residency into our Full-Time MBA curriculum. Firsthand international experience will distinguish you, especially for global companies.
International business experience will distinguish you throughout your career. Each spring the Full-Time MBA program offers a three-credit short term trip abroad. As a Georgia MBA student, you will gain invaluable experience working on real-world projects with companies in the destination country while developing essential soft skills, such as adaptability and sensitivity to business processes and cultures outside your native country.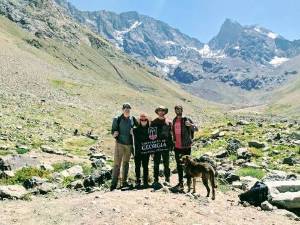 Destinations
Buenos Aires, Cape Town, Costa Rica, Beijing, Lima, Rio de Janeiro, and Santiago are just a few recent destinations of our international residency, which includes team projects with companies in the host country. Students travel during spring break to the selected destination, where they complete work on their projects on-site with their company liaison and make their final presentations to upper-level management. Projects have spanned many industries, such as food and beverages, agribusiness, environmental engineering, and financial technology, among others. The residency is not all work, however; the 10-day itinerary also envelopes you in unique cultural experiences, from historic sites to start-up incubators, recreational exploration, shopping, and culinary adventures.