UGA Summer Launch Program
Teams who competed in the 2023 Summer Launch Program are pictured above (L to R): Hailey's Healthy Hangout, Pool Protection Tech, Buck's Custom Slings, Effingo, & Pioneer Digital.
The UGA Entrepreneurship Program returns with the Summer Launch Program in June 2024. Student businesses will meet weekly at Studio 225 for their Summer Launch meetings (dates TBA).
Demo Day TBA.
Each student business pitches for an additional $5,000. Invite family & friends to join us!
The ideal candidates are teams who went through the UGA Idea Accelerator or any other student team ready to actively launch their business between semesters. This program runs through the end of July. Teams meet once a week to discuss obstacles and how to overcome common problems with experienced entrepreneurs.
Teams receive:
Receive $5,000 in funding over the course of the program to launch your business.
The opportunity to pitch for an additional $5,000 at the end of the program by displaying their hard work, improved business, and revenue generation.
Stay tuned for information on how to apply to join the 2024 Summer Launch Program.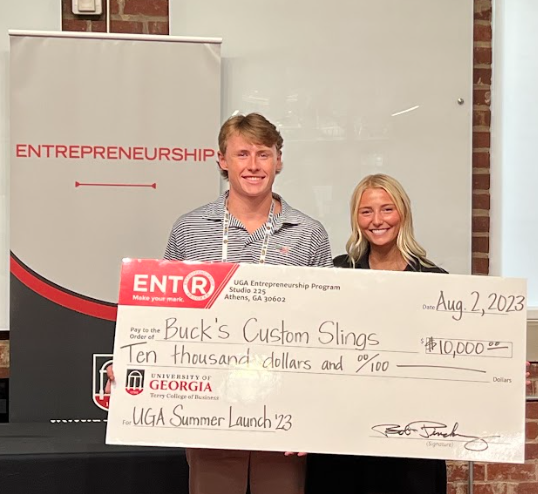 Congratulations to Lee Evans and Maddy Heck, founders of Buck's Custom Slings, winner of $5,000 at Summer Launch 2023 Demo Day.
In partnership with Advanced Technology Development Center.