An Entrepreneurial Living Learning Community in Creswell Hall
Located on the 4th floor of Creswell Hall, The Launch Pad houses up to 40 aspiring entrepreneurs. Students who participate in the Launch Pad Program have roommates from the Entrepreneurship Living Learning Community. Incoming students of all majors interested in one day owning their own business or other enterprise are invited to apply to the community.
Applications for 2023-24 are open!
NOTE: You must be accepted to UGA to apply.
Membership Benefits
Automatic acceptance into the Entrepreneurship Certificate Program (provided the student meets minimum requirements)
Enrollment in the Introduction to Entrepreneurship First-Year Odyssey Seminar (taught by Cali Brutz, Don Chambers, Jim Flannery, or Bob Pinckney)
Complimentary membership in the Athensmade Tech Incubator or another local incubator
Complimentary membership in the Society of Entrepreneurs
Access to a Maker Space within the lobby of Creswell that includes 3-D printer capability, Raspberry Pi support, and other tools for prototyping concepts throughout your undergraduate studies at UGA
Internship opportunities with UGA's Innovation Gateway, Small Business Development Center, and other campus units
For further information or to ask questions, please contact us at ep@uga.edu or call us at (706) 542-9164.
NOTE: There are no extra fees to live in the Launch Pad Living Learning Community
Learn from Guest Speakers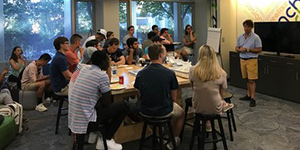 Downing Barber, Founder & CEO of Barberitos and Barberitos Franchising Inc.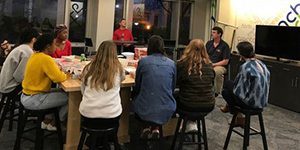 Drew French, Founder of YourPie
Featured Member
Congratulations to former Launch Pad students Kendra Garcia and Darien Smith for winning the Fall 2019 Idea Accelerator with their business EYE DROOL DESIGNS, a company that matches tattoo-seeking customers with customized designs and professional artists to match their style.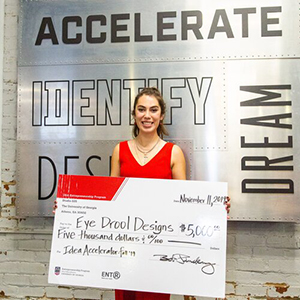 Additional Resources
Accelerator Programs
Other Programs