Applications for the 2024 competition are open!
The UGA Entrepreneurship Program invites you to take part in UGA's Next Top Entrepreneur Pitch Competition on Thursday, April 18, 2024 from 5:00–8:30 p.m. in Studio 225 (225 W. Broad St.) at the University of Georgia in Athens, Georgia.
UGA's Next Top Entrepreneur is open to student startup teams from all over the country. During this live event, teams pitch their existing business plans or business idea in front of a live audience and a panel of judges. At the end of the competition, the 1st place team receives $10,000, 2nd place team receives $5,000, and 3rd place team receives $2,500.
Dates and Deadlines
Competition Day:
Thursday, April 18, 2024
Application Deadline:
Wednesday, March 20, 2024 (midnight EDT)
Finalists Announced:
Wednesday, April 4, 2024
About the Competition
Students from any college or university with a solid business idea, concept, product and/or existing business are invited to pitch in front of a panel of seasoned entrepreneurs for a chance to win top prize of $10,000.
Teams are evaluated on their business model, the validity of their idea, and their ability to execute. Our judges are looking for the business with greatest potential for success.
Teams traveling out of state for the competition are eligible for travel reimbursement of up to $1,500 (not per student).
Startup Team Requirements
Undergraduate and Graduate-level students only.
If a member of the team has graduated, they must have graduated within the past three semesters.
The startup must have less than $1 million in annual sales
There is no limit on the type of business
Only four members of the team may participate in the competition (no exceptions)
How to Apply
In your application, please include:
Business abstract: include in your abstract who is the target market and who is the addressable market
Two-minute pitch video
Statement of revenue for the last 12 months
Additional photos, videos, and/or website links to help your business stand out
Only completed applications are accepted.
The applicant pool is judged by an internal committee. The top ten teams advance to the final round in Athens, Georgia.
The pitch competition takes place in front of a live audience with a panel of judges who have experience in the startup and business world. These judges pick the winning team that walk away with $10,000.
---
Previous Winners
Congratulations to our 2023 winners!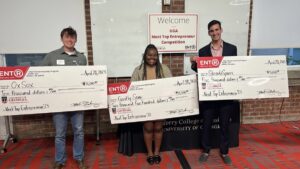 Senior MIS major, Matthew Tesvich from the University of Georgia, took home top prize with his business Ox Sox. Ox Sox neutralizes stinky feet one sock at a time!
Raleigh Dewan from Southern Methodist University took home 2nd place prize of $5,000 with SteadiSpoon, an adaptive utensil for people with Parkinson's disease and essential tremors.
Kristen Dunning from the University of Georgia took home 3rd place of $2,500 with her business Gently Soap, a sensitive skincare line.