Image:
Bitcoin Depot, the largest cryptocurrency ATM operator in the world and led by a Terry College graduate, placed first in the Bulldog 100 ranking of fastest-growing businesses owned or operated by University of Georgia alumni.
Brandon Mintz, who earned his marketing degree at UGA in 2016, is the CEO of the company he founded in the same year. The company operates more than 7,000 ATMs across the United States and Canada and focuses on being the pinnacle of security, convenience and expediency within its industry.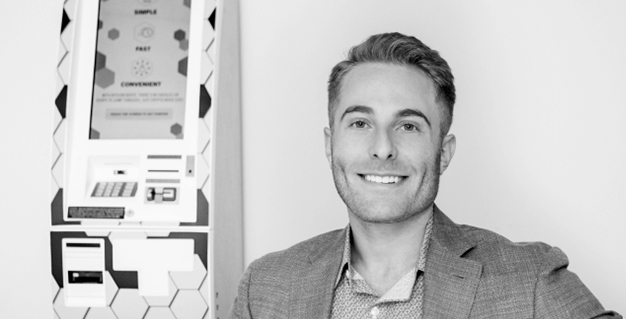 The UGA Alumni Association recognized Mintz during the 14th annual Bulldog 100 Celebration on Feb. 18 in the West End Zone of Sanford Stadium. This year, 53 businesses on the Bulldog 100 list included graduates from all majors in the Terry College, including three in the top 10.
This marks the seventh consecutive year that a business run by a Terry College alum ranked first in the annual list. Following Bitcoin Depot at No. 1, the top 10 featured:
2. Roadie, Marc Gorlin (ABJ '95)
3. Ryals Brothers LLC, Casey Ryals (MBA '22)
4. Glass & Robson LLC, James A. Robson (AB '04)
5. LangScapes Athens LLC, Kerrie Lang (BSFCS '07)
6. BIOLYTE, Jesslyn Rollins (AB '15) and Luther Rollins (BS '76)
7. Rugged Road LLC, Spencer Sutlive (BSFCS '20)
8. enewton Design, Elizabeth Newton (ABJ '99)
9. Personality Matters, Cherry Collier (MS '95, PhD '98)
10. Georgia Insulation LLC, Corey Arnold (BBA '01)
"It's our privilege and honor to recognize these alumni, to connect them even more to the greater Bulldog network, and to celebrate the spirit of innovation that every Bulldog carries," said Meredith Gurley Johnson, executive director of the UGA Alumni Association. "We were thrilled to welcome these Bulldogs back to campus, and we look forward to continuing to celebrate their growing impact in their communities, industries and businesses."
The sixth annual Michael J. Bryan Award was presented to Biren Patel, founder and president of Biren Patel Engineering and a 2012 Georgia MBA graduate. The award, named for the co-founder and managing partner of Vino Venue and Atlanta Wine School who passed away in 2017 after a long battle with cancer, recognizes a returning Bulldog 100 honoree who demonstrates the entrepreneurial spirit and commitment to UGA that was Bryan's hallmark.
The Bulldog 100 companies were ranked, regardless of size, based on their three-year compounded annual growth rates. The Atlanta office of Warren Averett CPAs and Advisors — a Bulldog 100 partner since the program began in 2009 — verifies the information submitted by each company and determines the ranked list. On average, companies in the 2023 Bulldog 100 grew by 50 percent each year from 2020-2022.
Nominations were accepted from August 2021 to August 2022. UGA received 281 nominations for the 2023 Bulldog 100. Each organization must have been in business since 2019, experienced revenues over $100,000 for the calendar year 2020, and be owned or operated by a former UGA student who owns at least half of the company or is the CEO, president or managing partner.
Nominations for the 2024 Bulldog 100 are open through July 31. To view the complete list of 2023 Bulldog 100 businesses, visit alumni.uga.edu/b100. 
Department or Program featured: