Photos by Brian Powers
In the whirlwind of the supply chain, there is no standing still.
To keep from being swept up, there must be constant movement by logistics caretakers: the operations bosses, the technology builders, the data miners, the finance experts and, of course, the higher-education scholars who prime the pump with talent.
After COVID-related disruptions tipped over the global economy in 2020 and 2021, there arose a newfound urgency to keep the supply side push-button functional. In Georgia, a state whose economy is growing at a rapid pace and on a global scale, this need is especially acute.
But where there is a business need, there is a Terry alum — or a whole network of them — ready to step in and lead.
"What the pandemic did was it made some of the supply chain conversations more mainstream," says Paul Bunn, president and COO of Covenant Logistics, one of the largest supply chain firms in the U.S.
"When everybody's getting everything they order on time, supply chain is an afterthought," says Bunn (BBA '01, MAcc '01). "It's not something you see on the news. Now it is."
Logistics leap
Maintaining Georgia's supply chain is especially important considering the state's remarkable growth in the area. Data presented at a sold-out Georgia Logistics Summit in March showed a state skyrocketing to the top of the logistics sphere, with a $23 billion jump in sales impact between 2018 and 2021.
One piece of infrastructure was particularly essential to this growth.
"The pandemic really exposed the crown jewel of transportation in Georgia, which is the Port of Savannah," Bunn says. "They were already ahead of the curve in labor and real estate. They were able to meet the demand better than some ports in other markets."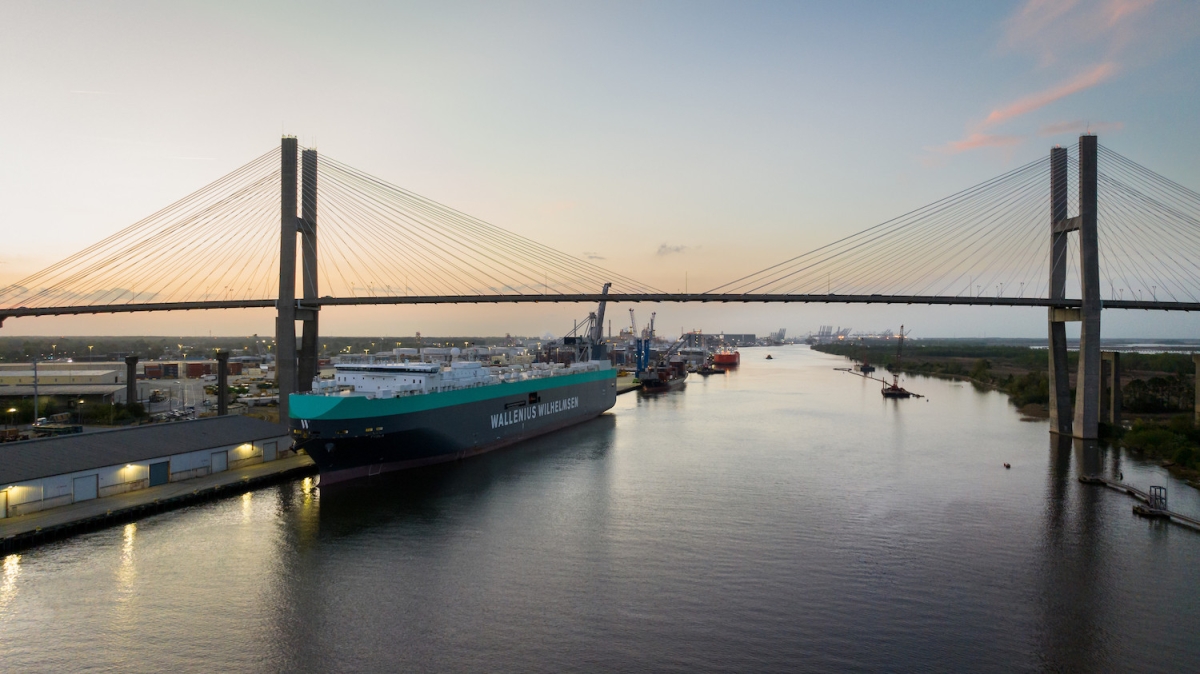 That ability was the product of effective planning, says Ryan MacDonald, the port's grants manager, who previously oversaw strategic operations and planning.
"In our forecasting, we maintain a 20% margin between operating capacity and the maximum capacity of the terminal," explains MacDonald (BBA '95). "That's the safety net. Without this kind of foresight, which is part of our culture, we would no doubt have been buried. It wasn't without a lot of challenging hard work and determination, but (that's) why we were successful during the most trying time in our living history."
Meanwhile, company leaders looked for ways to streamline operations. "The pandemic was kind of like a stress test," says Frank Anderson (BBA '96), president and CEO of Augusta-based RBW Logistics. "We realized the supply chain as a whole was not as healthy as we originally thought."
Students who complete Terry's area of emphasis in operations and supply chain management are well prepared to diagnose problems and prescribe solutions. Marty Parker, a senior management lecturer who oversees Terry's Supply Chain Advisory Board, says his students are bright, energetic and mindful of the role of logistics, and as driven as the trucks rolling down I-75.
"What I tell prospective employers is that all you need to do is just hire one of ours." Parker says. "If you hire one, you're going to want to hire others. Companies are actively recruiting our students, and it has become highly competitive to hire them."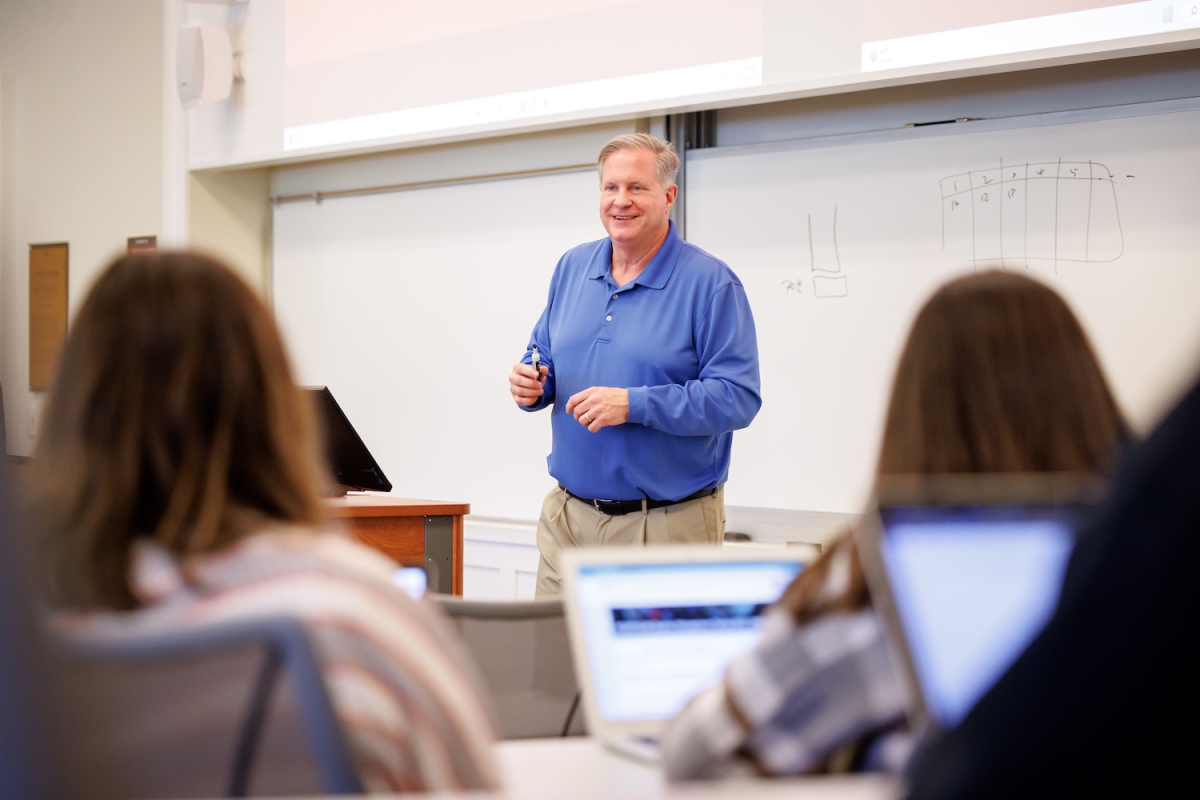 Jobs galore
The Georgia ports in Savannah and Brunswick support more than 500,000 jobs, or one in nine jobs statewide, according to a study by Terry's Selig Center for Economic Growth. In addition, Parker estimates there are between 15,000 and 20,000 specialized logistics jobs in Georgia, and Terry is increasingly known as a workforce dynamo.
Triple Dawg Matt Clark (BBA '92, MAcc '93, MBA '04), a fractional CFO for as many as six supply chain firms, says his accounting degree is "a key skill to know" because he has to understand financial statements and how his decisions impact them.
But a logistics CFO also needs to know, for instance, if the technology a company is buying and implementing will provide a return on the investment.
"We went through that step-by-step with one client, a trucking company, installing some software that will help alleviate or reduce some of its administrative work," says Clark, founder of Atlanta-based Veritas CFO. "It allowed the company to increase billing procedures without adding headcount. That is a key skill of somebody working in finance in the supply chain."
Clark says a logistics CFO, on a basic level, can help a company with planning and analysis and review financials to spot trends and figure out when things are going right, wrong or sideways.
"The job requires you to spot that downward trend and what business decisions need to be made to reverse that trend so that costs are going down and revenues are going up," Clark says. "And then you figure out how to help get the business back on track."
Finance is just one pathway. Supply chain jobs can plug into transportation management systems, warehouse management systems, inventory management systems and the many verticals within trucking.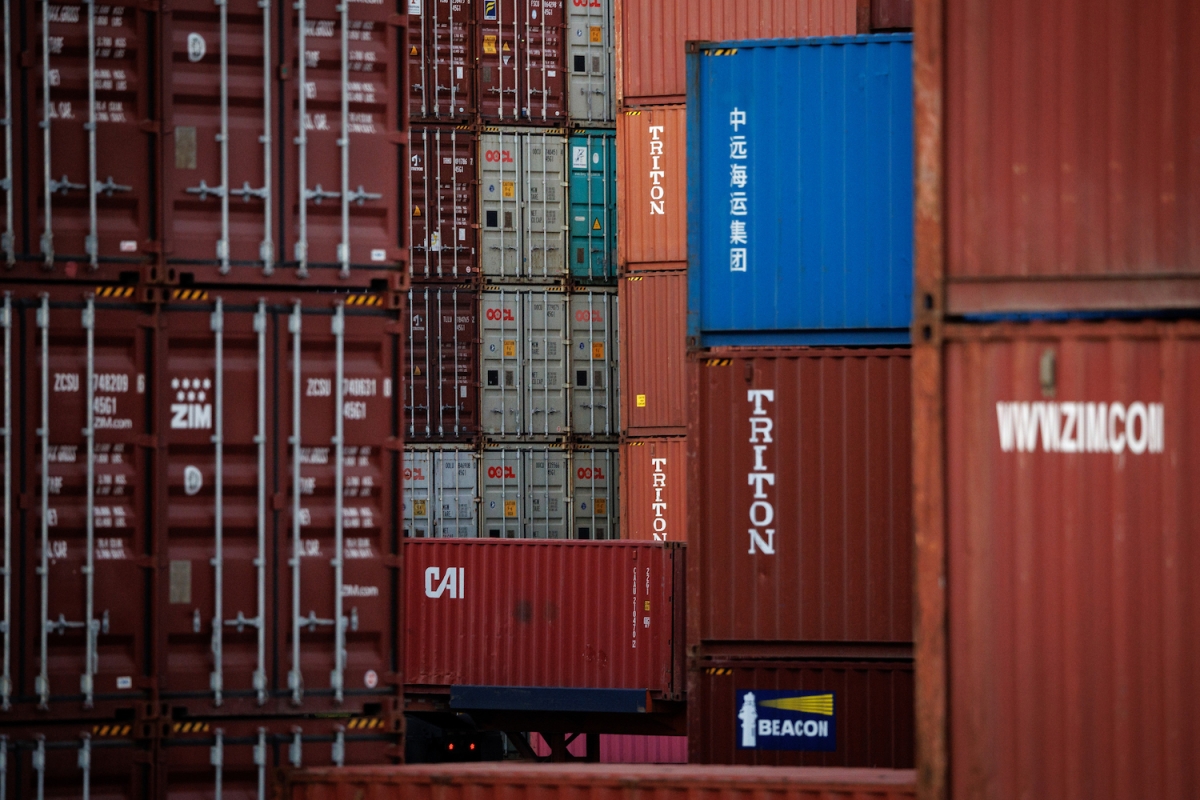 Because of the increased volume of shipments coming in and out of the state, the ports require a steady stream of talent. The Georgia Ports Authority has 1,500 employees and continues to grow, with $4.5 billion invested in expanding and enhancing its facilities over the next decade.
And it's increasingly common for goods to be "transloaded," or transferred from truck to rail or vice versa, which has led to the creation of warehousing and transportation infrastructure throughout the state, including several "inland ports" operated by the GPA.
There is plenty of opportunity in the supply chain for the worker who is "inquisitive of what makes the world go 'round and 'round," says Bunn. "An inquisitiveness and entrepreneurial wisdom combined with a strong work ethic will make it easy to get a job."
Unbroken chain
When COVID hit, the importance of logistics was made painfully clear.
"When everybody else was home, the truck drivers made sure the food got delivered to the store shelves and the toilet paper got to where it needed to be," says Bunn, whose company maintains a national footprint in expedited, dedicated, brokerage and warehousing services.
To maintain an unbroken supply chain, Bunn and other company leaders had to be innovative, nimble and responsive to their employees. As president and CEO of RBW for 27 years, Anderson knows the power of human connection.
"We couldn't take a blanket approach to labor issues," Anderson says. "We really had to make sure we were very much engaged with our team members because, on an individual basis, the pandemic affected each one of them differently."
RBW began in 1954 in an old train depot brokering sugar and chocolate for a local cookie manufacturer. These days RBW works with a large majority of the area's industrial manufacturers, operating nearly 3 million square feet of space in and around Augusta and Savannah, with multiple locations and trucks and 350 employees.
The company's growth stemmed in large part from its willingness to evolve. Anderson says he charges his teammates daily to be adaptable. "What our customers tend to appreciate the most, and what sets us apart, is our flexibility and adaptability to an ever-changing environment," he says. "In our world, nothing ever stays the same."
That, it seems, is the foundation of supply chain success: problem solving.
"We try to keep a very strong focus on anticipating the things that can go wrong — or anticipate that things are going to go wrong — and get ahead of it," Anderson says. "This is the nature of the beast in our industry. You have to be a good problem solver. Otherwise, you're not going to survive."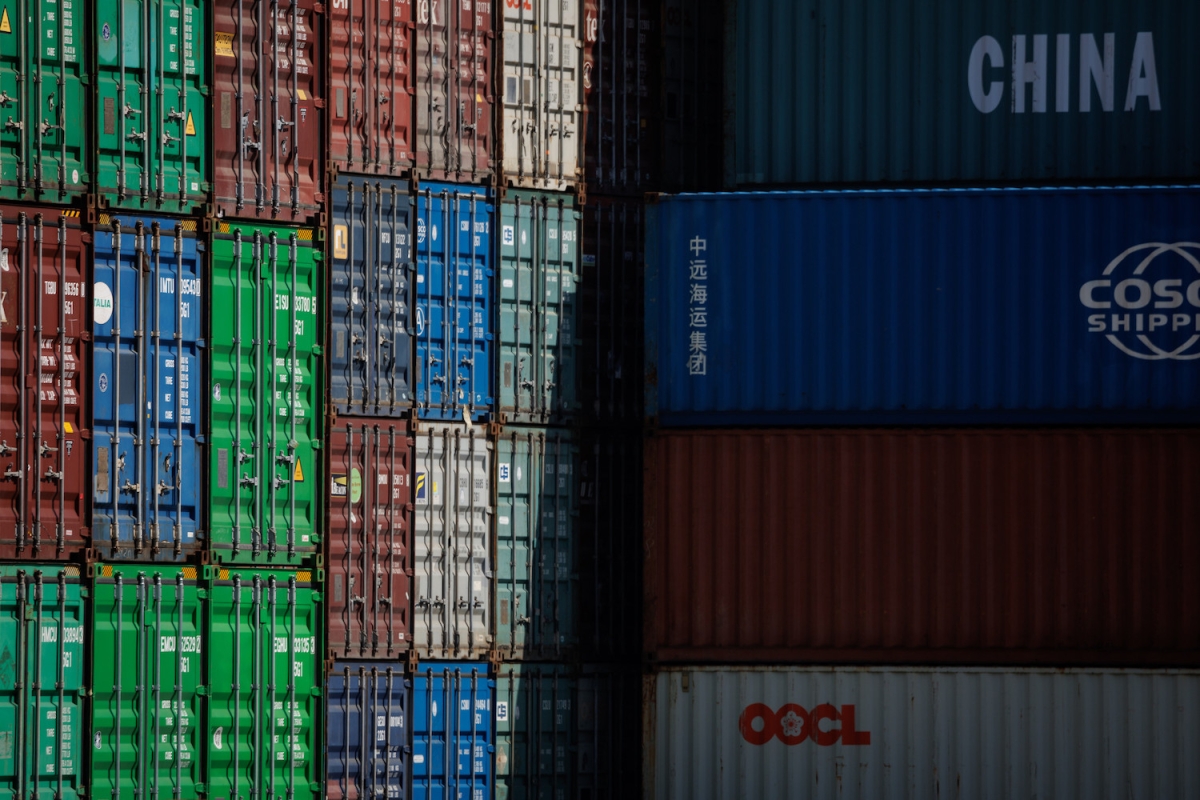 Tomorrow's leaders
Terry supply chain graduates enter the workforce ready to solve problems. Many are in top-shelf internships before they leave college. Jacob McMillan, a fourth-year student from Collins, is gliding right into a position with Zion Solutions Group, a fast-growing full-service supply chain integration group based in Athens.
"Companies want to have access to students at Terry, and I think that's amazing," says McMillan, who serves as vice president of the Supply Chain Advisory Board, a network of industry leaders, faculty and students. "It gives opportunities for students to build connections. We have Home Depot, Georgia-Pacific and King's Hawaiian on our board. A lot of these brands are in Georgia. Terry has these connections, and students are able to capitalize on that."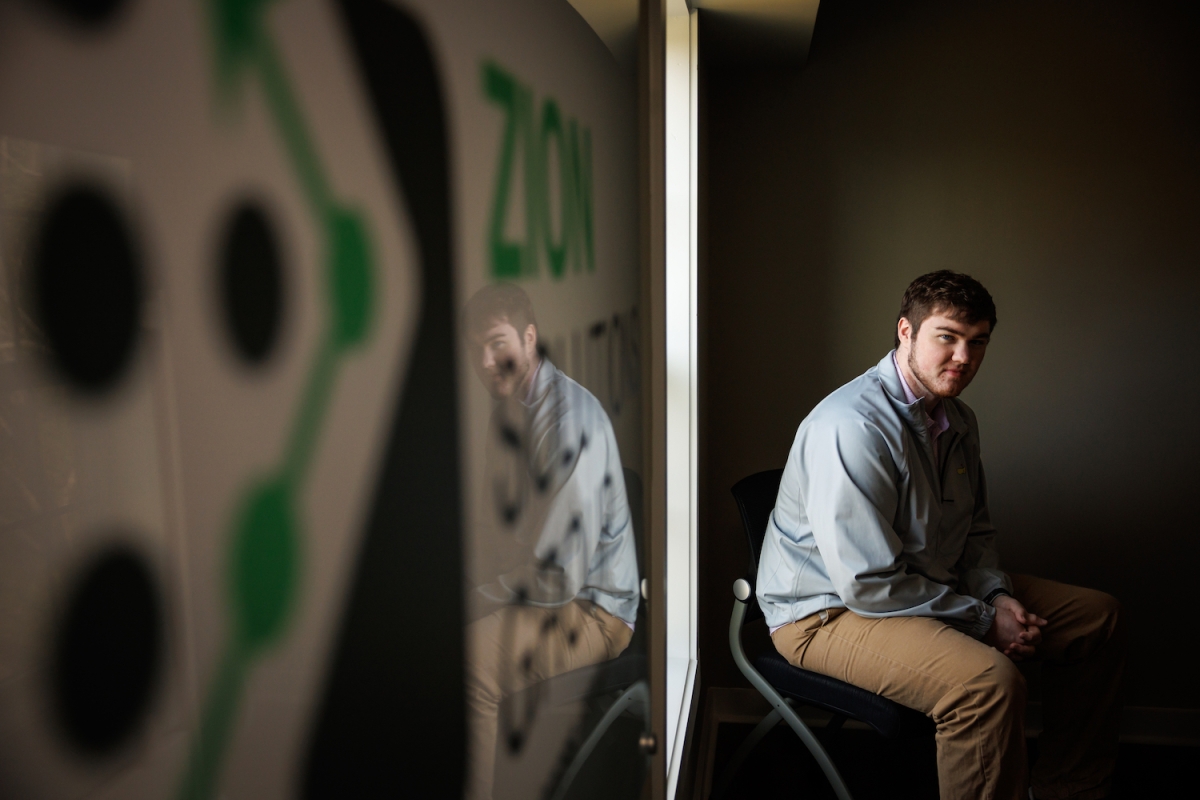 Parker, who in addition to his faculty role at Terry consults as a fractional C-suite executive for TechCXO, says he has hired many Terry grads and is unafraid to put them in front of clients and customers.
"Our students are different in that they're really, really good in leadership skills and working with others," he says. "They have a broad business background from marketing classes, finance classes and leadership classes in organizational behavior."
And a new course ensures students have the technical skills to thrive in an increasingly data-centric sector. "Supply chain roles involving data analytics are becoming more common, and luckily, we are prepared and qualified thanks to the Supply Chain Analytics class," says Supply Chain Advisory Board president Julia Randolph, a fourth-year student from Eatonton.
"I'm going to be working at Target as an inventory analyst, so I'm sure I'll be applying these data analytics skills in my career as well," adds Randolph.
Above all, students benefit from the fact that companies no longer take for granted their supply chain talent.
"When I go to conferences I hear stories that the supply chain used to be that person in the basement, it was kind of pushed to the side — and then COVID hit," says McMillan. "Supply chain got put in the spotlight, and UGA has really capitalized on that and has been able to provide a lot of resources.
"Terry students have high expectations for themselves, and then we go into these work environments and hold ourselves to high standards," he adds. "That's the big thing with this group: the environment that we build in Terry helps us to succeed after we leave."