There's no limit to what a few good dawgs can do when they hunker down and work together.
Leadership Dawgs supported nine Georgia nonprofits over the last 12 months, raising money and helping the organizations build plans and processes to keep making lives better.
"I was very impressed by the dedication and hard work shown by our first class of Leadership Dawgs. To make a lasting impact on these organizations in such a short period, is inspirational," said Laura Little, director of the University of Georgia Institute of Leadership Advancement at Terry College of Business.
Leadership Dawgs was launched in 2022 thanks to a historic donation from Chick-fil-A to UGA's Institute for Leadership Advancement (ILA). Leadership Dawgs helps UGA alumni develop their leadership skills through guided self-reflection, leadership training and volunteer work.
The inaugural cohort of 50 Leadership Dawgs graduated from the program on March 4 at the Terry Executive Education Center in Atlanta.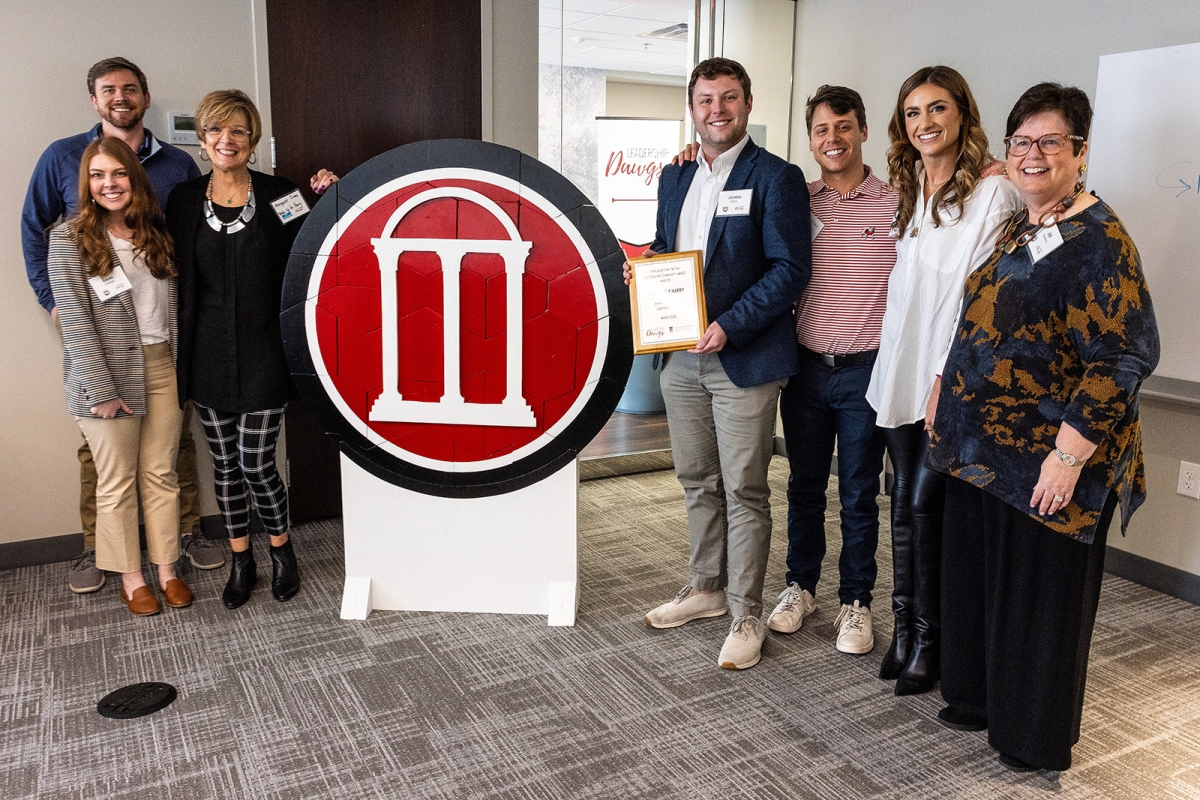 As part of their leadership development, Leadership Dawgs worked with Georgia-based nonprofits to execute Community Impact Projects to practice the leadership skills they learned. Participants helped nonprofits boost awareness and fundraising, and designed business systems to ensure the nonprofits continue to grow after the Leadership Dawgs program ends.
The three most impactful groups were also awarded grants to help fund their nonprofits into the future.
This year's most impactful Community Impact Project grant of $5,000 went to the team working for Heads Up 4 Harry, a nonprofit organization dedicated to promoting and advocating for mental health awareness and resources among adolescents and young adults.
Although the organization made great strides since its founding in 2017, it needed support from Leadership Dawgs to bring it to the next level.
The team, consisting of Alexa Chesser (BBA '20), Jordan Barrs (BBA '16), Kristen Henderson (BBA '11) and Jill Hopkins (MBA '84) (not pictured: Tanta Munthe (BS '20)) was tasked with creating a plan to establish a donor pipeline, crafting streamlined donor communication messages, building framework for future applications and launching an awareness 5K in Athens. At the end of their engagement, the team raised $11,000 for the nonprofit, secured two grants and hosted the first Spark the Conversation 5K road race in the fall of 2022.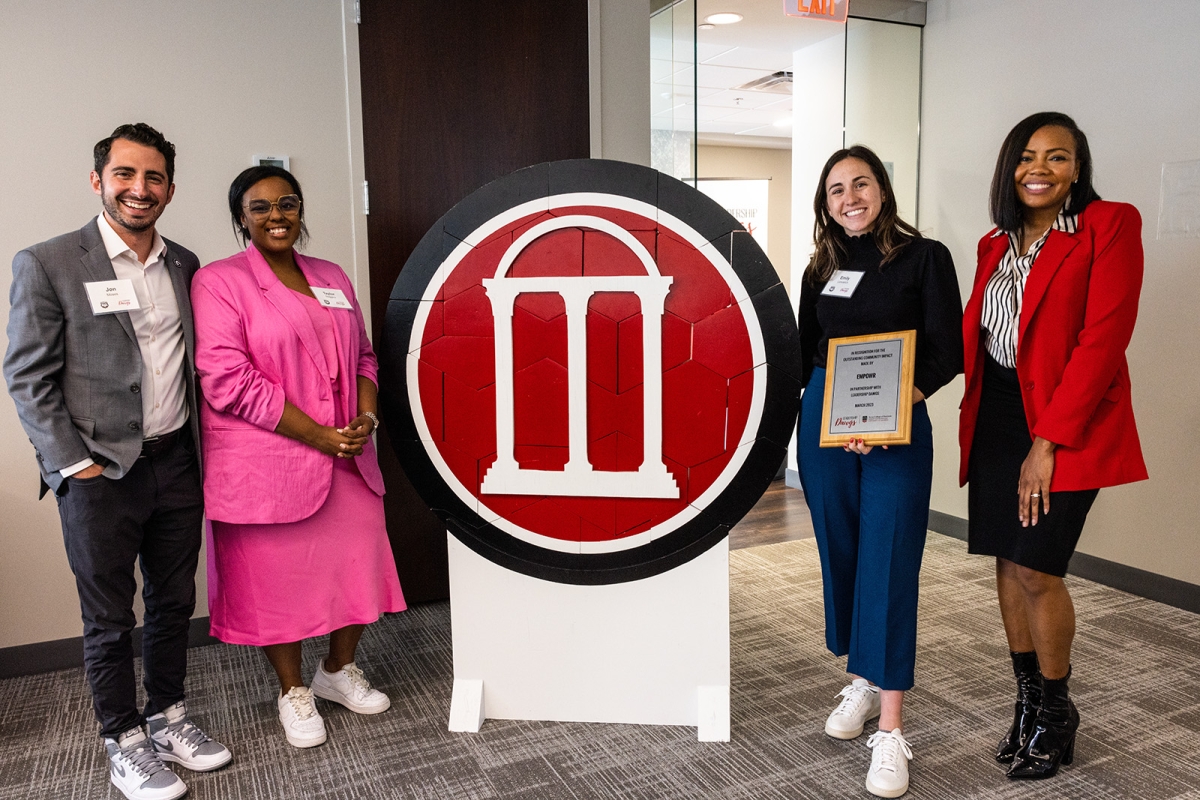 In addition to helping Heads Up 4 Harry, the team created detailed plans and processes so the nonprofit's board can continue future success.
Another team, Jonathan Moses (BBA '18), Taylor Staggers (BSFCS '15), Emily Loncarich (BSME '21) and Elesha Scott (BSEd '14) (not pictured: Tyler Williamson (BBA '11), worked to build the capacity and reach of EMPOWR, a nonprofit uplifting the black community by creating a school-to-career pipeline through teaching software development skills. They received a $3,000 grant to donate to EMPOWR in recognition of their impact.
The third-place team consisted of Betsy Bradfield (ABJ '17), Jenni Cosler (BBA '17), and Joycelyn Bergeron (BBA '92) (not pictured: Isabelle Lee (BBA '21), Jennifer Rost (BBA '12), Kaitlin Miller (BBA '13)).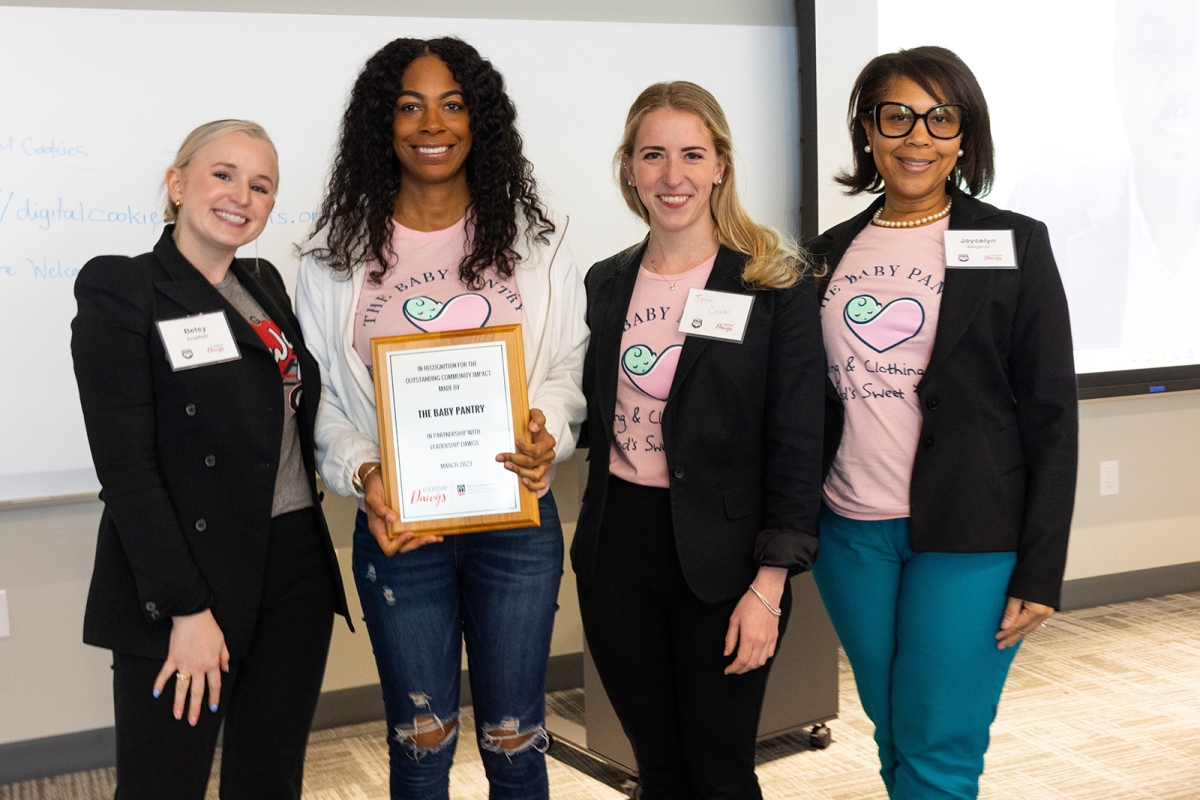 They created a sustainable business plan for The Baby Pantry, an organization dedicated to clothing and feeding at-risk children by providing mothers the necessities for their newborn babies. The team received a $2,000 grant to donate to The Baby Pantry.
As the first class of Leadership Dawgs graduated, the second class began its leadership journey in Atlanta. Participants in the Leadership Dawgs program are selected from nominations by UGA staff and alumni which recognize their leadership abilities. If you or someone you know is interested in growing their leadership abilities, Leadership Dawgs asks you to submit a nomination. The Class of 2025 Leadership Dawgs will be notified of their selection in late 2023.