Getting Started at the Terry College of Business
The State's Flagship Business School
Founded in 1912 as the first business school in the South, the Terry College of Business has a long legacy of educating the nation's next generation of business leaders. To graduate from or to work at Terry is to join a community dedicated to excellence and innovation, as witnessed by the school's top 15 public business school ranking.
Our students can pursue our residential undergraduate program, a wide range of specialized master's degrees, multiple MBA program formats in Athens and Atlanta, and eight different areas of study in our PhD programs. Classes are taught at UGA's campuses in Athens, Griffin, and at the Terry Executive Education Center in Atlanta.
We also take pride in the college's role supporting economic growth throughout the state of Georgia and its role within the university itself, serving as the second largest college.
Your Role in Our Success
Whether you're advising students, building relationships with our alumni, or serving in another capacity at Terry, you play a pivotal part in building the reputation of the Terry College of Business and our collective success. We want to help you start your employment here on sure footing, and that's the purpose of this page.
This page will outline what to expect during your first 30 days as a Terry employee, and it will provide information to help you make the most of your employment. We want you to feel welcome, valued and comfortable in your role.
Your First Month at Terry
Below is a list of required and encouraged activities to ensure a smooth transition. Please complete all items during the timeframes that are listed.
First Day of Employment
First Week of Employment
First Month of Employment
Getting Around Campus
Avoiding Parking Violations
If you are a parking permit holder, remember your permit only grants you access to your assigned lot. Plan ahead if you need to visit other areas of campus. Walking, catching a UGA bus or borrowing your department's DP parking pass are viable options.
Using UGA and Athens-Clarke County (ACC) Buses
UGA offers free bus service on the main campus and to UGA facilities located in neighboring areas of Athens. UGA and the Athens Transit System have an agreement in place for riders who can show a valid UGA ID to ride city buses for free, and the university pays ATS a bulk rate based on ridership. Learn more about UGA transit and ACC transit.
Plan for High-Traffic Periods
Class changes are the peak times for vehicle, bicycle and pedestrian traffic on campus. You'll need more time to get where you are going, both for your commute and on-campus errands. Plan around busy periods by bookmarking the campus's peak times.
Download the UGA App
Whether you're looking for campus information, bus routes or the nearest coffee shop, the UGA Mobile App can come in handy. Find it by searching "UGA" in your phone's app store.
Inside The Business Learning Community (BLC)
Terry's Home in Athens
Comprising six buildings and 300,000 square feet, the Business Learning Community serves as home base of the Terry College of Business. The facility was designed to provide our students a highly collaborative learning environment, with convenient access to advisors and student support staff. Faculty and staff have access to state-of-the-art classrooms, offices, and meeting space. Take a deeper look at the BLC or keep reading below for highlights.
Map of the BLC
Save this image to your phone's camera roll or bookmark it on your desktop to help you get your bearings around the Business Learning Community.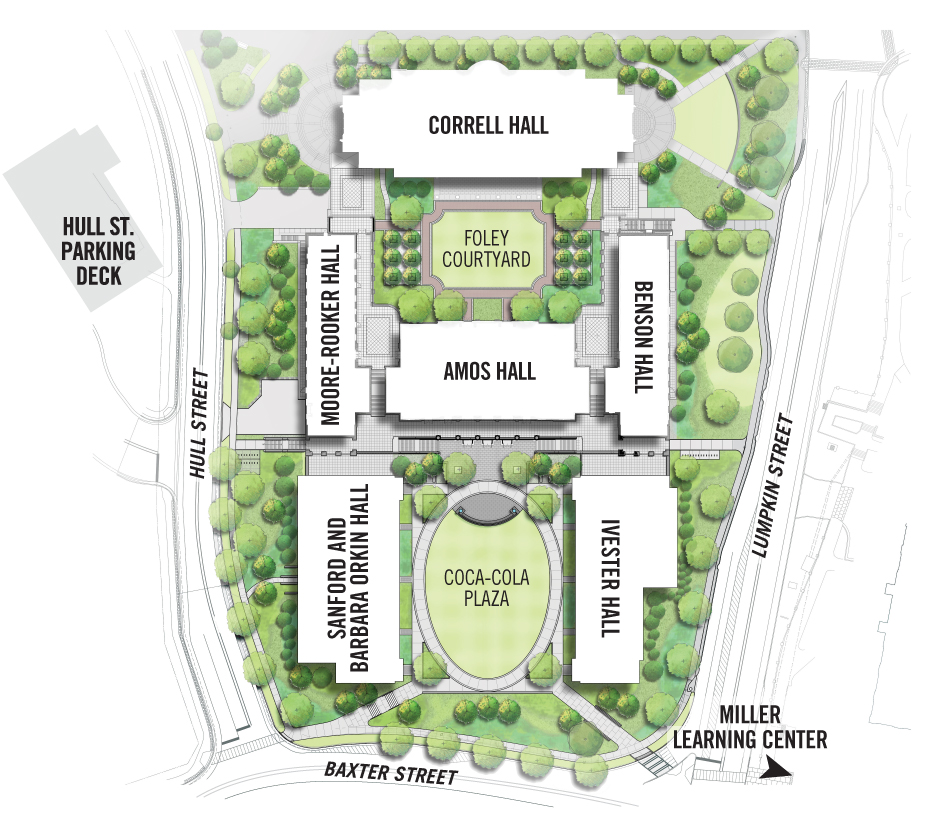 About the Buildings
Correll Hall
Correll Hall features the Dean's Office and the Associate Deans' Offices. It also houses the Full-Time MBA program and Office of Development and Alumni Relations. It was the first building constructed as part of the Business Learning Community.
Amos Hall
In Amos Hall, you will find the Finance and Economics departments on the top two floors. On the first floor, Casey Commons is the hub for students to study and meet each other. Next to Casey Commons is the Rothenberger Cafe, featuring a bakery and coffee shop open during the academic year.
Benson Hall
Benson Hall houses the Management, Marketing, and Management Information Systems departments on the top three floors. The first floor and ground floor are dedicated to classrooms and student study rooms.
Moore-Rooker Hall
Moore-Rooker Hall houses the J.M. Tull School of Accounting and the Department of Insurance, Legal Studies and Real Estate on the top two floors. The Terry Solutions Center for technical support and the Facilities and Logistics Office for mail and other deliveries are located on the first floor. Many special events and meetings are held in Stelling Family Study on the building's second floor.
Sanford and Barbara Orkin Hall
The bottom two floors of Sanford and Barbara Orkin Hall are dedicated to classrooms. The top two floors include interview rooms, a behavioral research lab, advising offices, and Undergraduate Student Services.
Ivester Hall
Ivester Hall houses the college's Business Office, Office of Information Technology, and Office of Marketing and Communications. The bottom two floors are dedicated to classrooms and study spaces.
Reserving a Room
Staff can reserve a meeting room, conference room, or other space as needed. Many meeting spaces can be reserved directly through your UGA Outlook Calendar. You can request other rooms through the Reserve A Space page.
Making the Most of Your Employment
Terry Staff Awards
Terry believes in recognizing those employees who go above and beyond. Twice a year, the college accepts nominations for Outstanding Staff Awards. Winners receive a special award, recognition at a college-wide reception and a cash prize added to their regular paycheck.
Newcomer Award
The Newcomer Award recognizes Terry staff members for outstanding performance during their first two years with the college. Nominees learn quickly and integrate well within their new team, swiftly becoming a valued colleague and/or making an immediate positive impact on a project, office, program, or department.
Achievement Award
The Achievement Award recognizes Terry staff members for outstanding performance in carrying out their assigned responsibilities. Nominations may focus on a specific task or project completed extraordinarily well; innovations that significantly enhance the work environment, increase productivity, or result in cost savings; or sustained performance of the highest caliber over an extended period of time.
Community Building Award
The Community Building Award recognizes Terry staff for outstanding performance in building the Terry College community. These nominees may exhibit an especially cooperative, inter-departmental team spirit; empower other staff to develop their skills and knowledge; maintain a strong, positive attitude over a sustained period of time; or effectively participate in staff governance.
Tuition Assistance Program (TAP)
The University System of Georgia allows benefits-eligible employees who have completed six-months of employment in their positions to enroll in the Tuition Assistance Program (TAP). This allows eligible employees to enroll in up to 9 eligible credit hours per semester with tuition remitted.
Professional Education Portal (PEP) + Linkedin Learning
The Professional Education Portal provides faculty and staff one-off classes and multi-session programs to further their careers. Classes cover a range of topics, from technical skills to leadership lessons, and take place both in-person and online. Speak with your supervisor for guidance on which options can best support your professional growth.
As a UGA employee, you also receive access to LinkedIn Learning, an online educational platform that can help you sharpen your business acumen, technological proficiency and skill set through expert-led course videos.
Supporting UGA Athletics
UGA employees enjoy access to faculty and staff packages for UGA Athletics sporting events. This includes football, men's and women's basketball, gymnastics, baseball and more.
Prioritizing Physical Health
UGA offers a number of convenient ways to get medical checkups and stay fit. Staff can take advantage of the vision clinic, dental clinic, massage therapy, pharmacy and more through the University Health Center.
Staff also have access to two fitness facilities on campus, which include exercise classes, as well as intramural sports. Memberships are required and managed by UGA Recreational Sports.
Stay Mindful of Your Well-Being
The University encourages a culture of mental, physical and financial well-being, with a number of well-being resources to help you maintain healthy and fulfilling lives at work and at home.
On-Campus Dining
Need an afternoon coffee fix? Looking to grab a sandwich on the go? UGA Dining Services operates a number of quick-service restaurants and coffee shops on campus. Staff can also eat at campus dining halls with the option to either pay per visit or purchase a meal plan at a discounted rate.
Giving Back to Terry
Many of us work for Terry, or higher education in general, to further the mission of higher education and provide learning and growth opportunities for the next generation of leaders. Your contributions as an employee help support the university's mission. For those wishing to take their contributions a step further, you can contribute to the Terry Excellence Fund, which helps us provide scholarships and unique learning opportunities for our students. This fund also supplements day-to-day operating expenses and future planning.
A Legacy of Leading
The First Business School in the South
At the Terry College of Business, we take pride in knowing our efforts create new opportunities for our students; opportunities to learn, to grow and to shape the future of business. We were the first business school to be established and accredited in the Southeast, and with that comes generations of corporate leaders, entrepreneurs, and public servants. We strive to make sure our alumni always have a path home while encouraging future classes to forge their own paths forward. To learn more about our history, keep reading here.
Hiring Manager Checklist
As the hiring manager, you set the tone for a new employee's experience at Terry. The checklist below will help you ensure that experience starts smoothly, from arranging the appropriate equipment to organizing their first day on the job.
Two Weeks Out
One Week Out
New Employee Survey
Human Resources is currently developing a new-employee survey, which will be distributed to new employees at the 30-day and 90-day marks. This will help Terry evaluate and improve the onboarding experience in the future.