The University of Georgia Alumni Association honored several Terry College of Business alumni for their demonstrated commitment to the University of Georgia.
The Terry award recipients this year are Neal J. Quirk Sr. (BBA '82, JD '87) and the Paul (BBA '63) and Susan (BSEd '63) Holmes family, which includes more than a half-dozen Terry grads spanning four generations.
"This year's recipients are campus, community and business leaders whose outstanding loyalty and support serve as an inspiration to us all," said Meredith Gurley Johnson, executive director of the Alumni Association. "They embody the best of UGA, and it is our honor to recognize them today."
The alumni association celebrated award winners at the annual Alumni Awards luncheon on April 21 in Athens.
2023 Family of the Year Award
The Holmes family receives the Family of Year Award, presented to a family who demonstrates a history of loyalty to UGA.
The Holmes family, both immediate and extended, has been a fixture at UGA for nearly a century, with four generations of alumni and a commitment to serving others in Athens and beyond.
John Paul Holmes Jr. built his name on the gridiron as a three-year letterman at UGA before graduating in 1963 and playing for the NFL's Dallas Cowboys and Denver Broncos. Susan graduated with a bachelor's degree in 1963. The two married in 1962, drawing from their experiences and education at UGA to fuel their professional and civic endeavors.
Paul served as the chairman of the Georgia Chamber of Commerce and was chair of the Technical College System of Georgia. Susan found her calling in public service, serving as mayor of Monticello and a member of the Georgia House of Representatives for 24 years. As mayor, she worked with members of UGA's Carl Vinson Institute of Government to help her town receive assistance with business development, historic preservation, leadership classes, environmental design and more.
Susan and Paul's three children — John Paul III (BBA '85), Sam (BBA '87) and their late daughter, Cammie (BSEd '90) — all found a home at UGA. In 1986, John Paul III married fellow UGA graduate Lou Sims Holmes (BBA '84). Sam (BBA '87) was named president of the Interfraternity Council during his time on campus. After graduating, he married Lara Horne Holmes (BBA '88) and later served as chair of the UGA Foundation and UGA Real Estate Foundation. Sam is a member of the University Systems of Georgia Board of Regents and the UGA Athletic Association Board.
The fourth generation of the Holmes family made its way to UGA with five of Susan and Paul's grandchildren either completing or pursuing degrees at the University: John Paul IV (BBA '12), who married fellow graduate Katie McShan Holmes (BBA '12); Sims (BBA '14); Sam Jr. (BBA '19), who married another Elizabeth Bowers Holmes (AB '17); Susan Weiss Holmes (BBA '18); and Shorter Hill McCook, who is a first-year student at UGA.
2023 Alumni Merit Award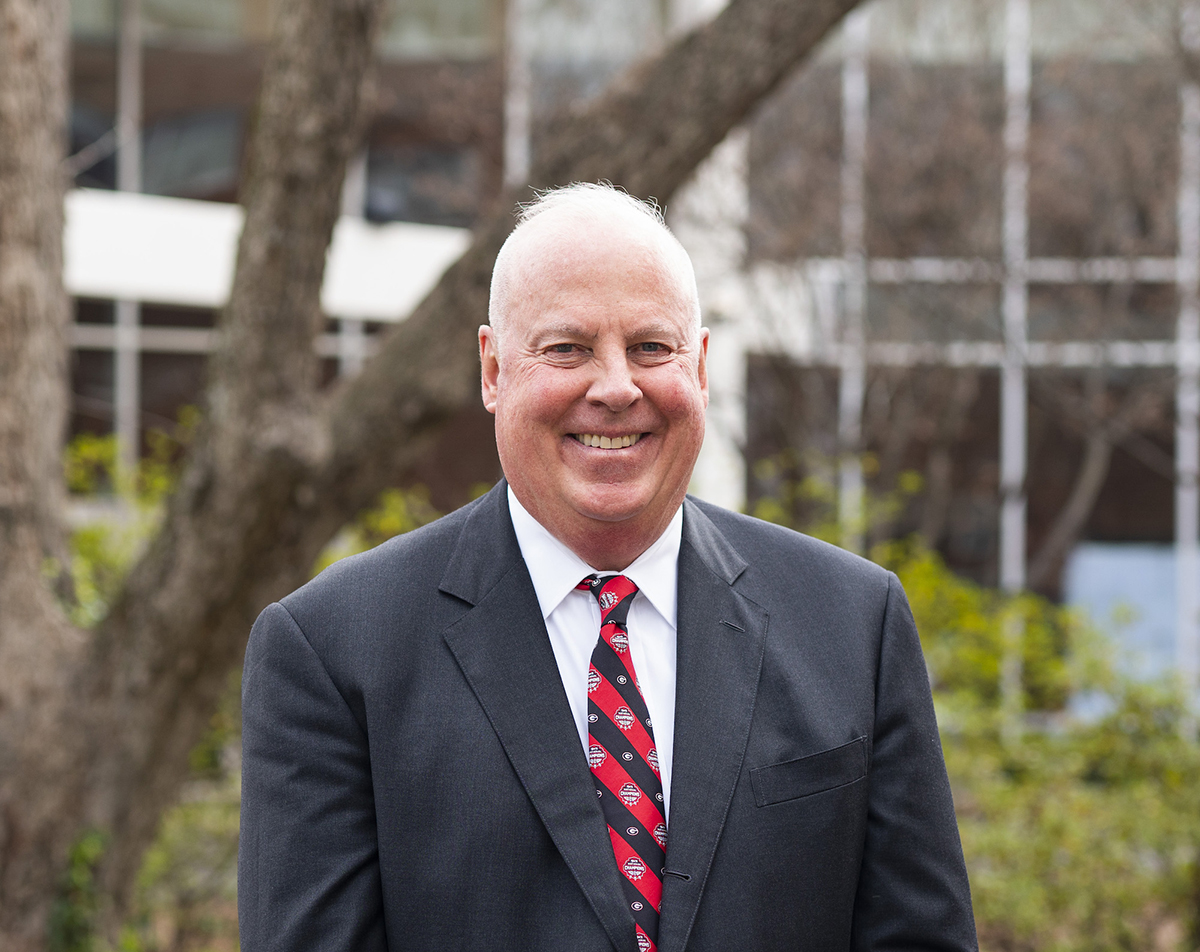 The Alumni Merit Award, UGA's oldest and highest honor, was presented to Neal J. Quirk Sr.
Quirk is a partner and member of Quirk & Quirk LLC a legal firm serving clients throughout Georgia. A registered mediator and arbitrator, Quirk holds an AV Preeminent rating—the highest rating available for legal ability and ethical standards for attorneys—based on peer review and serves as a Special Master on case appointments.
In 2012, Quirk was elected to the board of trustees of the University of Georgia Foundation, where he now serves as chairman. UGA achieved its largest and most successful fundraising year in history during his tenure in this role. Quirk has been a steadfast supporter of the university's Jere W. Morehead Honors College, serving on the advisory board for 12 years. In 2008, he received the Jere W. Morehead Award in recognition of his commitment to Honors students, and in 2018, he received the Blue Key Honor Society Award for his extraordinary contributions to UGA.
Quirk graduated from UGA with a Bachelor of Business Administration in finance in 1982. Five years later, he earned his Juris Doctor from the UGA School of Law. He and his wife Lib have four children, Neal Quirk Jr., John (BBA '16) Elizabeth (MS '20) and Joseph (MBA '22).
The other alumni honored this year include:
• Sonny Perdue, Alumni Merit Award
• Joe and Ann Frierson, Alumni Merit Award
• Paige Carmichael, Faculty Service Award
• Jack and Nancy Fontaine Family, Friend of UGA Award
• Allison Schmitt, Young Alumni Award
To learn more about these awards and past honorees, visit here.