You can't miss it heading down Interstate 16 toward Savannah.
Staggering in scale, it comes into view slowly: nearly 2,000 acres, flat and seemingly endless, barren but for the occasional bit of heavy machinery. It could be the film set for a post-apocalyptic thriller (Mad Max: Bryan County, perhaps?). Instead, it's the future site of the Hyundai Metaplant, a massive electric vehicle factory set to begin operating as soon as 2024.
A group of 13 Terry College of Business undergraduates saw firsthand how the project came together during Global Georgia, a spring break field study administered by the college's International Business Programs office. Students traveled the state visiting Kia, Coca-Cola and Synovus, among other companies, and learning from civic and government leaders about how Georgia does business with the rest of the world.
The program pairs off-campus learning with a crash course in global business, says Terry legal studies lecturer Jason Epstein, who led this year's trip. "International business occurs everywhere," he says. "There's a common misbelief that you have to go abroad, but there's tons of international business being done every day in Georgia."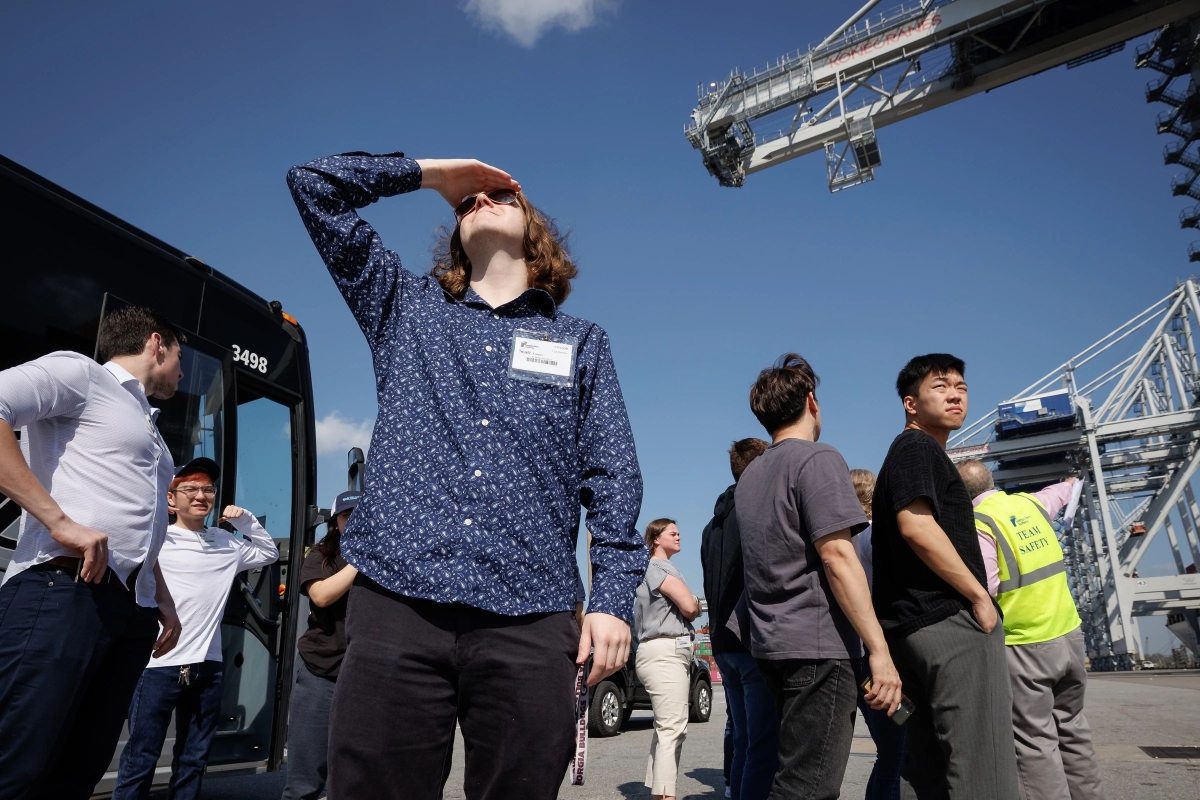 In a conference room overlooking verdant Forsyth Park, the Global Georgia group hears from World Trade Center Savannah vice president Leigh Ryan and Jennifer Collins of the Savannah Economic Development Authority about how Georgia paired aggressive tax incentives with a growing international reputation to beat out neighboring states in landing the Hyundai facility.
The largest economic development project in state history — touted by Gov. Brian Kemp as "transformational" — the Metaplant broke ground last fall and is positioned to generate more than $5.5 billion in investment from Hyundai and its suppliers and create approximately 8,000 jobs. The South Korean company expects to produce upward of 300,000 EVs each year at the southeast Georgia hub.
For business majors, interacting with those directly involved in such efforts can be motivating, says Epstein. "Students are hearing about these big projects. They know something about Kia, they know something about SK Battery, they may have heard of the Hyundai project. Going out and hearing from people who are making that happen, I think, is very exciting for the students. It gives them a charge of energy."
Now in its third year, Global Georgia arose as a convenient study away alternative with the goal of exposing more undergraduate students to international business fundamentals. Participants earn experiential learning and international immersion credits along with credit hours toward their degrees.
"Global Georgia accomplishes multiple goals," says Jennifer Chapman, Terry's director of international programs. "It highlights the importance of the state to the global economy as well as the diversity of businesses in Georgia. And it offers students a study away option that is more accessible from a time and financial perspective, while ensuring they can translate what they learn in the classroom to real-world business scenarios."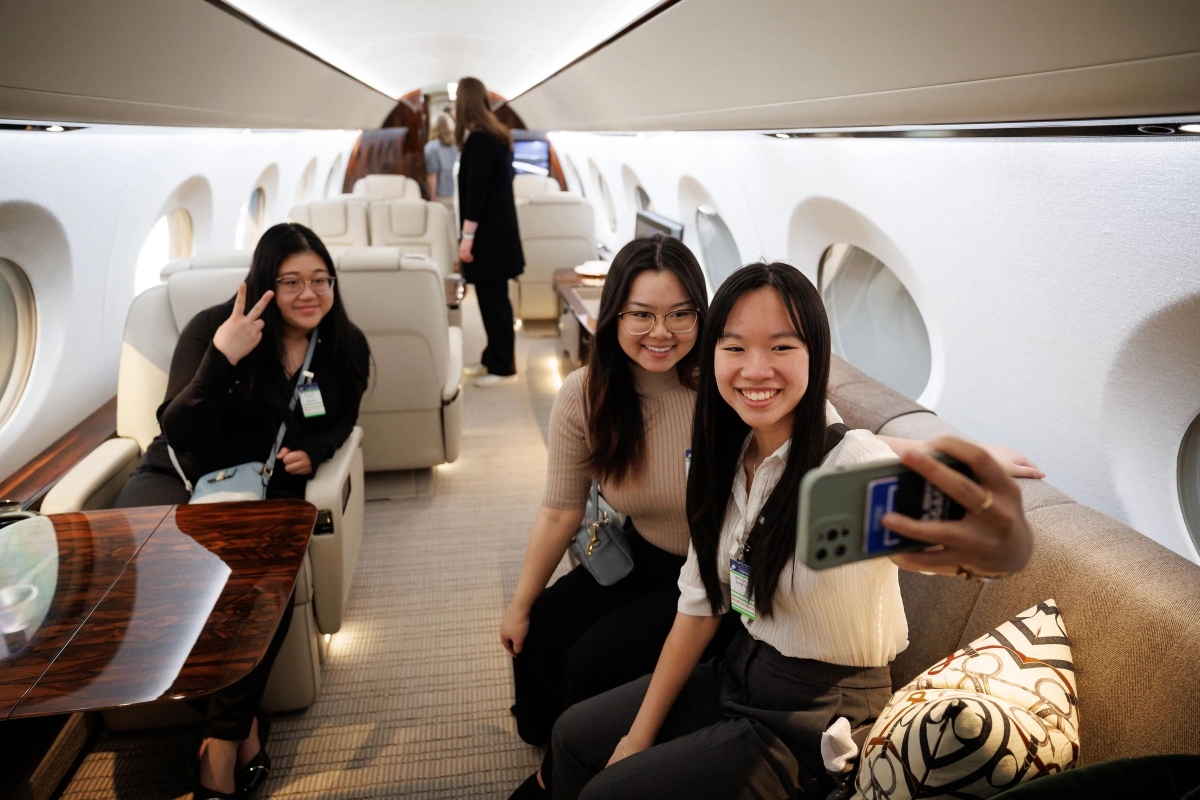 For third-year management information systems major Anh Nguyen, the program was eye-opening. "There is a lot of thought that goes into international business, (particularly) how much consideration you must put into where and how you expand internationally to reduce risks," says Nguyen.
It's also wide-ranging, providing students with an overview of many aspects of international business, including legislative, trade and investment issues, while allowing them to network with C-suite executives and other company leaders.
"Most of the students are from Georgia or potentially will end up working in Georgia," says program coordinator Kathleen Meehan. "It gives them a way to connect with people from companies big and small that are doing international business within the state."
This year's road trip provides distinct opportunities to learn and connect. At Gulfstream Aerospace, the group hears a marketing presentation, tours a service hangar and gets a rare peek into the company's research and development lab. In a luxe showroom, the students board decked-out models of the company's newest jets.
Assembling in the marbled rotunda of the state Capitol, the students sit in on a legislative session and gather with Athens Rep. Houston Gaines (AB '17) to discuss bills being debated by lawmakers, including one written to accommodate the rise in ground freight by increasing the trucking weight limit on state highways.
During a stopover at UGA's coastal Marine Extension and Georgia Sea Grant, hatchery manager Justin Manley shows off his elaborate oyster seeding operation. From a floating dock on the crystalline Skidaway River, Manley explains how the university's Shellfish Research Laboratory is helping to sustainably support the state's re-emerging aquaculture industry.
A few miles upriver, research analyst Taylor Worley (AB '05, MPA '21) details the intricate process that ensures goods flow seamlessly into and out of the Port of Savannah. The third-busiest container port in the U.S., the facility saw rapid expansion over the past decade, with Georgia ports accounting for 11% of total employment, or one out of nine jobs statewide, according to a study from Terry's Selig Center for Economic Growth.
It's one thing to hear such statistics; it's another to witness them in action. On a sun-soaked morning, the Global Georgia bus glides through the port's Ocean Terminal, where the scene is one of highly controlled chaos. Cranes tower over rows of containers stacked five- and six-high. Machines load boxes onto freight cars as tractor-trailers perform balletic maneuvers on all sides.
When the bus reaches the river's edge, the students hop off. Standing in the shadows of mammoth container ships, they snap selfies and marvel at the spectacle. As other spring breakers soak up the sun on nearby Tybee Island, the Terry travelers soak in the sights and sounds of global commerce.
Reflecting on this year's program, Chapman says it's only the tip of the iceberg for her office's ambitions. "We are really trying to make study away as available as possible to every Terry student," she says. "Programs like this are a great way to do that, and the more support we get, the more students we can provide these opportunities."