Image:
In 1922, when Anne Ruth Moore walked out of the University of Georgia with her bachelor of science degree, the world must have felt in full bloom.
World War I was over. The Spanish Flu pandemic had passed. The '20s had begun to roar.
What wasn't possible?
"Annie Ruth," as friends pronounced her name, was humble by nature, but she had earned the right to feel proud. After transferring to UGA for her junior and senior years from Agnes Scott College in Decatur, Anne Ruth held the distinction of being the first woman to graduate from UGA's business school, then known as the School of Commerce.
She savored the academic encouragement she'd received from Dr. Robert Brooks, dean of the School of Commerce. She would remember Brooks all her life, often telling her children the difference he made in her life.
The 21-year-old also thrilled to memories of her Phi Mu sisters, charter members of UGA's first sorority. She held dear UGA social events with the Thalian Dramatic Club, Zodiac Club, Pioneer Club and YWCA Cabinet. She had aced business classes — proof lay in her 1922 UGA yearbook entry:
It is a distinct surprise to the stranger to hear Anne Ruth talk about stocks and bonds, insurance, and Wall Street transactions, until he realizes her unlimited knowledge of such subjects…
Anne Ruth's daughter, Anne Elizabeth Schildwachter, 82, admired her mother's pluck.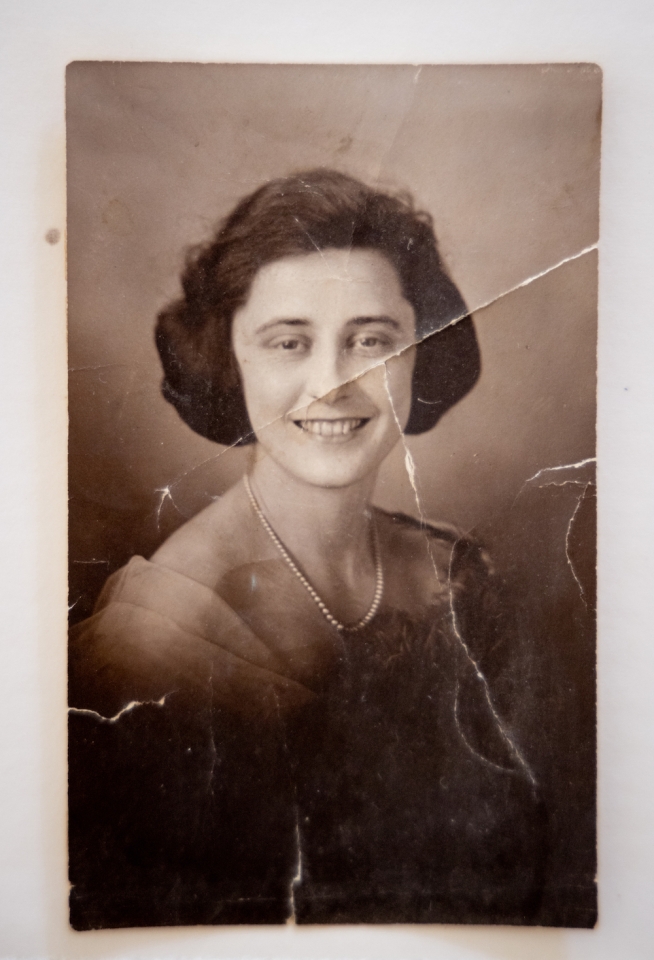 "Mama's can-do spirit, courage and problem-solving skill in the face of challenges was evident from her early years," Anne Elizabeth says.
"When her brother hid the pony's saddle, she simply rode down the street bareback. At UGA, she visited a friend across town at the State Normal School one weekend. She enjoyed a fun Saturday night party but was distressed by a Sunday afternoon quiet rest-period rule. She solved her problem by climbing out a window and riding back to UGA on a streetcar."
Always vivacious, Anne Ruth was able to best any obstacles in her educational and life journey. With degree in hand, she was positioned to be exemplary at whatever she chose.
And because of the trail she blazed, those who followed her through the doors of Terry College could also freely aspire to be anything they chose to be.
Lisa Garrett Laube (BBA '85) became president of Floor & Décor in 2020.
Laube blazed trails too, rising in retail from a post-grad start at Rich's department stores to Macy's, Linens 'n Things, Bath and Body Works, Party City and then a company with a market cap of $8.5 billion.
"I didn't arrive at Terry knowing what I wanted to do," Laube admits. "Careers are not always a straight line. There are twists and turns. You learn how to navigate to your advantage.
"Your character is already defined when you get to college. But the traits you develop at a place like Terry — confidence, self-discipline, creativity, flexibility — are the things you learn when you start governing yourself and meeting people and doing things you've never done before.
"That's what my four years at Terry did for me. They taught me the skills to be successful in my career and in my life."
It wasn't named the Terry College of Business when Laube attended, but it would be soon after. In 1990, C. Herman Terry and his wife Mary Virginia gave the UGA business school $6 million — at the time the largest individual gift in university history — to support faculty, scholarships, research and facilities. Following Mr. Terry's death in 1998, Mary Virginia remained dedicated to the college. She received the Dean's Distinguished Service Award in 2008 and established the Mary Virginia Terry Student Support Fund in 2013.
A major supporter of education, children's charities and the arts, Mary Virginia was awarded an Honorary Doctorate of Humane Letters by UGA in 2009, the highest recognition the university bestows.
Like Laube, Rachel Perry (BBA '93) found a calling at Terry. Perry works today as the Atlanta Market Leader for Aon, a global professional services firm managing commercial risk, health and wealth solutions.
And like Anne Ruth, Perry met the right Terry leader at the right time.
"Dr. Sandra Gustavson ran the risk management and insurance department," Perry remembers. "I was young, the first in my family to go and graduate from college, vaguely planning to be a businessperson. Dr. Gustavson was really instrumental in helping me believe I could have a career.
"Some people just decide to be your advocate. Dr. Gustavson introduced me to the Minority Honors Insurance program. I had no idea what it was, but she helped me apply and get an internship in New York City that started my whole career."
Between demanding hours at Aon, Perry serves on the Terry Alumni Board, generously giving back to the college — especially its women and diverse students — in the same spirit as Dr. Gustavson.
She's active with Sea Island Scholars, a retreat spun out of the Terry Women's Initiative. The program lets promising female students share time with accomplished mentors during a bonding weekend on Georgia's coast.
"It's just one way Terry is supporting women, making strides," Perry says.
Perry feels Terry support goes deeper than class assignments.
"Terry taught me how to problem-solve complex issues," she says. "I was a very good high school student in Macon, Georgia, because I could memorize well. Then a couple of Terry classes almost broke me — I couldn't pass by memorizing material and passing a test. I had to develop a true application mindset. I had to learn how to think about a problem, all its aspects, and learn how to apply a solution.
"At Aon, I'm faced constantly with complex issues. I have to be able to critically think. That skill comes straight out of my Terry experience."
Anne Ruth Moore took her Terry training out into the world — solo. She lived in Hattiesburg, Miss., and Cartersville, teaching Spanish and Latin in schools. Four years after graduation, she found herself back in Athens, working for the university as associate editor of the UGA Alumni Record.
One afternoon, she took a stroll near campus. She met a young man walking a collie dog. Her heart quickened — she had always loved her collie pets back home in Decatur.
Thomas Crawford, the young Pi Kappa Phi with the dog, may also have had something to do with the palpitations.
"Mama petted the puppy and later married its owner in 1926," says Anne Elizabeth.
Their first child, Thomas Jr., was born in Atlanta in 1933. A second, William, arrived in Covington in 1937. Anne Elizabeth followed in 1939, the family newly settled in Watkinsville, a dozen miles from Athens.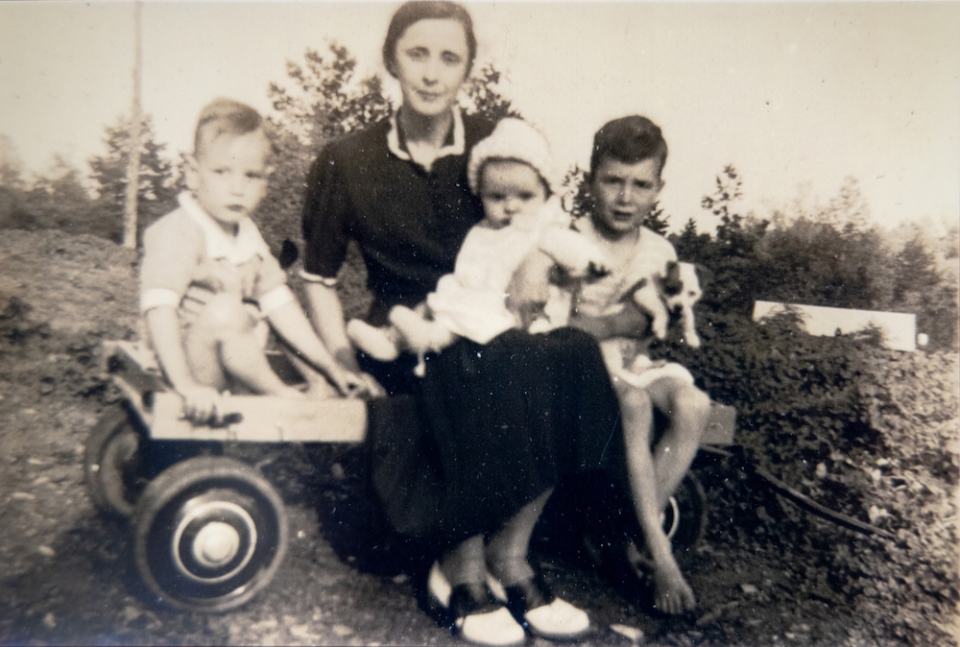 Those were lean years. Not even a Terry education saved Anne Ruth and her family from the crash of  '29.
"Mama faced many challenges in those years," says Anne Elizabeth, who lives on the Watkinsville family place. "She never put all her money in just one bank again."
The Crawfords ran a small grocery store beside their dirt road, selling canned foods, soft drinks, snuff and other goods. The shelves held corn meal from the water-powered grist mill Thomas owned and operated. (It attracted him to the Watkinsville property in the first place.) Community farmers brought their corn in mule-drawn wagons to be milled. Terry training paid off; Anne Ruth became a store-keeper, in addition to her domestic duties.
She also served as Sunday School superintendent at Johnson Methodist Church, supporting operations for a congregation that only had a preacher twice a month.
Terry training helped with the Lord's work too.
"Every Sunday after dinner," Anne Elizabeth remembers, "Mama sat at the kitchen table and made out financial reports for the church."
Watkinsville life was basic. No running water. No electricity, at first. When it came, Anne Ruth, with a 6-year-old, a 2-year-old and infant Anne Elizabeth, could plug in a refrigerator.
"Mama was 38 years old when I was born," recalls Anne Elizabeth. "I grew up seeing her, a city-bred woman accustomed to household conveniences and public transportation, take on the hard physical labor and isolation of a rural life.
"She cooked on a wood-burning stove. She washed clothes using a washboard in a tin tub. She learned to can vegetables Daddy grew. Like our neighbors, we used an outhouse. Ours looked no better than theirs, but Mama referred to ours as 'the garden house.'"
At Thanksgiving, the family carved a rabbit.
Things got harder still. In 1944, 11-year-old Thomas Jr. was riding a bicycle in Watkinsville. A car struck him. Witnesses to the accident drove Anne Ruth to the hospital, where she held her son's hand as he died.
"I was four years old," remembers Anne Elizabeth. "I asked Mama, 'Why did God let Tommy die?'
"She solidified my faith with her response. She said, 'God needed him in Heaven more than we do here.'"
In 1970, Margaret Vaughn (BBA '70) became the first Black woman to earn a Terry College degree.
The power of a Terry degree showed immediately. Vaughn interviewed with Big 8 firms and received offers from Exxon, Bausch & Lomb, General Electric and other corporations, along with several major U.S. banks and many governmental agencies, including NASA, the Department of Labor and the Department of Housing and Urban Development.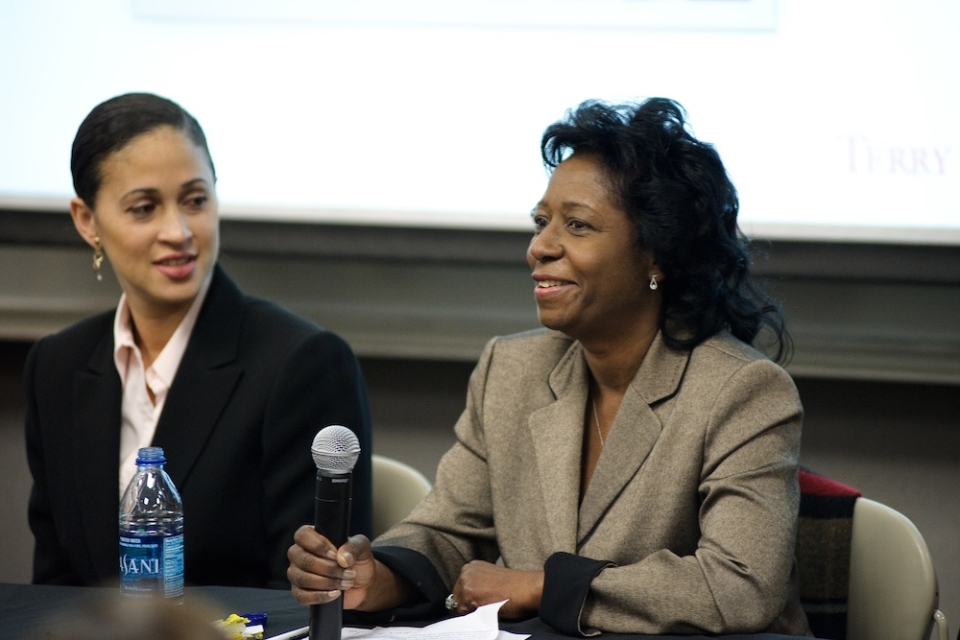 She chose the Department of the Treasury since its job opportunities allowed her to remain in Georgia. As an appeals officer, Vaughn says she "negotiated settlement conferences in cases between the Internal Revenue Service and taxpayers with the most complex tax issues and largest deficiencies."  
When she entered Terry in 1966, there were only 100 African American CPAs in the United States. She became one of the earliest licensed Black and female CPAs.
"I was the only African American and one of only two females in my first tax training class. I was one of only two or three African Americans … and the only African American female … employed as an IRS field agent in Georgia. I remember being one of only two African Americans in the swearing-in ceremony when I became a certified public accountant.
"So not only did my UGA experience provide me the technical knowledge to become an expert in my field," she says, "it also fully prepared me for the real-world environment in which I would have to work."
The world loves a story like Mai-Lise Nguyen's (BBA '05).
"I am a proud child of Vietnamese refugee parents," she says. "They instilled deep values of education and hard work that carry through in my life today."
Terry opened Nguyen's path to healthcare internships at renowned Manhattan public relations and marketing firms (Burson-Marsteller, Weber Shandwick). For 15 years, she's blended cross-cultural empathy with her Terry business skills (and a UGA cellular biology minor) in work on health literacy and empowerment. 
Nguyen is today based in Switzerland at the headquarters of pharmaceutical company Roche. As principal director in global patient partnership, she leads R&D collaborations for patient communities stricken with rare diseases.
She credits Terry's Institute for Leadership Advancement (ILA) with "broadening my perspectives and offering meaningful mentoring relationships." ILA is a privately funded, highly competitive one- or two-year certificate program for promising Terry leaders.
"I think of ILA fondly when I think of Terry," Nguyen says. "I felt seen there. And I was introduced to the concept of servant leadership, which is still how I approach my job and leadership style."
Laura Little, Synovus Director of ILA, designs the program's curriculum for leading diverse teams.
"Our students are spectacular," Little says. "They're so much more involved in gaining by experience and learning by doing than students in my undergraduate days. Women are particularly serious, very focused on exactly the kinds of careers they want." 
Nguyen has a positive message for women considering Terry.
"You'll get a really good, high-quality education in a place that's open and down to earth. There's enough flexibility to go from science to business, and you'll find many different communities … but Terry still has a way of feeling personal even as you're enjoying the resources of a large university."
In 1954, Anne Ruth returned to UGA. Terry skills bolstered her work as the university's film librarian as she purchased and distributed films professors needed for classes. She became a beloved gatekeeper of UGA's audiovisual world.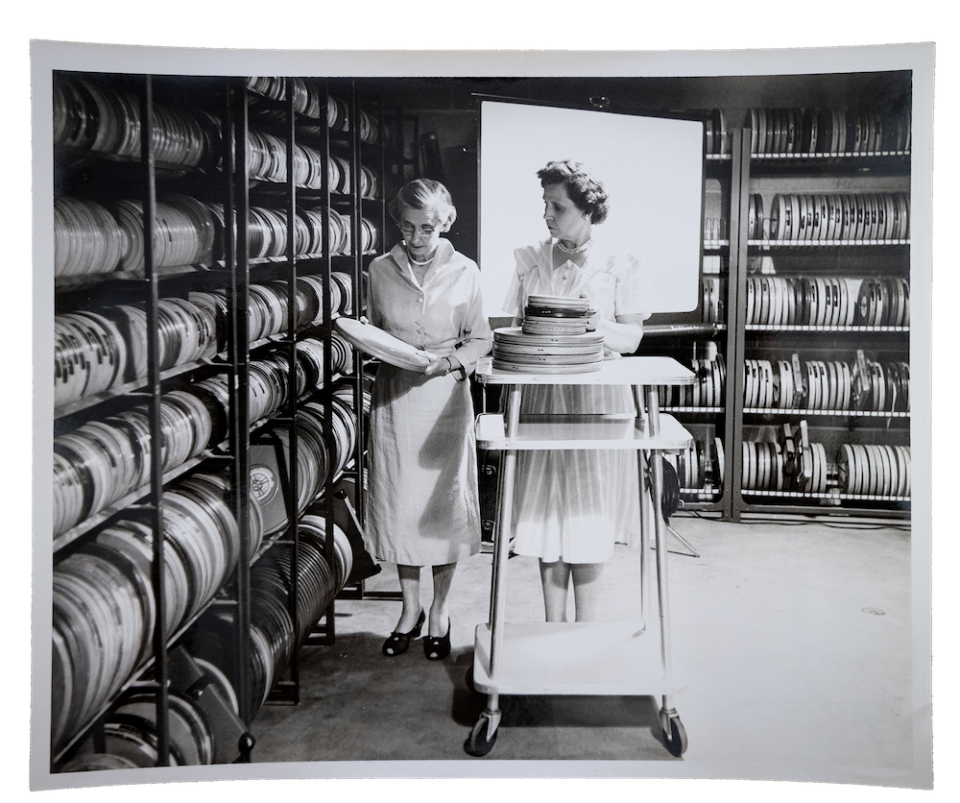 When she was 68, she lost Thomas to heart issues caused by rheumatic fever contracted during World War I. Again, the indomitable rose in her.
Anne Ruth had never learned to drive. After one early-marriage driving lesson, Thomas declared her "the least mechanically inclined person he had ever met," says Anne Elizabeth.
Now, faced with getting behind a wheel or moving to town, Anne Ruth gathered her grit and called a driving school.
She passed the driving test and bought a four-door sedan. Anne Elizabeth says a church member later described "Mrs. Crawford spraying gravel when leaving the church parking lot."
Danette Beck (BBA '94) just rose a rung higher at USI Insurance Services, a national construction practice leader based in Valhalla, N.Y.
In her new role, she leads all the industry verticals for a $2 billion company with 8,000 associates in 200 offices. Her USI teams help clients meet property and casualty, employee benefits, personal risk and retirement needs.
Beck has emphatically made her mark. She credits Terry.
"I found so many leadership opportunities to create who I would be as a young professional and who I was as an individual," Beck says. "One of my professors, Dr. Robert Hoyt (Dudley L. Moore Jr. Chair and professor of risk management and insurance), had such an impact.
"I get emotional when I look back and realize just how much he was helping me," Beck says. "I would not have the job I have today if Terry had not set me up for success."
Beck points to unique Terry learning programs exposing her to industry professionals who challenged her "to put the separate pieces of my knowledge together to see how a future in insurance services might look."
She adds, "That foundation set me up for success. I compare it to learning to water ski. First, you have to get up on the skis. Terry got me up … and then propelled me into this career I've enjoyed for the past 30 years."
She's proud of the diverse faces filling the ranks at Terry now, including many women.
A shameless Bulldog ("Once a Dawg, always a Dawg," she says), Beck adds:
"Terry shaped me personally and professionally. I'm on a mission to give back, to pay it forward. I'll do this as long as I breathe on this earth."
Anne Ruth breathed her last in 1999. She was 98.
She had retired to Watkinsville, faithfully teaching Sunday School classes into her late 80s. At 93, she lost a memory here and there, and Anne Elizabeth and her husband brought her with them to Armonk, N.Y. At 96, she relocated to a nursing home in South Georgia where a granddaughter lived.
Anne Ruth's family felt her inspiration. Both children, two grandchildren and three great-grandchildren earned degrees at UGA. Her New York and North Carolina grandchildren were directly influenced by summer visits to Watkinsville.
One grandchild who made friends with creatures in the woods and creeks earned a UGA degree in wildlife biology. Another became a veterinarian. A granddaughter deciding between her English major up north or an animal science degree at UGA chose Athens. Another granddaughter joined the Peace Corps, then practiced social work. Still another granddaughter taught deaf and hard-of-hearing students. (Hearing loss runs in Anne Ruth's family.)
A portrait of Anne Ruth Moore Crawford hangs in a corridor at Terry. Following in her great-grandmother's historic footsteps, Terry summa cum laude graduate Hannah Thompson (BBA '19) proudly passed beneath its watchful gaze.
A world in bloom in 1922 never stopped blossoming for Anne Ruth, through all the seasons of a lifetime.
Today, 23 years after her passing and 100 years after she stepped out of UGA on her own terms, as her own woman, what would Anne Ruth Moore Crawford think of being celebrated as a female Terry trailblazer? Of being profiled in Terry magazine?
"I think," Anne Elizabeth says with a smile, "she would be embarrassed by all this attention.
"Her gentle spirit and quiet strength were clothed in humility."
Department or Program featured: