Highly Skilled. Highly Recruited.
Our graduates make their presence known. Most MAcc students will accept a job offer before leaving the program, and virtually all will be working shortly thereafter. Within three months of graduation, graduates of the MAcc Class of 2022 were excelling in their careers.
Compensation Summary
High - $100,000
Average - $63,227
Median - $62,000
MAcc Graduate Career Outcomes Rate
100%
Recent Employers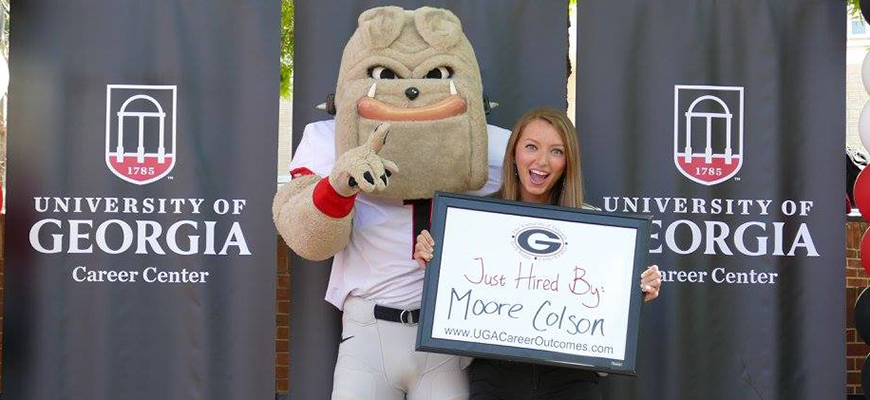 The Tull School partners with the UGA Career Center to help students earn positions at top organizations in a wide range of industries. In addition to connecting students with potential employers, the MAcc Department and UGA Career Center assist with career advising, resume review, and interview preparation. Below is a representative selection of locations and organizations where recent MAcc graduates have earned full-time jobs.
Accenture

A-lign

Aprio

Athens Housing Authority, GA

Bain & Company

BDO

Bennett Thrasher

Carr, Riggs & Ingram

Caterpillar

CBIZ

Cherry Bekaert

Citizens M&A Advisory

CLA (CliftonLarsonAllen)

CohnReznick

Coomer, Coomer & Routhier PC

Crowe

Deloitte

DHG

Draffin Tucker

Elliott Davis

EY

Financial Accounting Standards Board (FASB)

FORVIS

Frazier & Deeter

Georgia Department of Audits & Accounts

Goldman Sachs
Governmental Accounting Standards Board (GASB)

Grant Thornton

Hancock Askew & Co.

HLB Gross Collins

IFRS Foundation

IRS

James Bates Brannan Groover

KPMG

McNair, McLemore, Middlebrooks & Co.

Mauldin & Jenkins

Moore Colson

Moore Stephens Tiller (MST)

Myers & Stauffer

Nichols Cauley & Associates

Penn State University

PS Business Management

PwC

Robinson, Grimes & Company

Rödl & Partner

RSM

Smith + Howard

The Tax Shelter

Trident Trust

Unum Group

Wipfli

Wuhan Union Hospital