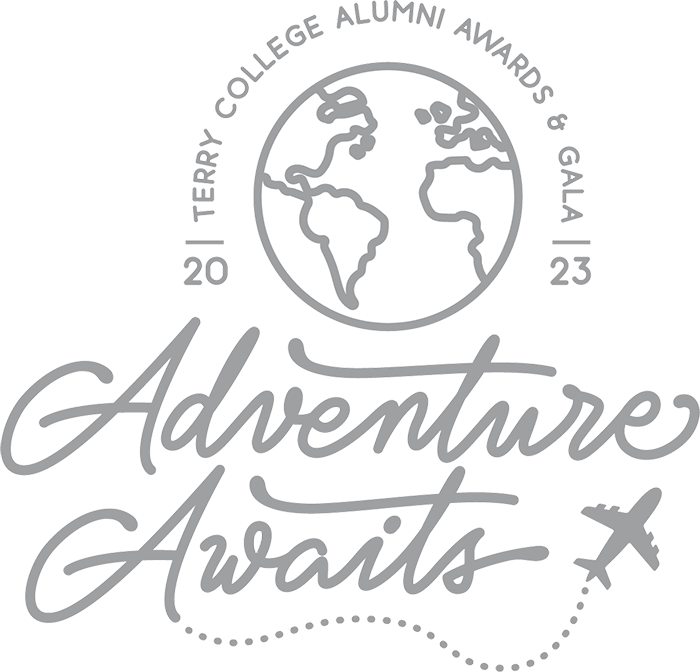 The 2023 Alumni Awards and Gala benefited Terry College's International Business Education programs.
Sam Holmes
2023 Distinguished Alumni Award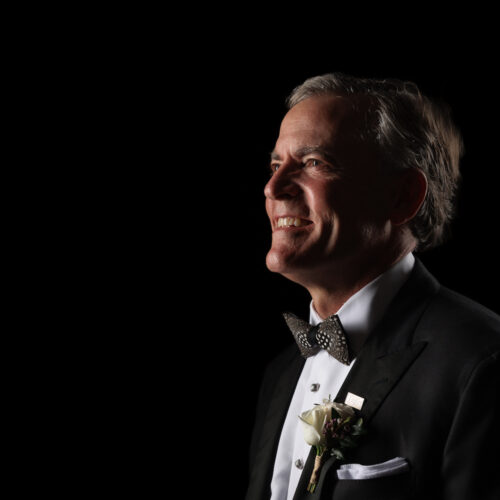 When the commercial real estate community thinks about the most-trusted and proven leasing advisors across the Southeast, Sam Holmes and his partner of 35 years, John Shlesinger, are the names that immediately come to mind. Together they have completed over 2,300 lease transactions and structured and negotiated virtually every conceivable real estate requirement from 1,000 to 800,000 square feet, working new angles to solve the challenges of office space users with leases, purchases, build-to-suits and government incentive packages.
Mr. Holmes and Mr. Shlesinger have successfully negotiated over 90 million square feet of leases and sales and 8,600 acres valued at more than $19 billion. Providing strategic solutions and portfolio optimization initiatives to a diverse range of clients from Fortune 500 corporations to technology startups, the duo has made a name for themselves by structuring the most creative deals in the industry. No matter the size of the deal, they approach all assignments with the same intensity and attention to detail. With a track record of going the extra mile to understand a client's business model, clients have referred to them as "value-add team members" and "accessible and responsive above and beyond the call of duty." Their consultative approach and depth of services maximizes value for their clients and sets them apart as world-class.
Prior to the CBRE acquisition, Mr. Holmes was a vice chairman at Insignia, where he opened the Atlanta office, was the company's top revenue producer in aggregate production over his four-year tenure, and led its integration into CBRE in 2003. He began his career at Cushman & Wakefield in 1987, where he was the firm's youngest senior executive.
Mr. Holmes is a native of Monticello, Georgia, and attended boarding high school at Baylor School. He is a graduate of the University of Georgia with a BBA in finance and serves as Chairman Emeritus of the UGA Foundation and the UGA Real Estate Foundation. He is on the Board of Regents of the University System of Georgia, which oversees the 26 higher education institutions in the state. He is a commissioner of the Georgians First Commission, a task force created by Gov. Kemp to make Georgia the most attractive state for small business. He is a trustee on the Georgia Research Alliance, a nonprofit public-private partnership focused on launching new companies in Georgia and expanding university research capacity. He is active with Sigma Alpha Epsilon Fraternity and Leadership Georgia, coaches youth basketball and teaches Sunday school, and enjoys golf at Peachtree Golf Club. He is married and has three children.
Karen Bennett
2023 Distinguished Alumni Award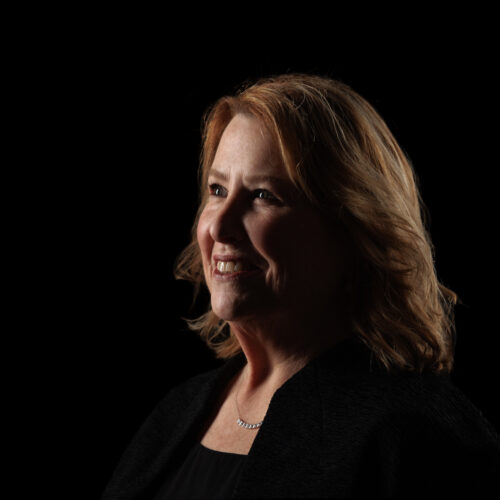 Karen Bennett is the executive vice president and chief people officer for Cox Enterprises, a private, family-owned company based in Atlanta, Georgia, with more than $20 billion in annual revenues. In her role, she leads the people solutions, corporate affairs, inclusion & diversity, HR technology services, benefits, compensation, talent acquisition and the brand, marketing and creative departments.
Bennett brings more than 25 years of experience in leading teams that focus on maximizing talent potential and the total employee experience while addressing the needs of the business.
Before joining Cox Enterprises, Karen was EVP and chief people officer for Cox Communications. There, she developed and executed talent strategies to align with Cox's operating principles and worked through the challenges of driving continual growth in the business. Prior to that role, Karen was chief human resources officer for Cox Media Group. Before her time with Cox, Bennett was chief human resources officer for YP (formerly AT&T Ad Solutions). She is a cable veteran as well, having served as senior vice president of human resources for Turner Broadcasting System, Inc. for nearly 14 years.
Bennett serves on the board of directors of the Society of Human Resources Management (SHRM) Foundation, the board of directors for the Human Resources Leadership Forum of Atlanta, the WICT Network global board of directors, the Emma Bowen Foundation board of directors and the Georgia State University's HR Roundtable consortium.
Bennett is a graduate of Terry College of Business at the University of Georgia where she earned both her bachelor's and executive MBA degrees. She is an ICF-certified executive coach.
Rennie Curran
2023 Outstanding Young Alumni Award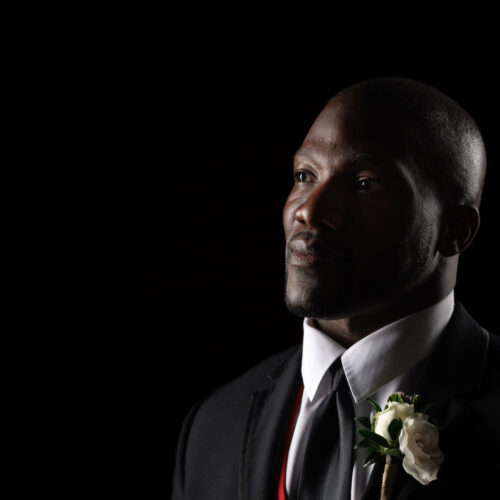 Rennie Curran is a former professional athlete who currently serves as an active keynote speaker, author and CEO of Game Changer Coaching. Recently inducted into the Gwinnett County Sports Hall of Fame and Georgia-Florida Hall of Fame, he uses his platform to inspire students, athletes and business professionals to reach their fullest potential.
Born in Atlanta and the son of Liberian immigrants, Curran has a diverse background with humble beginnings. He began his football career at Brookwood High School in Snellville, becoming the all-time leading tackler in Gwinnett County history. He was initially considered undersized according to various critics but quickly silenced the doubters by exploding onto the field as a true freshman at the University of Georgia.
His experiences of overcoming many circumstances to reach his childhood dream of becoming a three-time All American, Butkus Award Finalist, permanent team captain, a third-round draft pick in the 2010 NFL Draft (Tennessee Titans) and transitioning into becoming a successful entrepreneur have given him a unique perspective on what it takes to handle adversity and maximize opportunities while having a positive impact on others.
Through his innovative presentations, he teaches individuals, teams and organizations how to transform their personal and professional lives through leadership, teamwork and personal development. Rennie has been counseling and inspiring people for many years. He is the CEO of Game Changer Coaching, whose mission is to help elite athletes, business professionals and executives become influential leaders by improving performance and building their brand.
In 2013, he published a motivational self-help book, Free Agent: The Intangibles for Overcoming Adversity and Times of Transition. This book discusses how to overcome adversity during the times of transition that we all face along our journey to achieve our dreams. He also has a newly released children's book titled "What Does It Take to Be a Star," co-written with his 9-year-old daughter, Eleana Curran. The book taps into every child's curiosity to find their own personal greatness by helping them to realize that being a star has less to do with your title and more to do with who you are as a person.
Rennie obtained a bachelor's of business administration from the University of Georgia's Terry College of Business and a certification in personal development coaching from the Life Purpose Institute. He has been featured in The New York Times, USA Today, Fox Sports, ESPN College GameDay, The Huffington Post and much more.
When Rennie is not speaking, coaching or writing, he is usually spending time with his daughter or catching up on one of his favorite hobbies: music. He grew up playing the piano, drums and viola. He is also a public servant who spends lots of time giving back through several organizations including Boys and Girls Club, Fellowship of Christian Athletes, ALS Foundation, Boys Scouts of America and many more. Curran is a man of faith, humility, integrity and resilience.
Ed Bastian
2023 Special Guest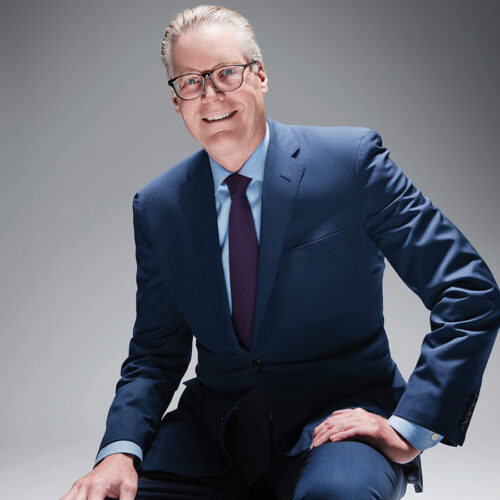 Ed Bastian is CEO of Delta Air Lines, leading a team of 80,000 global professionals building the world's premier international airline, powered by a people-driven, customer-focused culture and spirit of innovation.
A 24-year Delta veteran, Bastian has been a critical leader in Delta's long-term strategy and champion of putting Delta's shared values of honesty, integrity, respect, perseverance and servant leadership at the core of every decision. Since being named Delta's CEO in May 2016, Delta has become the world's most awarded airline, named the Wall Street Journal's top U.S. airline; the top-ranking airline in Fortune's World's Most Admired Companies; the most on-time global airline by FlightGlobal; the Platinum Award recipient for operational excellence by Cirium; among TIME100's Most Influential Companies; and more.
In 2018, Fortune magazine named Bastian among "The World's 50 Greatest Leaders," and in 2019, he was elected to the Council on Foreign Relations. Most recently, he was awarded for his Executive Leadership in FlightGlobal's 2021 Airline Strategy Awards and named among the Top 10 CEOs of 2021 in Glassdoor's Employees' Choice Awards as a leader who excelled at supporting their people throughout a global pandemic.
Photos