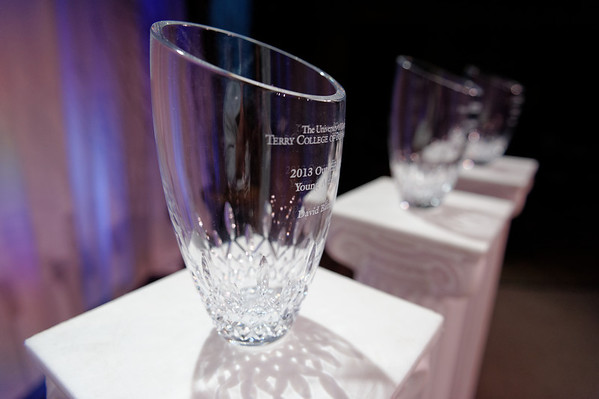 The Terry College of Business Distinguished Alumni Awards were first presented in 1964. These awards continue to honor outstanding alumni who have excelled in their careers and make a difference in their communities.
The Outstanding Young Alumni Award was first presented in 1985. This award recognizes alumni who are under 35 years of age, have demonstrated achievement, and show a promising future in business. Emeritus members of the Terry College Alumni Board accept nominations for these awards and select the recipients each year.
The Alumni Award keepsake is a Waterford Lismore Essence Vase. This stunning angular vase is made of hand-crafted, fine crystal patterned with a more modern incarnation of Lismore's signature diamond and wedge cuts. Waterford Crystal is of the finest quality and is sought after by collectors and connoisseurs around the world. Each piece of Waterford is watermarked with the word "Waterford"—a signature indicating the name of the finest crystal in the world.