When Mike Mannina (BBA '04, ABJ '04) left the U.S. Department of the Treasury in 2015, he wasn't sure where his career path would lead.
After working for a decade in international development for the U.S. government in places such as Afghanistan and Saudi Arabia, he had two choices: take a more lucrative position in an adjacent field or start anew attempting to fix the shortcomings he saw in government-driven economic development.
In 2015, he joined farmer-centered coffee and tea B-Corp Thrive Farmers to create ThriveWorx, a sister nonprofit focused on market-centric, locally-led development empowering economies to thrive.
"You get this one life," Maninna told a crowd of UGA students for the Terry College of Business Sustainability Speaker Series.
"And the world needs people who are willing to get in the arena; we need companies willing to get in the arena. The trade-offs are going to be real. You're going to get a lot of dust on your face, but you got to stay in the arena," he continued citing Teddy Roosevelt's "The Man in the Arena" speech.
The Terry College of Business launched its Sustainability Speaker Series in 2022 as part of its larger sustainability initiative.
Mannina, who was part of the second class of Leonard Leadership Scholars while at Terry College, asked students to think outside the box of their career paths and use the social capital they built at UGA to help solve societal challenges.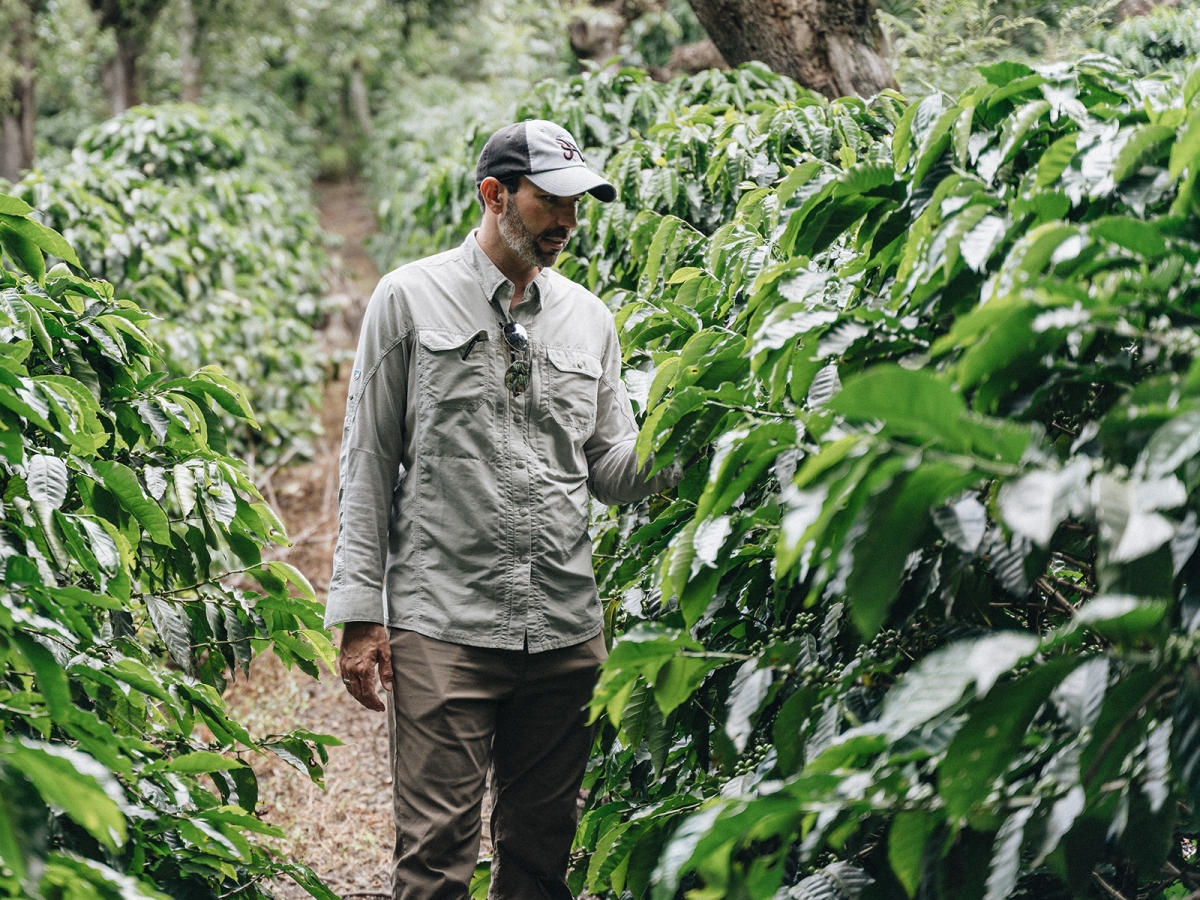 "What's something in society that you complain about a lot," Mannina asked. "Is that something you can take action on instead of arguing and complaining? Maybe so? And are you willing to give something up to go pursue it?"
Thrive Farmers partners with thousands of coffee and tea farmers in Central America, Africa, and Asia to provide a direct-to-customer supply chain. Farmers working with Thrive earn higher, more stable prices for their coffee, enabling reinvestment in their farms and communities. Thrive Farmers partners with companies such as Chick-fil-A and Delta to create high-impact, transparent supply chains, while giving their customers an elevated-quality experience. It's a win-win.
ThriveWorx, the nonprofit arm of Thrive Farmers that Mannina launched in 2015, builds upon the economic impact of Thrive, equipping leaders with skills and resources to accelerate flourishing across their communities and beyond. "We believe the solution lies within the community. Our job is to unlock it," Mannina shared.
"Thriving people sustain a thriving planet. We cannot have a thriving planet if people are not thriving themselves," Mannina said. "And equally, you cannot have thriving people if the planet is destroyed, uninhabitable. They go hand in hand, but we believe the root is people first. That's our core thesis."
"Life is about trade-offs," Mannina told students. "Thrive Farmers makes a trade-off between keeping more profits or creating a system where farmers keep a higher share of profits while being incentivized to grow coffee more sustainably."
Mannina too has faced personal tradeoffs throughout his career, often having to choose between earning more or serving a worthy cause. He urged students to find their core values so they can decide what trade-offs they are willing to make.
"The more you merge your identity or purpose with your actions and behaviors, the less you're going to feel the weight of the trade-off because there's going to be a lot more alignment," Mannina said. "When you merge those two, that's the secret to more contentment."
He added not everyone has to join a B-Corp or enter public service, but reminded us the world needs people willing to sacrifice for the common good. It's your job to decide what that is going to be.