It's a good thing Vanessa Sachs' makeup brand is sweatproof because it takes a lot of hard work to manage one of the fastest-selling student-founded makeup companies.
Sachs, CEO and founder of SWAKE Cosmetics took the $25,000 first prize at UGA's Collegiate Great Brands Competition on March 22 at Studio 225.
The Collegiate Great Brands Competition, created and hosted for the past seven years by the UGA Entrepreneurship Program, is a college entrepreneurship pitch competition offering burgeoning consumer brands the chance at $25,000 and a spot at Consensus Great Brands Show in New York. The showcase brings aspiring brands together with investors and retailers.
"We had 52 applicants participate from all over the country — Georgia Tech, Northwestern, Drexel, UC Berkley and others," said Bob Pinckney, the Milton Anthony (Tony) Greene Director of Entrepreneurship at UGA. "It's a very competitive event, and for the nine teams who presented today, the competition was very tight."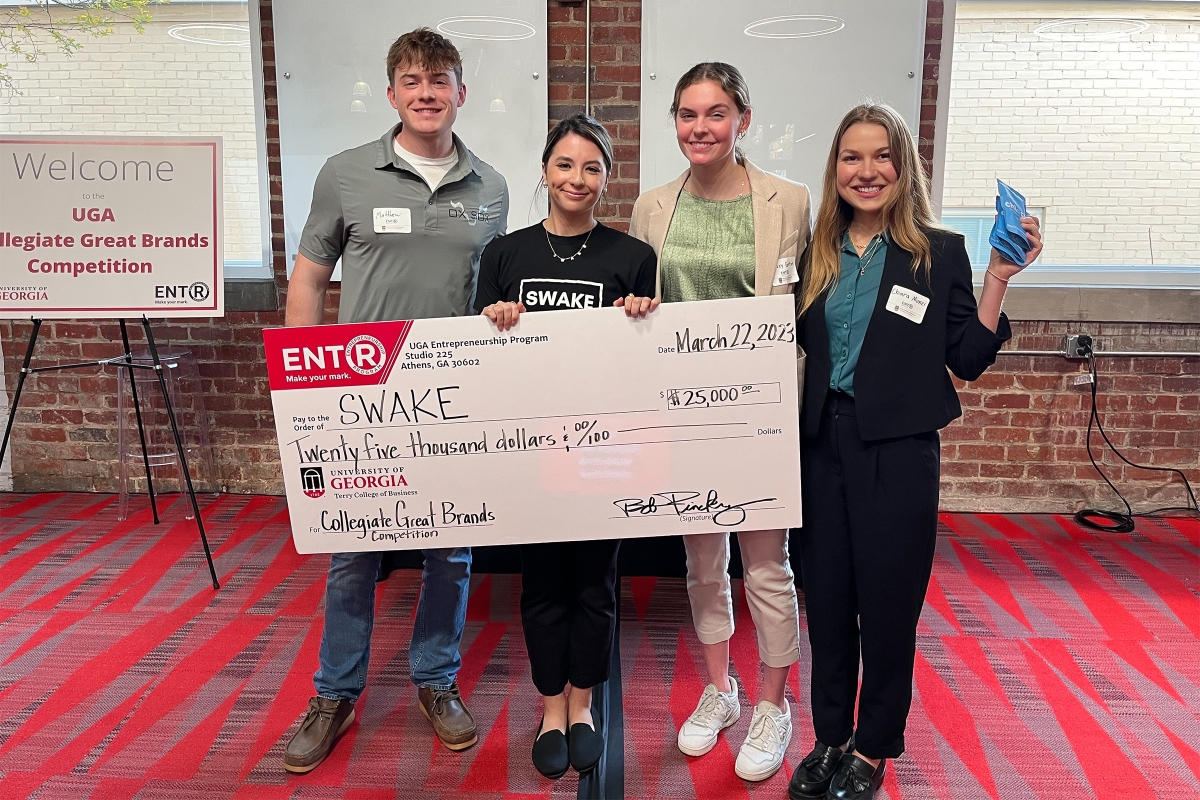 This is only the second year in the contest's seven-year history that a UGA student won the competition.
Sachs, an alumna of the UGA College of Family and Consumer Sciences' applied consumer analytics program, started working on SWAKE in 2021. In April 2022, she started selling her products online — using social media and athlete sponsorships to reach her core audience — people who like to sweat.
So far she sold $110,114 in makeup through her website, Amazon, and specialty stores, she told judges at the Great Brands contest.
Over the past two years, Sachs continuously refined her business idea with help from UGA Entrepreneurship faculty — participating in the UGA Entrepreneurship Program's Idea Accelerator, the Build/Test Accelerator and the Summer Launch Program. She also won several regional and national pitch contests to help fund SWAKE's growth.
Each finalist at Wednesday's final pitch contest represented one of the best student businesses from their university.
Second-place winner Ox Sox, an odor-fighting sock company founded by management information systems student Matt Tesvich, took home $5,000 to help continue growing his company. Since going through the Idea Accelerator program, Ox Sox has been featured in national media outlets, and Tesvich made more than $60,000 in sock sales.
The judges also recognized Washington University's ChiChi Foods with third place. Business students Izzy Gorton and Chiara Munzi launched their line of protein-rich chickpea oatmeal in December 2022. They sell online and in local grocery stores.
The mission of the UGA Entrepreneurship Program is to help develop the mindset of future entrepreneurs and prepare students for business leadership roles. UGA Entrepreneurship Program accelerators are open to UGA students and Athens community members.