Matt Tesvich's mission is making the world smell better — one pair of socks at a time.
Since launching his line of odor-killing Ox Sox, the Terry College management information systems major sold nearly 4,400 pairs and grossed $63,000.
Judges at the UGA Next Top Entrepreneur Competition, hosted by the UGA Entrepreneurship Program, were impressed by his use of social media and word-of-mouth marketing to propel the brand in such short time and awarded him the $10,000 first prize.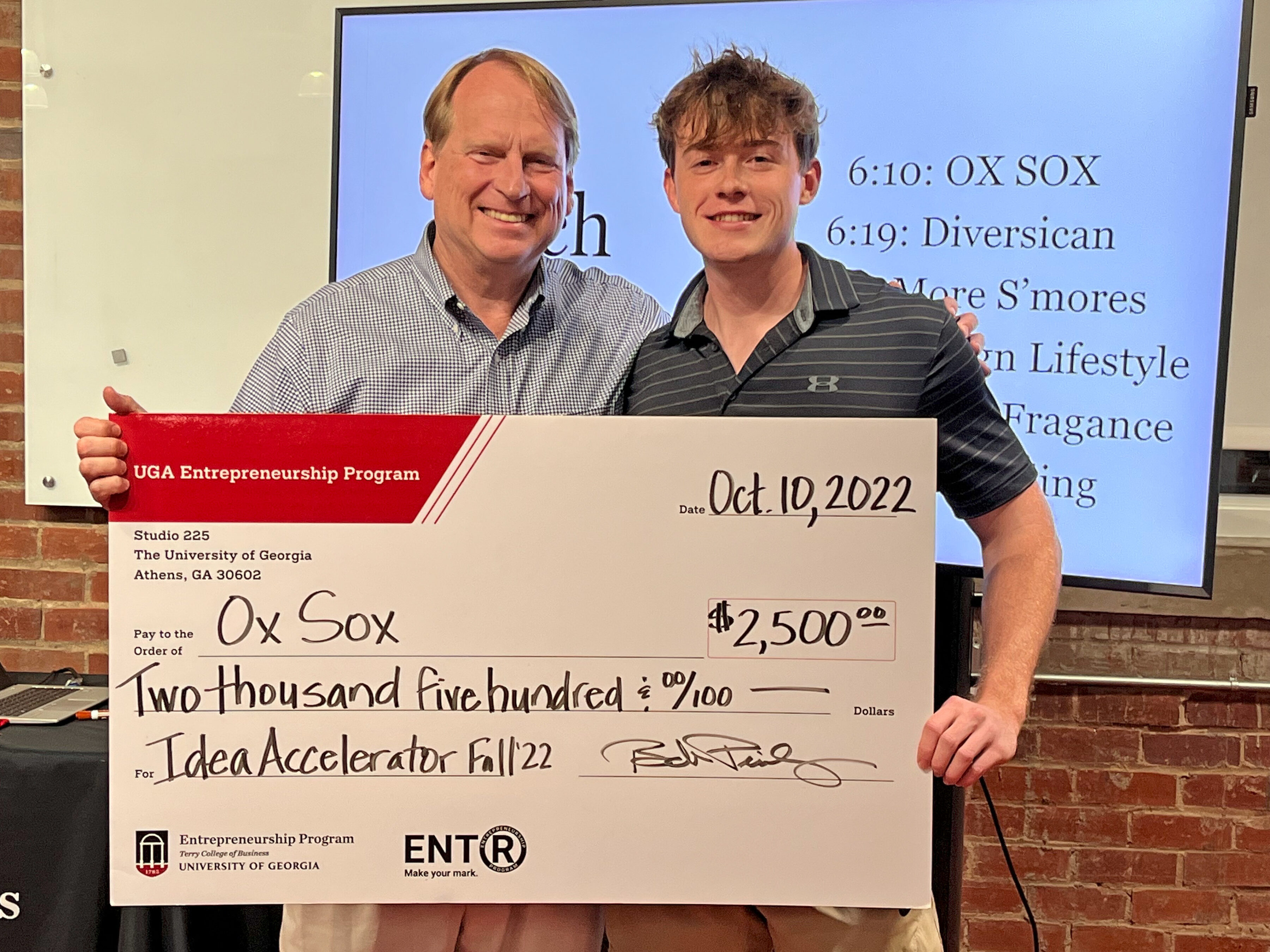 "It's well marketed and you're on the right path," Teak Shore, principal at Southern Lighting Source and contest judge, told Tesvich. "The one thing we would ask you to think about is that socks are fun and cool and will make you popular, and I think that's important. But you should really consider using that technology in other products."
The contest attracted more than 50 student entrepreneurs from across the country, said Bob Pinckney, the Milton Anthony (Tony) Greene Director of Entrepreneurship at UGA. Ten finalists pitched their products to a panel of seasoned entrepreneurs and investors at Studio 225 on April 20.
D12 Commercial Interiors, Southern Lighting Source and CIG Consulting sponsored this year's contest.
SteadiSpoon, an adaptive utensil for people with Parkinson's disease and essential tremors, won the $5,000 second-place prize. Southern Methodist University business and creative writing student Raleigh Dewan traveled to Athens to pitch the spoon he designed to help his grandmother, who has Parkinson's. Steadicam rigs used on film sets inspired his design.
Judges also recognized Georgia MBA student Kristen Dunning's sensitive skincare line, Gently Soap, with a third-place prize and $2,500.
The seven other finalists this year included:
ANDiDREW, an educational comics curriculum for Torah studies pitched by Drexel University engineering student Andrew Galitzer, connects students more deeply with their Torah studies and students of all faiths understand the Jewish faith.
Cedar Sales, an online wholesale business pitched by University of Iowa business analytics student Jacob Vader Sanden, manages marketing and fulfillment needs for smaller brands on Amazon's Marketplace.
Codified Health, an AI solution helping doctors turn chart notes into insurance billing codes, was pitched by applied mathematics student Cindy Zheng, design engineering student Sophia Ghauri and public health and economics student Hailey Chen. All three women attend Brown University.
King of the Curve, an app-based MCAT study guide pitched by recent Washington University in St. Louis psychology and communications graduate Andrew McIntosh, assesses what students need to work on and funnels them that content until they master it.
Lockdown Solutions, a school safety concept pitched by Drexel University MIS student Andrew Struminger, would connect magnetic door locks to a school internet network, allowing teachers or staff members to trigger a lockdown in case of emergencies.
MiDoc, a wearable vital signs monitor pitched by Washington University in St. Louis physician and MBA student Linda Wu, would enable doctors to assess patient lung and heart function during telemedicine visits.
Prometheus Credit, an international credit reporting service pitched by University of Southern California MBA student and former NASA engineer Sam Cheng, would provide international credit history information for people recently moved to the United States and Americans looking to access credit abroad.
The UGA Entrepreneurship Program helps students develop the mindset of future entrepreneurs and prepares students for business leadership roles. It provides a comprehensive academic program that encompasses experiential learning and equips students with the tools and resources to pursue their startup ventures.