Image:
What does it mean to live sustainably?
At a basic level, the concept evokes individual responsibility: Recycle those bottles. Join a carpool or, better yet, bike to work. Eat less meat. And please, avoid leisurely showers.
On an enterprise scale, where noble intentions must coexist with the profit motive, the answer is as complex as the possibilities are vast. Terry students who recently completed internships in the University of Georgia's Office of Sustainability came away with a deeper understanding of the distinct and effective ways sustainability intersects with the business world.
Making a difference
Before college, "I associated my passion for sustainability and my studies as completely separate entities," said fourth-year finance major Jennifer Lusk. "I would research ways to decrease my footprint and make small changes in my life to make as much of an impact as I thought I could."
At Terry, Lusk said, "my understanding of sustainability changed into more of a big-picture point of view. I discovered that business and sustainability go hand and hand."
Specifically, she became excited by the far-reaching implications of environmental, social and governance (ESG) investing, a form of socially conscious investing that considers companies' environmental impact. She also joined Triple Impact Consulting, a sustainability-minded student consulting club.
As a green cleaning supply chain intern in the Office of Sustainability, Lusk worked with the UGA Facilities Maintenance Division to introduce more environmentally friendly cleaning protocols across campus.
Sustainability training at UGA "gave me the confidence to go into a workplace and make an impactful difference," said Lusk, who hopes to work for a management consulting firm as a valuation analyst.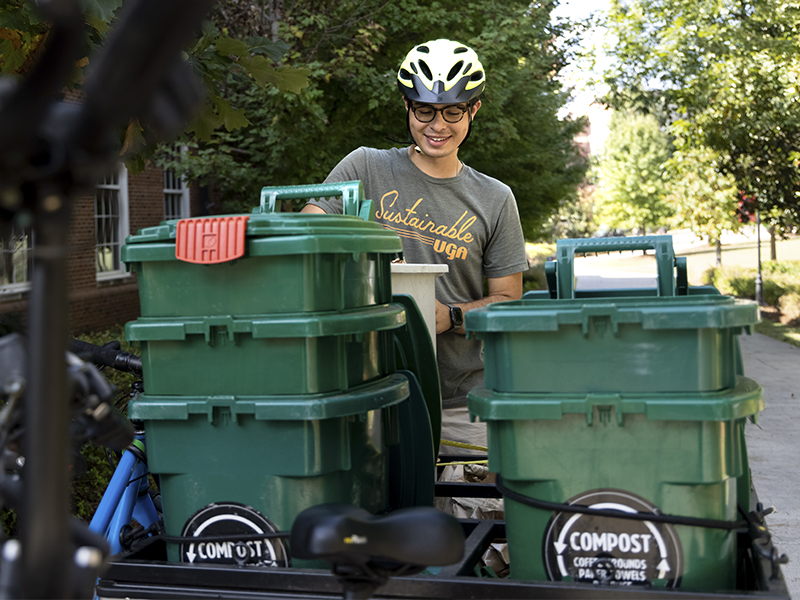 Andrew Schoppenhorst, a third-year management and international business major, became interested in the idea of using business as a driver of societal and environmental change.
"I've learned to think of business as a vital part of sustainability," said Schoppenhorst. "Our social systems interact within our environment, and business is how we interact within society, so without change in business, we will not be able to help the environment."
As a Campus Compost sustainability intern, Schoppenhorst helps manage a network of compost collection spots across campus, reducing food waste and landfill costs while providing compost for UGA's student-run farm, UGArden.
"Everyone interacts with the global supply chain," said Schoppenhorst. There are endless opportunities to reduce its harmful impacts on the planet."
Building the circular economy
Nate Shear, a fourth-year finance and international business major, initially had a narrow view of sustainability in business.
"I viewed sustainability as something the business world would engage in for either altruistic or marketing reasons," he said.
In his major courses, Shear learned "the business world plays a significant role in developing market-based solutions to sustainability issues," he said. "Through my sustainability work and courses, I've developed an ability to use the systems-thinking approach necessary to design these solutions."
Sustainable business practices not only serve to combat global crises such as climate change and ecological degradation, they also act as growth mechanisms, allowing companies to prioritize operational ethics without sacrificing organizational success.
Shear said this added benefit is crucial in facilitating the "circular economy" — a regenerative system designed around material reuse and waste reduction.
"I think the most impactful changes come when we design solutions that are self-supported by the incentives of the parties involved," Shear said.
"For example, it is in a shoe company's interest to recycle the materials from worn shoes to produce their new product lines. Due to the cost savings from reusing materials, there is profit incentive for that company to make a sustainable change."
Shear made sustainability a central part of his UGA experience from the start. As a freshman, he enrolled in an environmental economics class that "furthered my interest in the business drivers of sustainable change," he said. The following year, he joined a Terry Student Researchers team studying the potential impact of installing solar panels on top of university buildings.
As a sustainability metrics intern, Shear used data analysis to develop recommendations for actionable change across campus. That led him to envision a future in management consulting with a focus on organizational waste reduction.
Facing the future
Terry is actively working to incorporate sustainability components collegewide.
"Our students should not only be leaders, but they should also be responsible leaders mindful of their global impact," said Dean Benjamin C. Ayers.
In early 2021, the college launched a major sustainability initiative, with plans to hire faculty, expand course offerings, launch an area of emphasis in sustainable development and support experiential learning opportunities.
In addition, Terry is a sponsoring college of UGA's Interdisciplinary Certificate in Sustainability, which gives students a deeper understanding of sustainability issues, including how the concept impacts people and communities around the world.
Department or Program featured: