Image:
Superheroes blend into the world. It's how they get the job done when trouble arises. Only a select few know about their true identity and full worth — if everyone knew who they were, they wouldn't get a moment's rest. They are there when we need them, and oftentimes stop problems before they start.
Pam Rogers, risk manager extraordinaire, is a superhero.
She has spent decades navigating companies and clients through the vagaries of risk management and insurance, offering a skill set few have but all benefit, whether they know it or not.
If there's a crisis, and you're not sure who to turn to, it's time to call Pam.
"I like to create order out of chaos, and once everything is in order, there are much better people to run a well-oiled ship," she says. "I'm the person who comes in and says, 'OK, what do we need to do to make this a well-oiled ship?' I'm the fixer, I'm the problem solver. That is what I do best."
Noelle Codispoti, one of Rogers's many mentees throughout the years, confirms this star power.
"If you have a celebrity walk into a room, everybody knows immediately that a celebrity is in a room," says Codispoti, co-founder and chief transformation officer at Verto, a company dedicated to advancing the insurance industry's recruiting and diversity and equity efforts. "I know it's silly, but for those of us who studied risk management Pam is a celebrity. She provides passion and inspiration to so many. She tells you the things you don't want to hear in a way that resonates and helps you grow."
True to the superhero ethos, Rogers is never in one place too long, always ready to go where she's needed the most. It's a pattern that started when she was young, as her father's contractor jobs took her to locations throughout the Southeast — in fourth grade alone she attended three different schools. Amidst the constant moving, Rogers found structure in academics, numbers — and baton twirling. From the ages of 5 to 17, she twirled at a national competition level, at one point reaching the pinnacle of the discipline.
That's right — Pam Rogers was the Majorette Princess of America. Shazam!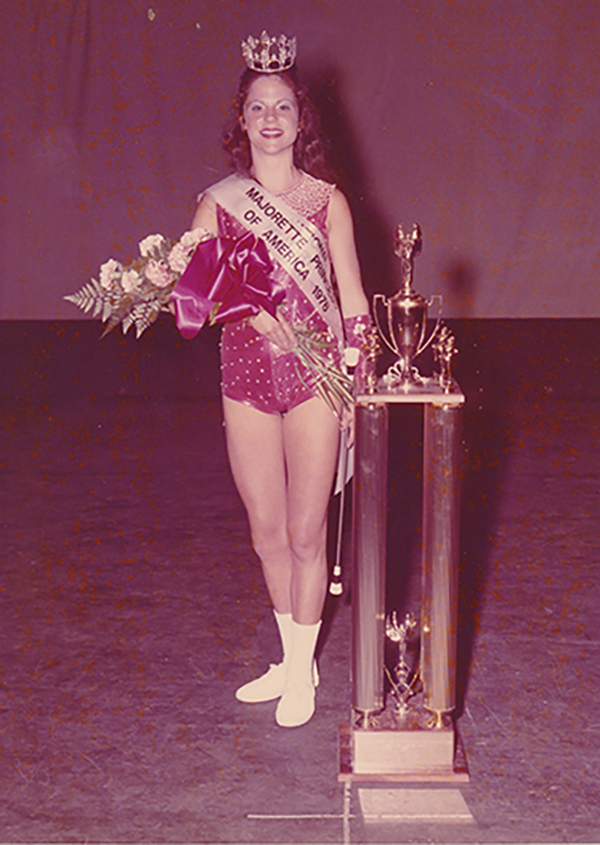 "It would be all summer, eight hours a day of practice, nationals in the summer and competitions one, two, three times a month," she says of her majorette days. "I was always very focused. It's one reason moving around didn't bother me because I had that to focus on. I learned how to compete, learned how to win, but also learned how to lose gracefully."
Since graduating from Terry in 1982, Rogers has delivered this tenacity to well-known companies across the county. Her career began in Detroit, starting at General Motors as a risk analyst, followed by a stint at Perry Drug Stores as a risk manager and corporate safety officer before becoming a manager at NCR in Dayton, Ohio. While in Detroit she earned her MBA at the University of Michigan. The tools she learned there helped at NCR, where she encountered her first sign of professional commotion.
"When I got to NCR, on page four of the job description, it said something about accounting. I did some accounting in my MBA but didn't know what I was in for when a couple of weeks later I noticed something didn't seem right, and that something wasn't right," she says. "We had to discover what it was and had to fix it. It took a couple of years. It was at NCR that I got my Certified Management Accountant designation. That body of work was the platform for my next four or five jobs because so few people have that skill set."
After three years at NCR, Rogers moved to brand name companies each offering a different product, and challenge. At Chiquita in Cincinnati, she learned about banana and palm oil plantations in Central America and hog and beef slaughters in North Carolina; Nestle in Los Angeles, known for chocolate, pet food, hotels, and wineries, was the opportunity to see manufacturing in a whole variety of settings; Sears in Chicago and Target in Minneapolis offered opportunities in big-time retail, where she dealt with tens and thousands of small claims (Sears) and the science of retail research (Target).
It wasn't until she got to New York that she decided to put down roots. At Marsh USA, Rogers was given her own practice and tapped to create a risk management function review to help CFOs and treasurers understand the importance of risk managers. This task lined up with her dedication to elevate up-and-coming risk management professionals. For 38 years she's been a member of the Risk and Insurance Management Society, and for 27 years on the board of the Spencer Educational Foundation. In both groups, she worked tirelessly to promote risk management in colleges and help those students find jobs and mentors when they enter the profession. A class featuring a guest-speaking risk manager set her on a career path when she was at UGA and spurred her to return the favor in college classrooms in the years since.
"It is what I love," she says. "I've had the good fortune to be involved in different groups that work with students at the university level. On the Spencer Educational Foundation board of directors, I helped create the risk manager in residence program with the hope we could get experienced risk managers who would go on a college campus for two to three days, and when they are ready to retire they would partner with the university. I've had the good fortune to work with students since '93, and these students are now very successful. I see them now in meetings and they say, 'I saw you when I was in school and you came in and spoke and I changed my major.'"
"She gave a lot of good advice to the students, and I could tell from the start she was concerned about what the students were doing there in terms of their experience and trying to get the most out of it," says Ed Troy, owner of Ed Troy Associates Risk Management Consulting in New York, who first met Rogers years ago at a RIMS conference. "The first thing you think about if you've spent five minutes with Pam is high energy. She has this abundance of energy; she always seems to be going. But she's high energy in a very prepared manner. She's smart, she knows her business, and she doesn't have a lot of time to waste on something that's not going to be productive."
During her time at Marsh, she initially created her own firm — Risk Choices LLC — putting it on the back burner for years before revving it up in 2015. Admitting she is "not going to retire," she wanted to build a clientele to keep her in the risk management game when she was no longer in it. This forward-thinking would come to light when Rogers took a job at Estée Lauder in late 2016.
Once again working with a global brand in an industry she knew little about, she served as the company's executive director of enterprise risk management but was given the opportunity in 2019 to try something new not in the realm of risk management. And since this is Pam Rogers, who never ducks a challenge, she immediately jumped in.
Embedded with the research and development team, she works to transform Lauder's global product safety and regulatory organization and processes. It's new and unusual to her, and "every day is a blast."
"So back to my passion of taking what might need some organizing in an area I have little knowledge about," she says, laughing. "I'm not a scientist, I'm not a toxicologist, I'm not a regulatory specialist, but that's OK. We have a highly qualified team in this group. My job is to help look at what they do and find more efficient, effective ways to do it. How to put the technology overlay on it, so that as a global organization we can continue to enable the growth pattern of the business."
Helping to ensure global product safety is such a superhero move, another piece in a career that's featured many of them. It's all in a day's work for Rogers, though, who credits others for her splendid service.
"Doing the work that I do is a real passion of mine, I feel fortunate," she says. "I credit the wonderful opportunities I've had to work with, and give back to, students to make our industry thrive.
"It brings my passions together, how exciting."
Department or Program featured: