Life-changing moments have a way of finding a person, often when — or where — they're least expected. For Distinguished Alumni Award recipient Bonney Shuman, an extraordinary career began in, of all places, a metro Atlanta Krispy Kreme.
Call it sweet serendipity.
As a teenager working an early-morning shift at the restaurant in between her sophomore and junior years of high school, Shuman struck up a friendly conversation with a pair of the store's regulars.
"There were two women who came in for breakfast five days a week, from Monday to Friday, and they worked at a bank," Shuman says. "They asked me what I was going to do next summer."
Itching to move on from slinging glazed treats, Shuman replied she wasn't sure.
The two customers saw something in the young employee. "They said, 'If you want to come to the bank, we'll give you an entry-level job to try to teach you a little bit about the way of the world,'" says Shuman.
Shuman was interested in science thanks to a particularly persuasive biology teacher but admits she didn't have her future mapped out.
"The only thing I did know is that I would go to college," she says. "Neither of my parents were college graduates. So from early on, they said, 'This is what we want for you.' As much as they encouraged us to get a college degree, they didn't really pigeonhole us. They felt like (college) was the key to open up any possibility. So that's really how I looked at it."
In the market for career inspiration, she took the women up on their offer. "I started answering the phone at the bank," she says. "And then they put me in a management training program."
The summer job sparked a newfound passion for finance and, after enrolling at UGA and pledging Zeta Tau Alpha, Shuman followed that passion to the Terry College, setting the stage for a remarkable life in business.
"That was an interesting lesson learned, and something that I tell young folks today," says Shuman. "You never know where a door's going to be opened, or where a networking opportunity is going to present itself."
From mentee to mentor
These days, Shuman is the one opening doors.
Retired from her role as president, CEO and co-founder of mobile solutions company Stratix Corp., Shuman is known as a respected and devoted mentor to UGA students looking to enter the world of business, especially those underrepresented in the field.
Julius Thomas (BBA '18) was matched with Shuman through the UGA Mentor Program during his sophomore year at UGA.
"My first impression was, I felt like I hit the jackpot," says Thomas, a risk management broker at Marsh McLennan and CEO of the Atlanta-based civil rights nonprofit The People's Uprising. "She was full of compassion, and very interested in learning about me as a person."
Mentoring is "a two-way relationship," says Shuman. "I've had some great (mentees) and get great joy from it. It makes my wheels turn. I feel like I'm helping someone be successful, and it's a passion that keeps a spark going."
In addition to the mentor program, Shuman is a founding member of the Terry Women's Initiative, which promotes confidence and leadership skills to help students of all genders achieve academic, personal and professional goals.
During TWI's spring Sea Island Scholars retreat, Shuman gamely dishes out "sage advice about preparation, learning, perseverance, knowing yourself and what you want and having the confidence to go after it," says TWI founding member Debbie Storey (AB '80, MBA '06).
On a warm, breezy Saturday during this year's retreat, Shuman welcomed the scholars into her picturesque St. Simons Island home for a buffet lunch followed by candid, laughter-filled conversations about everything from business fundamentals to personal fitness.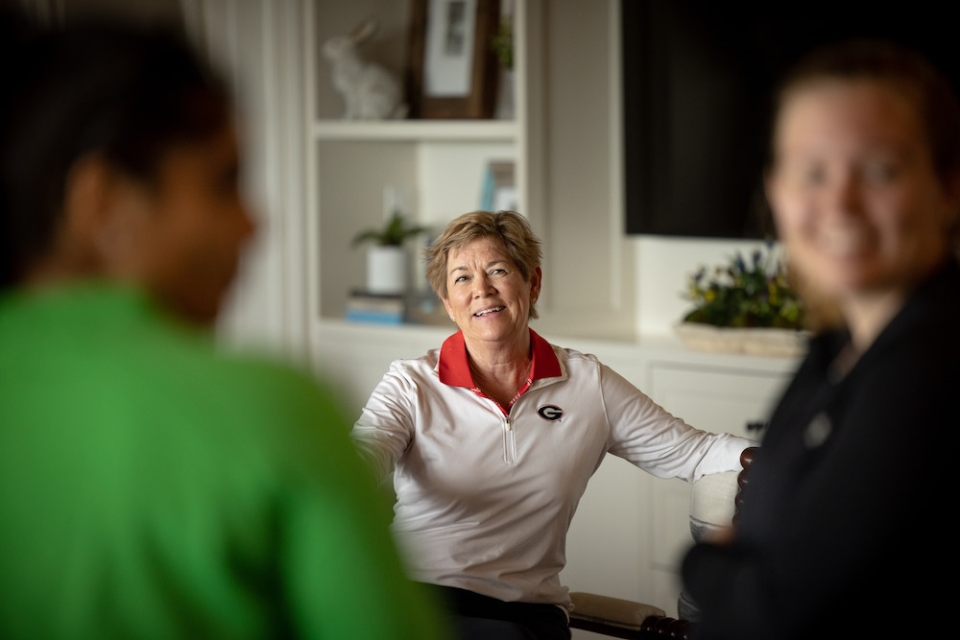 "Bonney is a constant source of inspiration," says Storey. "She is so unique in her ability to convey practical advice, and she is never too busy or too tired to dedicate time to the students, often staying up late into the night to answer all their questions. Bonney is successful but grounded, professional but real, and she is so relatable."
Thomas echoes this sentiment, explaining how Shuman immediately made him feel comfortable and seen.
"We had honest conversations about how I felt insecure about, a lot of times, being the only African American in the room," he says. "She shared how, in many rooms, she was the only woman. And she gave me tips on how to be my full self, feeling confident in my ability and knowing there's a community around to help uplift me."
Ingenuity meets opportunity
Shuman learned similar lessons from a young age. After graduating from UGA, she began a banking career in earnest and quickly moved up the ranks to become a branch manager. But she came face to face with a harsh reality upon discovering she was being paid substantially less than her predecessor.
"My supervisor said, 'Oh, no, he had a family to support. You're a single woman. He's a married man. I couldn't possibly pay you that,'" Shuman recalls.
The frustrating event proved oddly fortuitous, sparking a deeply ingrained independent streak.
"My father worked with Texaco for 25 years, and we moved around a lot because of that," says Shuman. "I feel like moving around made me less averse to risk. It's interesting — two of my three brothers (also) started companies and sold them. So I feel like that's what we gained from that experience — confidence, not being scared of new experiences."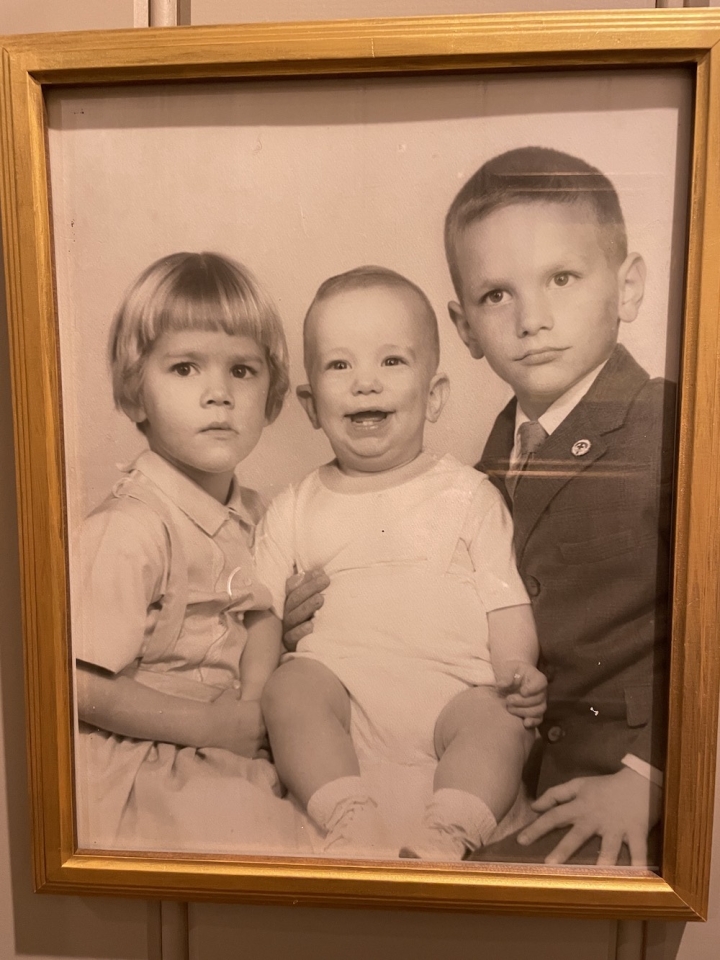 A new experience came calling in the form of another karmic event. When David Knowlton (BBA '79), a former classmate who happened to live in the same apartment complex as Shuman, entered her bank seeking a small loan to fund a startup based on the fast-growing technology of bar coding, Shuman's ears perked up.
Sensing her dissatisfaction, Knowlton invited Shuman to join him in his venture. Drawing on her business education, and with plenty of support and encouragement from family and friends, she agreed to take the plunge into the churning waters of entrepreneurship.
"I didn't know anything about sales," says Shuman. "But in the back of my mind, I was thinking, 'I am so frustrated. What can I do next?' So I decided to take a leap of faith."
In 1983, the pair co-founded Bar Code Systems, later renamed Stratix. At the time, it became one of a small handful of companies manufacturing and selling bar codes — then a still-emerging tool primarily used in the grocery and retail industries.
"It was a great opportunity," says Shuman. "We saw that bar coding had started to become a condition on which to do business. It offered so many advantages to the whole supply chain."
But first, they had to prove it. "It doesn't matter how great an opportunity is if you don't have a solution," Shuman explains. "And it doesn't matter how great a solution is if someone's not interested in buying it."
Shuman recognized that bar coding, with its ability to dramatically streamline a company's operations, could benefit all types of businesses. So she dreamed up innovative ways to sell the tech to skeptical clients, including a textiles group and a hardware manufacturing association.
"I attended some focus groups, and they said, 'This will not work for our industry. There is no way you can put a bar code on a nail,'" says Shuman.
Sensing an opening, she shifted the conversation. "Let's talk about what we can do," she recalls responding. "Is there a different way to package nails? Maybe you don't sell a nail at a time anymore — maybe you sell 25 nails at a time."
The simple yet creative solution hit the mark. As it turned out, it also had profound implications. In the '80s, "bar coding seemed very appropriate for a box of Cheerios — less appropriate for a nail," Shuman says with a smile. "But we got there. And now you don't think twice when you shop at The Home Depot or Lowe's."
Laying a foundation
Over the next decade, Stratix became a major player in spreading the adoption of barcode technology and automatic data capture, giving everyone from mom-and-pop firms to Fortune 500 companies a convenient way to track sales and boost productivity.
Running a business wasn't always smooth sailing, though. "There were times (early on) when I would think we couldn't make payroll, and it was, 'How are we going to get through this?'" Shuman says. Combatting those growing pains required "some stubbornness, and never hitting a wall that you can't figure out a way to go over."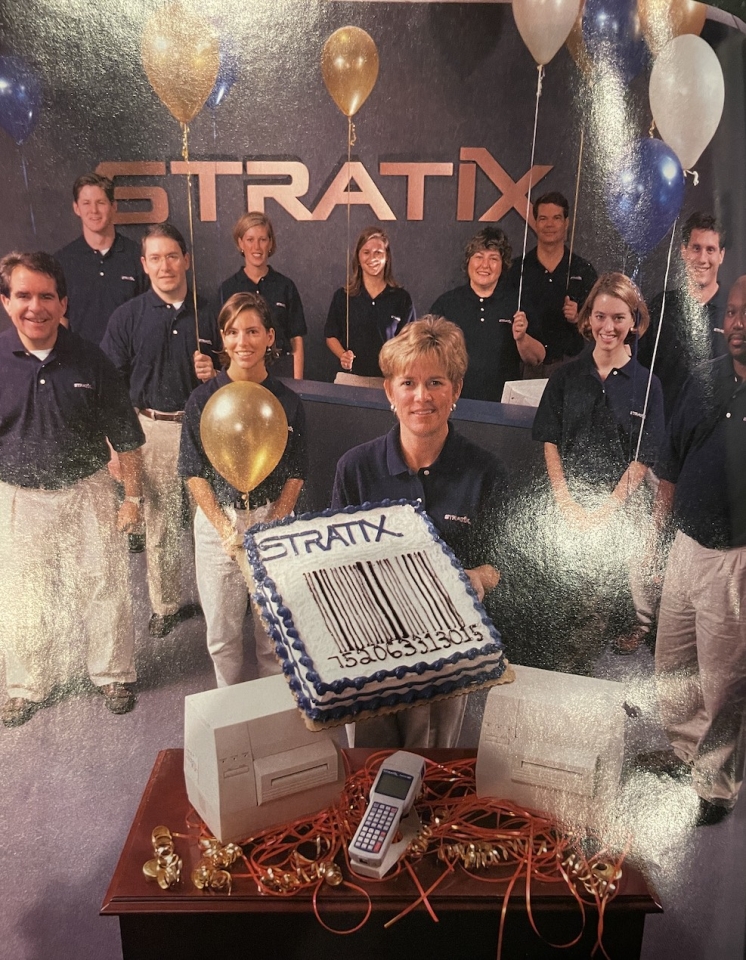 In scaling those walls, Shuman and Knowlton leaned on their network.
"It was so critical in terms of having so many avenues of people to go to for expertise," Shuman says. "That's what the Bulldog Nation creates, is (the ability to ask), 'OK, who do I know? Who can help me with this dilemma, and do I know anyone who can help me open a door?'"
Shuman has long understood that relationships are key to success. Stratix was built on a great idea. But the company's growth was also due to Shuman's resolute belief in "developing relationships built on trust," as she remarked upon receiving an alumni award from her fraternity in 2014.
"We have a set of core values that serve as guideposts for our actions and decisions," says Stratix CEO Louis Alterman (BBA '99). "They include being positive and optimistic, getting our uniform dirty, being customer-obsessed and having unwavering integrity. Bonney created the foundation for these values."
Having laid that foundation, and following Knowlton's tragic 2007 passing, in 2011 Shuman decided to step down and sell her ownership in Stratix, which she had grown into a mobile solutions colossus. It was time to enjoy a new phase of life with her husband, Billy, and their children, Mary Ellen (BBA '17, JD '20) and Billy Jr. (MAB '18).
Shuman is clearly proud of her career, of the company she helped build, of the mindful leadership style she instilled — even if her motivation was slightly different than most CEOs. "To me, success is being able to say with a really full heart that I did the right thing," she says.
It's tempting to point to more tangible measures of success. Stratix, which began in a two-room office space with "two phones and a landline," says Shuman, now has over 300 employees and more than $100 million in annual revenue.
That leap of faith paid off.
Paying it forward
As one might expect, Shuman isn't content to put her feet up.
After retiring, she served as president of the UGA Alumni Association and treasurer of the UGA Foundation Board of Trustees. She is actively involved in her southeast Georgia community as her church's treasurer and a volunteer with the Communities of Coastal Georgia Foundation.
She cherishes the time she is able to spend with her children. "They're both adults now, and I know they're creating their own paths, so my time with them is much more limited than it ever was. Whenever I get the chance to be with them, I just treasure that."
She continues to nurture relationships with a wide circle of people, friendships formed at Terry and throughout a three-decade career. Last Thanksgiving, Bonney and Billy welcomed no fewer than 30 people to their table.
And she remains committed to molding the movers and shakers of tomorrow — making real connections with younger folks to share a lifetime's worth of hard-earned wisdom.
"I feel a gratitude that makes me want to pay it back," says Shuman. "If there are any words of wisdom or any lessons learned that I can share with a potential entrepreneur that might make their journey more successful, or if I can provide encouragement in any way — whether it be true wisdom, or just emotional support — that gives me a sense of reward."
To those students, Shuman's true self shines through.
"Bonney showed me how you can be extremely successful but still have a spirit of humility and giving back," says Thomas. "She's a great person to connect with one-on-one. She doesn't care about her talents and accolades — she cares about being a blessing to other people."
These small, precious moments are hugely important to Shuman, who traces her own journey all the way back to that doughnut shop in Chamblee.
"I just feel like that's what I owe," she explains. "Anything that I can share, I just feel compelled, driven to do so."