Ten years ago, Brandon Mintz (BBA '16) and his friends were sweating in his student apartment before heading out for a Friday night in downtown Athens.
The air conditioner worked, but the improvised system of dozens of graphics cards and other computer components mining bitcoin in the spare room kept the apartment at 80 degrees or more around the clock in December 2013.
"A couple of people have stories of coming over before going out to the bars and just being incredibly hot by the time we went out," Mintz said. "I had to start putting my bitcoin mining machines in other people's apartments to get the A/C working well enough to get my apartment back to room temperature."
That apartment, where the circuit breakers kept tripping and everyone complained it was too hot, is a world away from the Times Square studio in New York City where Mintz rang the opening bell for the Nasdaq Stock Market on July 24.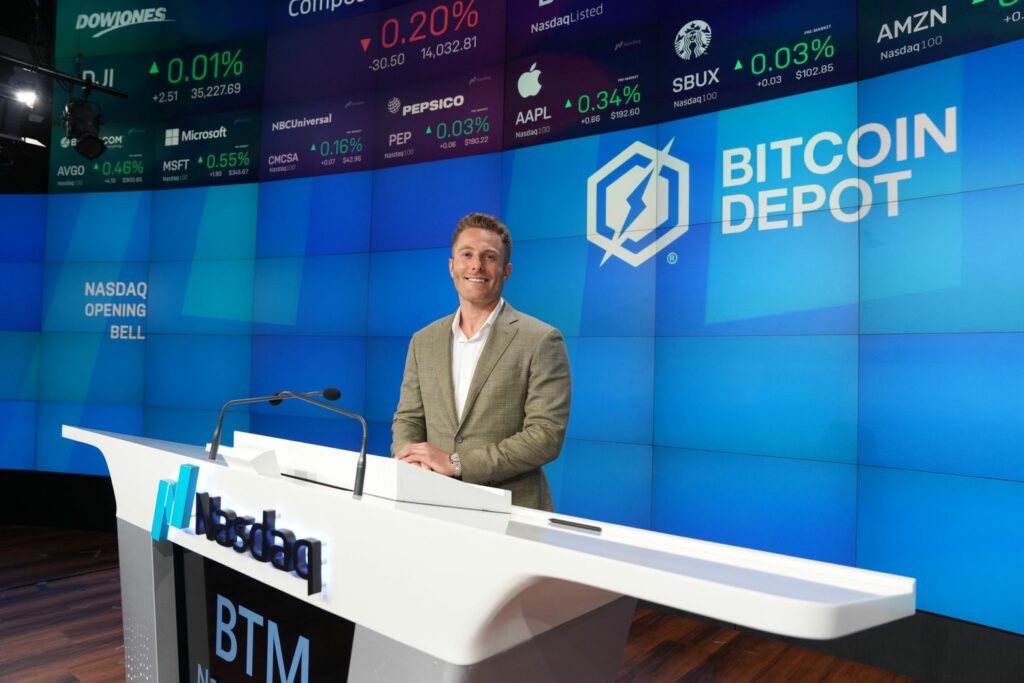 Mintz was there to celebrate his company, Bitcoin Depot, going public this summer, but the moment was affirmation of a new era. Bitcoin, once thought of as a fringe financial product, has moved into the mainstream.
People think of crypto as a nascent industry with lots of risk, but according to multiple studies 20% to 30% of Americans invested in or used cryptocurrencies. Mintz's platform, which allows users to buy bitcoin with cash, debit cards, and credit cards, seeks to increase that number rapidly in the coming years.
"Compared to many other crypto companies, we have delivered consistent year-over-year financial growth and profitability in an industry where that can be quite difficult to find," he said.
Mintz came to the University of Georgia in 2012 from his hometown of Woodstock, Georgia. During his sophomore year, he wrote a paper on alternative financial services for one of his classes.
It was surprising to Brandon at the time that more than a quarter of the U.S. population relied on these services for bill payments, money transfers, and online purchases, and this segment of the population rarely used or had access to traditional bank accounts or credit cards. He thought technologies such as bitcoin could solve many of the problems faced by the unbanked and underbanked.
He was eager to see how the technology worked in practice, but when he initially tried buying bitcoin, it was a mess and took forever. The systems were confusing and off-putting.
"I tried to buy bitcoin on an online exchange, and it was extremely difficult. After weeks, I left with nothing to show for all the effort I put in as I still didn't have any bitcoin," he said. "I found a website that allowed you to buy with cash using bank deposits. It took a few minutes versus spending three weeks on the online exchange and not getting my bitcoin."
Mintz was always an entrepreneurial kid. In high school, he started with a side hustle buying, refurbishing, and upselling boats and Jet Skis at Lake Allatoona while working at an Italian restaurant. He could spot a value proposition when he saw one.
In 2013, Mintz launched Cash to Crypto, which helped people interested in buying cryptocurrencies using physical cash with a straightforward way to do so. No frills, no investing advice — just a website where people could buy the bitcoin quick and easy.
It was successful enough that Mintz had enough money to pay back his student loans before he graduated, but it wasn't built for scale. After graduation, Mintz winded Cash To Crypto down and used his savings to launch Bitcoin Depot in the summer of 2016.
In addition to offering simple step-by-step instructions for those new to the bitcoin world, Bitcoin Depot operates the nation's largest network of BTMs (bitcoin ATMs). Its mission is to make buying bitcoin easy, quick, secure, and convenient while bringing bitcoin to the masses.
"We've kept the business simple because that's what our users want," Mintz said. "Our business serves consumers who value convenience, speed, and fantastic customer support."
And that easy-to-understand business model has been enormously successful. The Atlanta-based company has more than 100 full-time employees, and was celebrated as the fastest-growing alumni-owned business in 2023 on the UGA Alumni Association's Bulldog 100. Mintz was recently on the Forbes Atlanta 30 under 30 list.
Going public this summer, Mintz said, allows Bitcoin Depot to grow with greater access to capital and strategic initiatives.
"A lot goes into the public process — from the legal work to the financial audits and the capital raise throughout the process," he said. "It was really rewarding, and ringing the bell was an amazing experience."
Today, Bitcoin Depot has become vertically integrated, enabling the company — which owns its own BTM software platform — to reduce costs. It expanded its network of BTMs primarily at convenience stores and gas stations over the years to more than 6,000 locations through partnerships with convenience store chains such as Circle K.
The last 10 years was a wild ride and an incredible learning experience, Mintz said. He doesn't plan on changing course, as he says Bitcoin Depot is still in the early stages of its true potential.