What does a sustainable business look like? In Costa Rica, it can take the form of an organic farm or ecotourism lodge — but there's an equal chance it's a medical device manufacturer or major financial firm.
Terry College of Business students traveled to the Central American country during winter break to see how it fostered big business while promoting a green economy.
"I knew Costa Rica was a leading economic hub in Latin America," said Harrison Russ, a second-year finance major. "Observing first-hand how they protect and interact with their natural environment was incredibly impressive, and I am motivated to learn about how corporations can reduce their carbon footprint with profitable solutions."
Russ was one of 16 Terry students who spent eight days between Christmas and the start of the spring semester in and around San José, Costa Rica's political and economic capital.
It's the second year Terry's Office of International Business organized the study away trip to Costa Rica. As part of the international business course focused on sustainable business practices, site visits included international firms based in Costa Rica because of the country's commitment to sustainability and free trade.
"This is a good trip because there's not the commitment of a whole semester, but students are able to make personal connections with people outside the States and learn to appreciate other cultures and other approaches to business," said Holly Alderman, associate director of International Business Programs at Terry. "In Costa Rica, that approach leans heavily toward sustainability."
Students visited San José markets and the La Paz waterfalls but spent most of their time visiting businesses.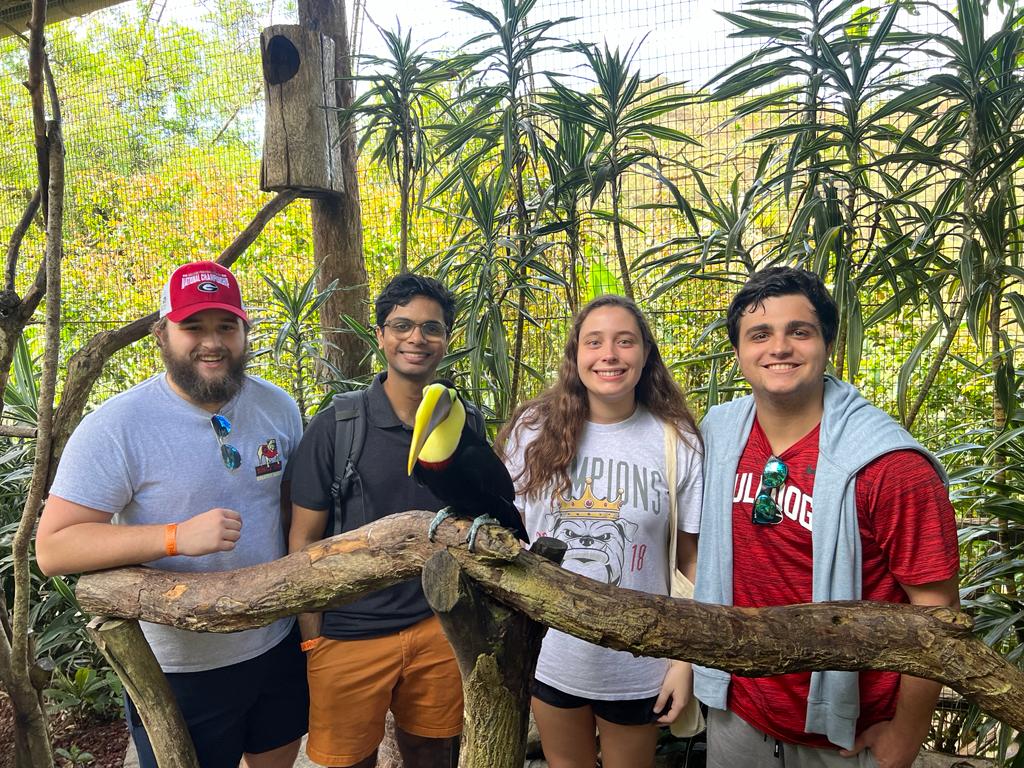 Many students are surprised by the number of large multinational companies that moved to Costa Rica in the last 20 years, said study abroad instructor Maric Boudreau, associate professor and head of the Department of Management Information Systems.
"When we planned the trip, we weren't looking for businesses built around sustainability, but businesses that were just being sustainable," Alderman said.
The itinerary included stops at an organic farm and a Starbucks sustainable innovation demonstration farm, with additional trips to Abbott Medical laboratories and Equifax in the country's free-trade development zones.
They talked to representatives from the Costa Rican Investment Promotion Agency, which built a business recruitment strategy around the country's highly educated workforce, sustainability, and quality of life. The result has been a self-regulated commitment to sustainability.
"The government of Costa Rica prioritized sustainability and enacted strict regulations," Russ said. "It's become an integral part of Costa Rican culture."
Russ said when students visited Florex, a Costa Rican-founded green cleaning company, the owner explained how his grandmother instilled a respect for the environment when he was growing up. It was always part of his company and expected, Russ said.
Seeing the companies' commitment to sustainable practices in person helped Russ envision the job he wants after graduation and solidified his desire to work with an ESG or social impact fund.
In addition to bachelor's degrees in finance, Russ has decided to build a UGA Sustainability Certificate into his degree.