If you ever had the good fortune to meet Sam Holmes — and many, many people have — there's no doubt he remembers you.
Don't believe it? Ask John Shlesinger, Holmes' business partner and friend of more than 35 years, who attests to this talent. It happened the first time he recalls meeting Holmes (BBA '87), which was, in fact, not the first time.
"I was in Rio Bravo (in Atlanta) with Andy Ghertner (BBA '65) after work one night, and Sam comes up out of nowhere and says, 'Hi, John and Mr. Ghertner,'" Shlesinger says of a memory over three decades ago. "In business, the hardest thing you have to do is go up and talk to somebody you don't know, and while I had met Sam, it was once, and while Andy had met Sam, it was once. And here is this 21-year-old coming straight up to us with hand out — breaking into the conversation and remembering our names. To be honest, I didn't remember his. It was a big impression point."
So big the conversation turned into a job offer, one Holmes took despite already accepting another job at a large Atlanta bank. When he called the bank president to tell him he was turning down their offer, Holmes told Shlesinger the conversation left "a big sweat stain on the back of his shirt."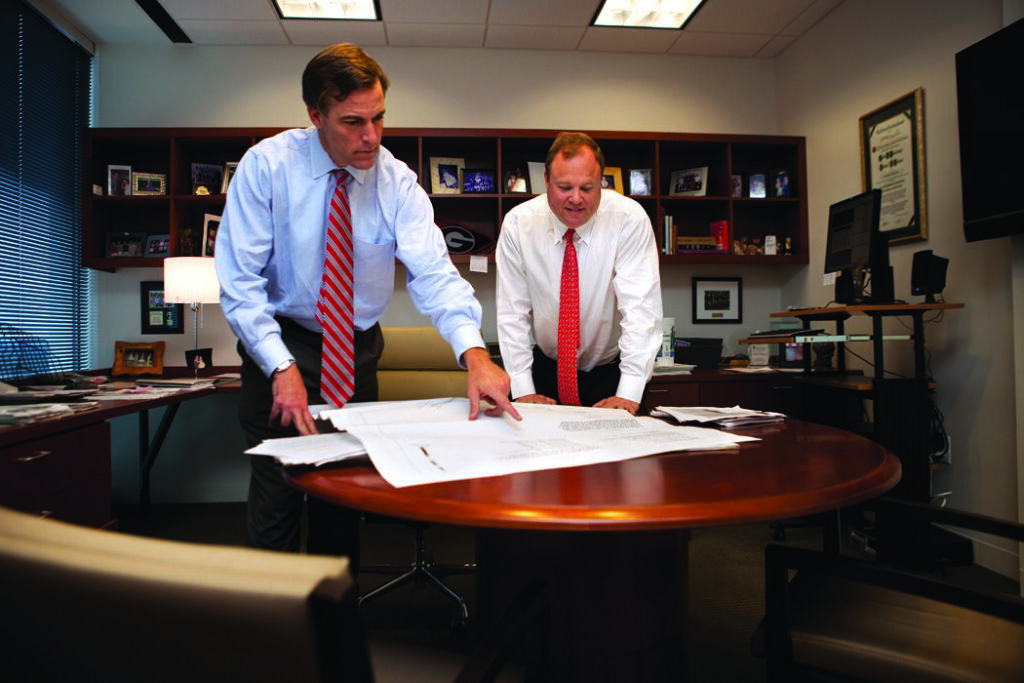 "Someone at 21 who can do that has something special," Shlesinger says. "Even today, he has friends from all walks of life, and he'll introduce me to somebody, and I'll look at him afterward and say, 'How do you know this person?' and he tells me. Then I ask, 'When did you do that?'"
There's so much that Sam Holmes has done, or is doing, it's hard to believe he shares the same calendar day as the rest of us. As vice chairman of CBRE, he's partnered with Shlesinger (MBA '83) to negotiate more than 100 million square feet of leases and sales and 8,600 acres of commercial real estate valued at more than $24 billion. When he's not building his business, he's helping others as a commissioner of the Georgians First Commission, a task force aiming to make Georgia the best state for small business.
As a Regent for the University System of Georgia, Holmes is often visiting one of the system's 26 higher education institutions, broadening his vision about the state's educational needs. His passion for education is why he's a trustee at the Georgia Research Alliance and served on UGA's Foundation Board of Trustees for 15 years — including two as its chairman — as well as the boards of The Baylor School, The Atlanta Speech School and the Terry College. He also serves on the UGA Athletic Association's board of directors.
He coaches youth basketball, teaches Sunday School, has been married to his wife Lara (BBA '88) for 33 years and attended (or coached) the athletic pursuits of his three children.
"I am amazed at the number of things he does," Shlesinger says, "and I don't even know all the things he does."
"I've got two wonderful parents, and they gave me the best lesson they can give you, and that is pure old-fashioned work ethic," Holmes says. "My father put 50,000 to 60,000 miles a year on a car; he's the only guy I know who could be in a morning meeting in Valdosta, another in Columbus at noon, and make it back for a kid's event in Monticello that afternoon. My mother is amazing, and candidly if she was my generation there's no doubt she would be CEO of a public company. She is the most talented person I have ever been around. She can do more things well than anyone I have ever known."
Holmes' talent for engaging people developed from an expanding sense of place. He grew up on his mother's family farm 13 miles outside of Monticello, a central Georgia town of 2,500 in the heart of Jasper County, where he was "active, always got in a little trouble and probably talked a tad too much." While his father Paul (whom everyone knows as Chief, BBA '63) was a traveling insurance salesman who carefully kept journals documenting the names and details of every person he met, his mother Susan (BSEd '63) was extremely active civically. After her three children graduated from UGA, she spent 12 years as mayor of Monticello and 12 years as a Georgia representative.
When he was 16, his parents thought it best he was exposed to a new environment and sent him off to The Baylor School, a boarding school in Chattanooga. "It was eye-opening to me. I got to meet young guys from all over the Southeast looking to try and expand their horizons like I was," Holmes says, adding he also realized a future career in the National Basketball Association was not forthcoming. "A 6-foot-2 shooting guard who is slow with no hops doesn't have a bright future in basketball past high school."
What he did have was the University of Georgia, whose athletics he spent his adolescence fiercely supporting. "It was the only place I wanted to be," he says.
Once in Athens, Holmes learned, as most collegiate 18-year-olds do, what he didn't want to do. After struggling through Accounting 110 and 111 and MIS 209 and 312, he settled on finance as a major. But it wasn't until he took an introductory course in real estate, taught by the "legendary" James Kau, where a career plan materialized.
"I knew little about real estate," he says. "I knew sales, I knew business, I knew numbers, but I didn't know much about real estate. It was the class where I learned the most. … I also felt the best route was to meet as many people as I could, be as involved as I could. When I was at Georgia I remember my dad saying that business is a contact sport, so you better have contacts."
His ever-widening lens served as a cornerstone for what he would do in the professional world. With Shlesinger, he created an adaptable business built on trust and customer service. The two have never had a contract because "we trust each other and understand what each likes to do," Shlesinger says. "We both know if one of us says we're going to do something, we do it."
They have daily interactions with many clients, supplying not just real estate brokerage but also project management, facility management and analytics. Consistently ranked among the top five office leasing brokers in Atlanta, including 15 times as No. 1, their business was awarded the deal of the year six times and the deal of the decade in 2010.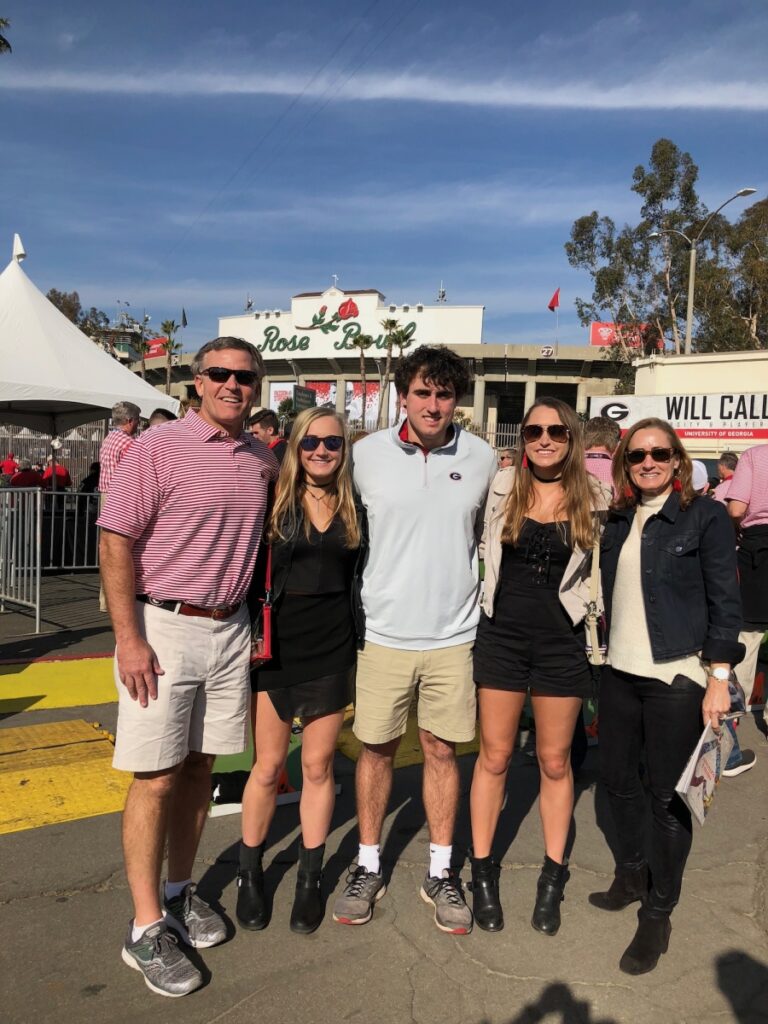 The enthusiasm Holmes has for his job carries to the many public service roles. His appointment to the Board of Regents allows him to address a cause close to his heart — offering a hand up to young people who grow up in economically challenging households.
"Sam Holmes is a great friend and a man of integrity who has committed himself to serving his community and his state," Georgia Gov. Brian P. Kemp says. "I am grateful for his work on the Georgians First Commission as we continue working to make Georgia No. 1 for small business. Sam has demonstrated a deep commitment to higher education in our state through his service to the University of Georgia and on the Board of Regents."
"I don't know if there's a better person than Sam," Shlesinger adds. "Most people don't see what he does outside of real estate and the people who do see it are lucky because he does plenty."
In the spirit of someone who gives much of himself, he never expects recognition for it. Being honored by the Terry College was a surprise, merely because graduating from Terry was, in his life, its own reward.
"I'm grateful. I can't stress enough the importance the school has meant. Not only did all of my family go there, but all of us met our spouses there. The best decision I ever made was marrying Lara," Holmes says. "My grandfather and namesake, my mom and dad, brother and sister, my two oldest children, Sam Jr., and Susan, are both proud Terry alums, the vast majority of my friends and my clients — it's amazing, the impact. To get an award from a school that has had as much of an impact positively in my family is humbling.
"And I'm so humbled to get any award my father got. I have never and I will never think I have anything close to the impact he has had in this state. My first thought when I got the news was, 'My gosh, I never thought I'd get any award my father received.'"