There's a reason it's called "Ironman." The 70.3-mile triathlon starts with a 1.2-mile swim, followed by a 56-mile bike ride, and ends with a 13.1-mile run. Participants have eight-and-a-half hours to finish the race.
Sam Crozier (BBA '06) and his brother Billy complete one (sometimes two) of the half-Ironmans every weekend.
"The question is, what are you capable of, and what are your limits?" says Crozier. "We're going to find out."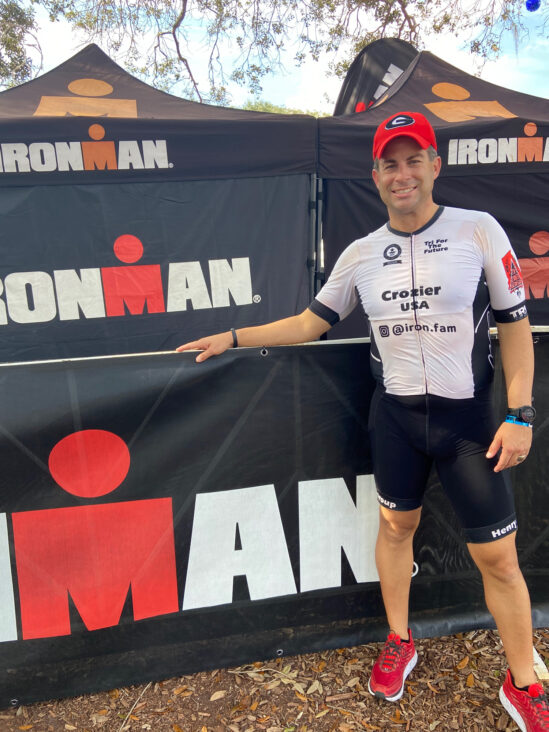 On Sept. 26, the Crozier brothers crossed the finish line at their 25th Ironman 70.3 in Augusta, breaking the world record for the most long-distance (113 km) triathlon races completed in 12 months—and it only took them four.
The idea sprouted in 2018. Crozier had competed in triathlons before—including a full Ironman (twice as long as the Ironman 70.3)—and was looking for his next challenge. After watching Iron Cowboy, a documentary about the previous record holder, inspiration struck.
"I looked up the record, and 24 half-Ironman races in a year was a number that I could wrap my head around," Crozier says. "I called my brother and said, 'Hey, what if we broke a world record?' And he didn't immediately say no, so that was kind of his fault," he jokes.
But Crozier didn't just want to break the world record. He wanted to blow it out of the water. The goal: 48 Ironman 70.3 races in 365 days.
Beginning in 2019, the brothers trained in their respective hometowns (Sam in Ponte Vedra, Florida, and Billy in Watkinsville), rotating disciplines every day for two years. Crozier brought on a personal trainer, nutritionist, and support team to help him juggle training with home life.
When he isn't racing, Crozier, a father of two, works as a partner at the Towers Group, a real estate development firm in Jacksonville. His support network and educational background keep him grounded as he navigates a booming housing market while traveling to a different city every weekend.
"Georgia taught me a lot of lessons that I continue to use today," said Crozier, who studied real estate at Terry College. "The foundation that the Terry College provides is how to adapt and how to think for yourself. And I can't speak highly enough of that."
When the pandemic struck in early 2020, adaptability was paramount.
From the beginning, Sam and Billy had planned on 2021 being their record-breaking year. The Ironman 70.3 in Chattanooga, Tennessee, marked the start of their journey in May. But COVID added a new level of difficulty. That same month, the brothers had to secure an invitation from the Austrian government to race in St. Pölten and stay on track.
For Crozier, the race proved more challenging than expected.
"Austria was the first time that I wanted to quit," he says. "I jumped in that water, and it was frigid. I saw icebergs."
The temperature shocked his body, which was used to Florida's warm waters. He couldn't catch his breath and had to stop. But then he thought of his brother, who was further along in the race, and knew that if Billy wasn't quitting, he couldn't either.
"I can't say enough about having a partner who feels the same pains you are going through, encouraging each other to finish. Having that person is unbelievably helpful. And that it's my brother makes it a lot more special," he says.
Sam and Billy were on track to more than double the previous world record by May 2022, but a collarbone injury suffered by Billy in December requires the pair to make a few adjustments.
Still, they're not out of the race just yet.
"It's so rewarding to know that no matter what, we just broke a record," says Crozier. "It's been a once-in-a-lifetime experience."