When he arrived in Athens in 2005 as a college freshman, Will Keyes had no intention of diving into a variety of academic pools to sort out his career skills. It just happened, he says. Keyes studied economics in Terry, statistics in Franklin, a raft of business courses in the Graduate School and then entered the University of Georgia Law School.
He was enthusiastic about … everything.
This wasn't a young man who couldn't make up his mind about a career making course corrections on the fly. His broad academic inquiries at UGA came from his inborn tendency to be curious and seek out challenges. The plan was not to have a plan.
There was something else at work, too. Keyes was determined to make a sustained impact on society, so he wanted to take in as much as he could and be prepared for a chance to give back when he found the right calling.
Here is what happened when his curiosity and craving for challenges met his sense of duty:
• Keyes became one of 194 students in the 226-year history of UGA to earn four degrees. That's less than one percent, all-time. He is likely the only Quadruple Dawg many of us will ever meet.
• As a captain in the U.S. Army Reserves, Keyes is an international law officer in the Civil Affairs and Psychological Operations Command, a geopolitical mission to help other countries in their law-and-order practices.
• His full-time job since October 2018 is as an assistant United States attorney — a federal prosecutor — for the Middle District of Georgia headquartered in Macon.
• Keyes came to the Department of Justice from the Office of Military Commissions in the Department of Defense, where as a captain in the U.S. Army's Judge Advocate General's Corps, he worked for the U.S. in the prosecution of the terrorists responsible for 9/11. Before that assignment, he was on active-duty deployment in support of Operation Inherent Resolve and served as the primary legal advisor to a battalion of 800 soldiers operating throughout Kuwait and Iraq.
Society got quite a lot for those four degrees, and Keyes is only 35 years old. This spring he was honored as Terry's Outstanding Young Alumni Award winner. That recognition is not icing on the cake. That's another layer to the cake. He isn't settling.
"It (four degrees) wasn't the plan when I started, but as you get more involved and you learn about different programs, one thing led to the next, and the next thing you know, I was starting law school with a couple degrees under my belt and working on one last one," Keyes says. "My dad jokingly asked me if I was going to be applying for medical school when I was all done with law school."
Four degrees was plenty, and he has leaned on them to do his job expertly as a federal prosecutor.
In August 2021, Keyes stood before a jury in federal court to make his closing argument in a drug trafficking trial that followed a seven-month FBI investigation. His legal cognizance from the UGA School of Law was obvious help, but what Keyes also had going for him, something learned from his economics courses at Terry, was how to synthesize complex material and make it understandable to the layman, like a juror.
"What you're doing in economics is you are explaining something in the real world, and you're simplifying it, and it could be a massive set of data that is complex," Keyes says. "Nowadays, whether I'm in my Army JAG capacity or in my capacity as a federal prosecutor, the goal is to make things simple and explain sometimes very complex investigations, or very complex legal issues, and make it easy to understand and easy to present to someone in a jury."
Keyes connected with the jury in the methamphetamine trial, which resulted in the conviction of a ringleader of the conspiracy. Nineteen individuals connected to the conspiracy were convicted in federal court. Coincidentally, the meth crime boss's conviction by a jury was the same day Dean Benjamin Ayers called Keyes to say he was chosen for the prestigious young alumni award. In fact, the two spoke while Keyes was at the courthouse waiting on the jury to reach its verdict.
Similar to the jury, the commanders he served in Kuwait also appreciated Keyes' compactness. In the combat zone, he followed the military doctrine of BLUF: Bottom Line Up Front.
"Commanders do not want a long answer, they want a direct answer," Keyes says. "They would get frustrated with you if your answer was in the form of a 10-page brief. They would hand it back to you and say, 'Explain this to me quickly.'"
Keyes didn't just acquire a range of knowledge for the court and military while at Terry. He understood how to decelerate from academics, build soft skills and have some fun. He knew better than to become a vampire student, the academic looking at a bright screen in the middle of the night grinding through a course load. It was hard work earning four degrees, sure, but Keyes made time to socialize and be a part of the campus.
Keyes does not refer to his UGA experience as networking, which can be impersonal. It was much more than that. It was building trust and making friends, just like he does with FBI agents during investigations.
"Terry does a really good job of relationship-building, and I think in my job, I'm a big believer in making friends," Keyes says. "The agents I work with are my first point of contact if I'm trying to put a case together. I have one point of contact with that whole agency, and we work together as a team. We both have a role like we're a unit."
"Terry taught me that, in whatever you do, it should be very relationship-driven."
Keyes learned the power of being friendly to people at an early age from his parents, Dana and Bill. Bill, a retired neonatal intensive care physician, spent decades building a successful career and life, thus awarding Will his own opportunities for success. But more importantly, they are outgoing, easy to talk to, good listeners. If you spend any time with Keyes, you notice during a conversation, he doesn't get distracted by the noise around him, even in a bustling lunchtime restaurant.
Dan Griffin, a federal prosecutor in Chicago, JAG colleague of Keyes and a friend, says one thing Keyes absolutely is not is entitled. Griffin says he has seen too many young people stagnate because of their background. They can end up staring at the clock yearning for 5 p.m. Keyes went the other way. He revved up his career on his own and broke through the class ceiling in reverse.
"It's been my experience, anecdotally, in life, that you can see privileged kids, and they kind of take it easy and float through life, but Will is not like that," Griffin says. "His dad was a successful doctor and Will has all these blessings, but he is driven to do more."
"He joined a law firm and could have gone on to make a lot of money, but he looked around and thought he could do more to help people, so he joined the military. And now he is helping the communities around Macon and in Georgia fight crime."
Keyes' career certainly didn't start so star-spangled. After law school, he joined a prominent Atlanta law firm, Campbell & Brannon, where he worked for three years. Keyes was living in a Buckhead high-rise apartment, on a golden track.
And then … he wasn't. He wanted redirection, and the military certainly offered that.
Twenty-four hours after waking up in an apartment in Buckhead, Keyes woke up in a military barracks at Fort Benning, enthralled by the roar of cadence from marching soldiers at sunup. His wife, Margaret, called their storybook about-face "Buckhead to Boot Camp."
Assignments as a military lawyer in the U.S. weren't enough. Keyes maneuvered his way into deployment to Camp Arifjan, Kuwait, with side trips to Afghanistan and Iraq to counsel soldiers and commanders. He says he wanted to be useful, and that meant going where the fight is. Once again, Keyes didn't nibble at anything. He took shark bites instead.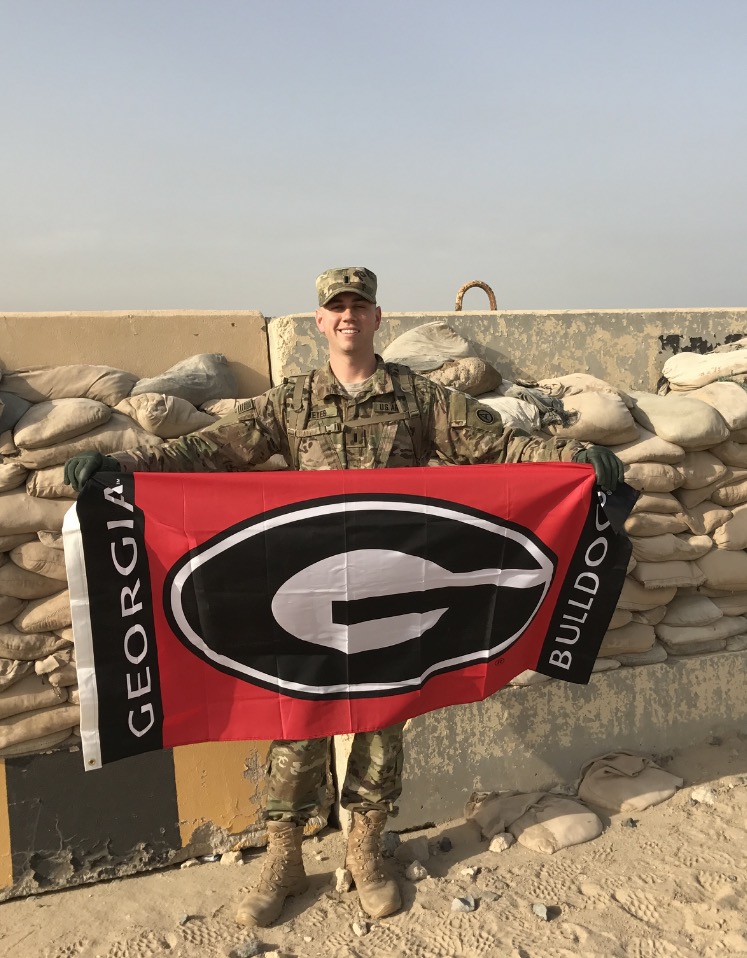 "I figured, if you're a JAG, and if you're in the Army, the way you get your hands on the most stuff and get the fullest experiences is to deploy to the Middle East," he says. "That's where the conflict was at the time, so I started just reaching out to everybody trying to figure out how to get over there."
The experience in the land of sand was, Keyes says, "like drinking from a fire hose." Diverse, mind-bending legal issues came at him fast and furious. Commanders and soldiers needed counsel, and there was no learning curve. In the Middle East, it helped that he is methodical and logic-driven, because that is no environment for conjecture.
"The commander is like the CEO, and I'm covering everything under the sun for him," Keyes says. "I remember the first issue presented to me. It's in a room with the commander and his first sergeant, and others and these are people who've been in the army for maybe 16-17 years."
"The commander's going around the room and polling people in his command group about this issue. He turns to me last and says, 'Alright, JAG, what should we do here?'"
In those situations, in an unsafe place in the world, Keyes could not sputter and stammer and declare, "Me? I'm new here. Why are you asking me?"
"You do what you do, and that is to apply the law to the facts on whatever it is we're talking about," Keyes says. "That's what I was there for, to apply the law to the facts like you would in any situation and advise them."
"You get thrown into lots of different things over there, which was very stressful, but it stretches your comfort zone. It's professionally challenging, and things like that just make people grow."
Keyes' work in the Middle East earned this dazzling performance review:
Outstanding performance by the best Judge Advocate I have worked with in 8 years in the Army. He maintains a positive outlook and strong work ethic despite a punishing workload. The clear workhorse in the Client Services and Command Judge Advocate Sections. Will excels at interacting with the staff and gaining their trust with insightful and correct advice. He took on the hardest assignments and executed them flawlessly. A consummate professional in a difficult environment. A superb performance by one of the JAG Corps' brilliant young leaders.
Keyes made his mark in law and the military, but he is still doing career research. One of the things he discovered through four degrees and various government roles is that he doesn't want a rote career. He wants some zigs and zags, the opportunity to become fascinated with something new. He wonders what he might run into randomly down his career path.
"I try not to set a path because I've kind of come to learn that paths change quickly," he says. "And that's a good thing. I think flexibility and not limiting yourself makes careers and life more exciting. You have to be willing to think outside the box."
Considering his curiosity about the world, it isn't odd, then, that Keyes did not go into medicine like his father. It is estimated that doctors' children are 24 times more likely to enter the profession than their peers. Medicine is the most "inherited" elite career in the world, but it didn't meet all the needs of Will Keyes.
Keyes talks frequently about being "impactful," but he is not talking about making his mark or making his presence known. He means being useful, the edifying citizen-soldier.
But what can be more impactful than being a doctor and saving lives?
How about being a soldier lawyer and saving lives?
Keyes' work as a JAG includes trips to other countries to advise them on stifling human trafficking, among other issues. He had a geopolitical mission to Mauritius, an island nation in the Indian Ocean, to assist that government and its police in developing crime-fighting techniques. The mission was held virtually due to COVID-19, but he is planning on traveling to Africa for similar assignments in the future.
"We're working through the embassy and partnering with their military and their law enforcement, and providing instruction on human trafficking, domestic violence and crimes involving children," he says. "And so, our government kind of uses it or both governments use it for multi-purpose. You get smarter together and learn and train, but you also develop diplomatic relationships, and it's good to have these relationships with other countries."
In Kuwait, Keyes was part of the creation of a command sponsor program to assist U.S. soldiers in becoming U.S. citizens. "It blew my mind these guys in Iraq, in uniform, fighting for this country, were not U.S. citizens," he says.
Griffin says he told Keyes there was a progression in the job as a military lawyer and a federal prosecutor. He was going to start with easy cases, not be handed any big knots, then build into a more substantial role. Things were going to take time, Griffin says. It wasn't meant as a challenge, but Keyes conquered it nonetheless.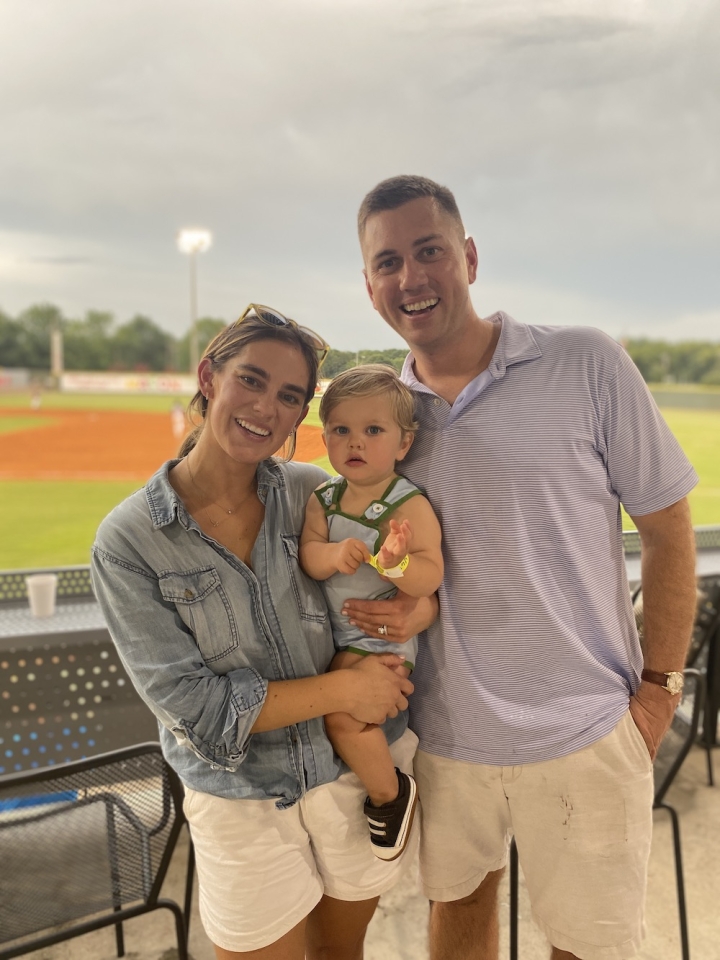 "He's been on a faster course and exceeded tenfold where he should be," Griffin says. "He is handling very complicated wiretap cases. A (U.S. Army) general we were working for sent him to Guantanamo, so he was already handling terrorism cases. That's not what they usually give somebody who has been doing this two-and-a-half years."
Keyes has had obvious influences on his quest for a well-spent life. His wife, Margaret, stands apart from others. She supported his devotion to the military when a brilliant law career was spread out in front of him.
"She gets it. She understands why I do what I do, and she appreciates it — and did from the get-go," Keyes says.
His parents had a significant influence on his identity, of course, and faculty and peers at Terry enriched his life and career. Griffin, the federal prosecutor in Chicago, became a confidante, a close friend, and was a guide into the bureaucracy and demands of excellence in the Department of Justice.
Keyes also had a spiritual guide, Brian Kunihiro, then a major in the U.S. military's Joint Special Operations Command. Keyes met Kunihiro in Camp Arifjan, Kuwait at a Bible study. He couldn't help but fix on Kunihiro's Airborne wings, his Ranger tab, his Special Forces tab. This man was the exemplar of the military phrase "tip of the spear," but he was so much more to Keyes than a warrior.
"We met for about six months and studied the Bible, and the way he talked was my language," Keyes says, meaning it was logic-based, and searching for truths. "What is the problem, and what does scripture say?"
"He would stay up half the night for his job and then meet me before he went to work again the next day. I've never seen someone so willing to give his time. His philosophy of Christianity was based on discipleship and creating fishers of men. It was just so much sharing with me."
Keyes shouldn't have been surprised by Kunihiro's benevolence toward him. After all, Galatians 6:6-10 reminds us, "a man reaps what he sows."