When Robyn Thompson and Brenden Higbee launched their first Four Fat Cows ice cream shop, they imagined it as a place where families and friends could gather to share a sweet treat.
That plan worked great until COVID-19 made crowding around an ice cream counter a no-go for fans of the frozen treat.
"We didn't have delivery; we didn't have streamlined curbside pick-up," said Higbee, who is Thompson's son and Four Fat Cows co-owner. "We had a hodge-podge of curbside service at some stores but it wasn't great."
Things are better now at each of Four Fat Cows' six locations, but the experience made Thompson and Higbee realize they needed to diversify their marketing strategy.
It was a challenge Terry College senior lecturer Kristy McManus's spring marketing research class was glad to help with.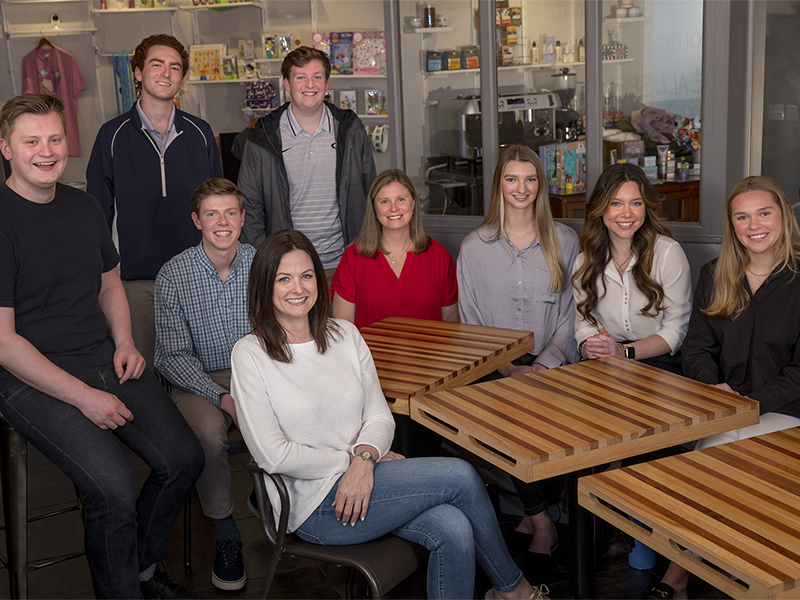 The pro-bono consulting job was part of an honors "Marketing Research for Business Decisions" course McManus redesigned in response to COVID-19. The hope was to use active learning techniques to engage her students and help them solve emerging businesses challenges.
"I think the business world was turned on its head with the coronavirus pandemic, and many small businesses were not prepared for these drastic changes," McManus wrote in an application for a Terry College Teaching Innovation Grant application in spring 2021.
While businesses may have recovered somewhat from the initial shock of the pandemic, some are still coping with customers' changing demands. Services such as delivery, online ordering and curbside pick-up don't just happen. They take research and planning to understand consumers' needs. McManus knew that was something her class could offer.
The class of seven students started meeting with Thompson and Higbee in January, conducting surveys and consumer interviews to gauge the demand for a mobile app, online ordering, gift deliveries or the possible expansion of the shop's gluten-free baked goods.
Each step tapped into the marketing research curriculum McManus covers in class, and it's helped students reach a new understanding of the core concepts, she said.
"It's been interesting because in a normal class, you go to class and the professor's going to go over the PowerPoint," said Josh Walkup, a junior majoring in marketing and risk management and insurance. "But pretty much every class we've had this semester, I know we're going to work on this project.
"It's a different style of learning because we're not doing definitions and concepts. You're putting them to use immediately and figuring out what this would look like if we were at a company."
McManus uses project-based learning in some of her other marketing classes but giving students real problems and clients help them engage with the content on a different level, she said.
"This class can be as dry as you want to be," McManus said. "A lot of students dread taking marketing research because it can be very dry. But it can also be like a toolbox. If you learn the tools and then use them to see how they work in the real world, the material is far more engaging."
It's more engaging and leads to more impactful learning outcomes, said McManus, who received Terry College's 2020 Award for Excellence in Instruction for her focus on active learning.
"It's much more helpful," said Lance Stechschulte, a junior studying marketing. "I think when you're just sitting there, you learn the information, regurgitate for the test and then it kind of falls out of the other ear. But when you're able to practice and apply it to a real-world company, then you can soak in more of the information."
For Thompson, working with the students gives her the mental space and extra hands she needs to move Four Fat Cows forward.
"These kids are always fun to work with, but also provide so much professionalism, meaningful data while thinking outside of the box and giving us insight on things that we don't always think about," Thompson said.
The students are still in the research phase of developing their post-COVID recommendations for the chain, but ice cream fans can see what changes may be coming this summer at www.fourfatcows.com, she said.