Image:
Leaders in the trucking industry have loads to talk about these days, ranging from driver recruitment and retention to supply chain disruptions and fuel prices.
There's more to consider on the horizon, with a future-focused on autonomous trucks, biofuels, data analytics and sustainability concerns.
And as shipping demands continue to increase — another consequence of the COVID-19 pandemic — company executives are discussing the age requirements for hauling cargo, diversifying the workforce to include more women and others who haven't traditionally been part of the industry, and ways to create better work-life balance on the road.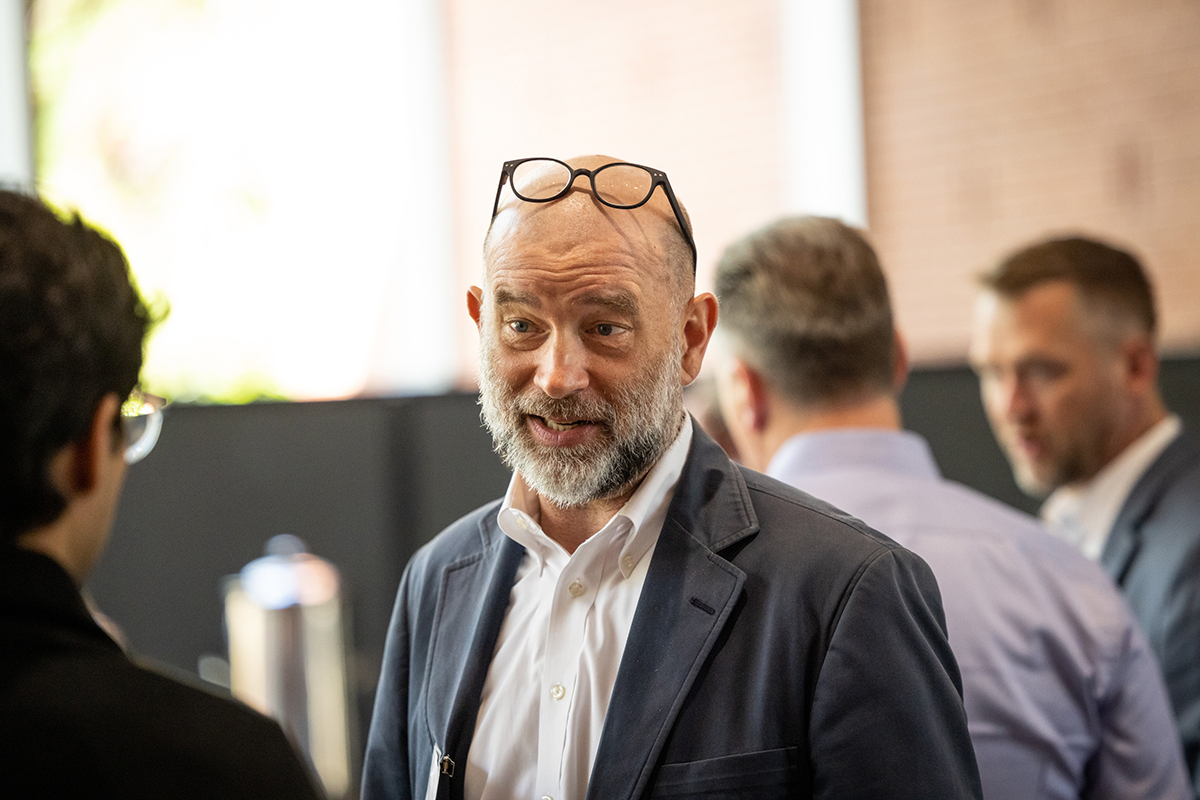 "Trucking didn't slow down during the pandemic — it sped up as people stayed at home, and that's not going to change as they continue to order online," said Matt McLelland, vice president of sustainability and innovation for Covenant Logistics, a Chattanooga-based company.
McLelland, who graduated from the University of Georgia's Terry College of Business in 1994 with a degree in management information systems, spoke about corporate social responsibility and regulatory trends at this year's Trucking Profitability Strategies conference at the Georgia Center for Continuing Education & Hotel in Athens.
TPS is the top-rated professional conference for C-suite executives running asset-based trucking companies. Unlike other programs in the industry, the conference emphasizes a "no sales solicitation" policy. No suppliers, vendors, media representatives or trade press are allowed to attend, which opens the floor for candid conversations among trucking CEOs, presidents, owners and senior leaders.
In one of this year's main sessions featuring executives from major carriers including Ruan Transportation Management Systems and Knight-Swift Transportation Holdings, panelists discussed a range of topics, from the driver shortage to diesel prices.
"They answered questions authentically as if they were talking to their own board members," McLelland said. "This is one of those industries where there's plenty of freight for everybody, and they opened up without being afraid of someone stealing their ideas."
Celebrating 35 years
Hosted by Terry's Executive Education arm, the Trucking Profitability Strategies conference celebrated its 35th year this spring. TPS was co-founded by Fred Stephenson, an emeritus professor of marketing and distribution, with Kittsu Greenwood from the college's corporate education office. The idea sprung from Stephenson's expertise in transportation and logistics and his desire to help the trucking industry coming out of federal deregulation in the 1980s.
"The average consumer doesn't give trucking a second thought," Stephenson said. "But they ought to realize how vitally important this industry is to them and to the economy. If it shut down for any reason, America would stop."
The trucking leaders who commit their time to come to TPS every year understand what's at stake for their companies. The conference regularly sells out and draws attendees from more than 30 states and several Canadian provinces.
"The overriding theme of the conference is leadership, which never grows old," Stephenson said. "How can we help these leaders to run their businesses better and improve them as leaders of people?"
The conference program is overseen by an advisory board, which includes chief executives and vice presidents from small and large carriers across North America. They curate a list of speakers and moderators who focus on business intelligence, hiring and retention, and strategies to grow revenues and margins.
"It all boils down to how you treat your people and treating your employees the way you want to be treated, regardless of the size of the company. Your people make the company," said Mack Guest, founder of LAD Truck Lines, a carrier based in Watkinsville.
Guest, who played as an offensive tackle for the Bulldogs from 1976-1978, is proud that his son Dutch has taken over their company's leadership this year. The father-and-son duo have spoken at the conference about issues that smaller carriers often face, such as succession planning among family members.
"It's a special bond when one of your kids shows interest in the business and brings their leadership to the table," Guest said. "They think differently than I do, and that's a good thing. Change is good, and every day gets better and better."
Looking forward
This year, many trucking executives are focused on market disruptions and the looming questions surrounding the driver shortage. Although different sizes of carriers are approaching this in different ways, leaders are often eager to talk to others about what's working and what's not.
"I love spending time with the regional fleets. For all the big data and analytics in the world, there's nothing better than talking to someone who is heavily involved in several aspects of the business in a hands-on way," said Derek Leathers, chairman, president and CEO of Werner Enterprises, a large carrier based in Nebraska that serves the U.S., Canada and Mexico.
Werner, for instance, has doubled the national average for the number of female drivers in its fleet, Leathers said. Other carriers have advocated lowering the driving age to 18 to haul freight across state lines and boosting programs to recruit new drivers.
"We're constantly on the journey of improving the lifestyle of the role and being inclusive to people who haven't traditionally driven," Leathers said. "We're always learning the best practices on how to make this work."
Environmental and sustainability programs driven by innovation have also emerged as future priorities. Several promising areas were discussed at the conference, including the latest diesel technology and emissions control, efficient engines, electric vehicles, driverless vehicles and diesel byproducts that burn cleaner. Some options, such as renewable diesel, are only available at certain refineries in the Pacific Northwest.
But lowering the industry's carbon footprint will require multiple strategies and long-term planning, Leathers noted, as well as collaborations with companies coast to coast.
"Everybody wants to rush to answer, without fully vetting the options," he said. "There are some places where one strategy is the answer and others won't work, so we need an approach that involves all of the above."
In addition, customers and shippers are beginning to ask carriers as many questions about corporate social responsibility programs as other competitive factors, such as on-time delivery, pricing and customer service, McLelland said.
"They want to know what we can do for them as a partner, not just a vendor, over the long haul," he said. "These types of conversations are becoming more common, and leaders are discussing what we can do together to impact that for the greater good."
How to join the conversation

An executive conference held every April in Athens, Georgia
Industry-specific sessions and emerging trends in trucking
Now in its fourth decade of continuous programming
Department or Program featured: