Image:
Like every good insurance professional, Dominique Norton made sure to double-check his numbers.
"It will be 10 years coming up, wait ... actually, ha-ha, it has been 10 years," he said. "Ten years in the business. "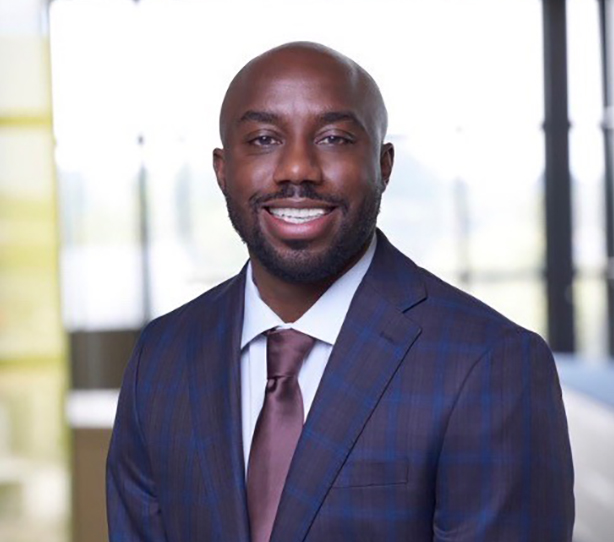 Working in the fast-paced and unpredictable business of risk management and insurance can make you forget how long you've been at it. Norton's decade-long journey in the discipline has taken him to companies big and small with notable leadership experience. Such involvements provided a wide range of expertise for the accomplished professional which includes personal insurance, consulting, sales, portfolio analysis, market research and business negotiation. He's learned plenty in his career, including the important lesson that it's essential to always learn more.
So when he saw The Council of Insurance Agents & Brokers was offering a rigorous program to help brokers better understand real-world scenarios through collaborative learning, he was intrigued. When he saw the instructors were from the Terry College of Business, he was sold.
"UGA has a very reputable name in the insurance and risk management world, being top-ranked if not the number one program in the country.  So when I heard they were involved with it, that made me jump," he said. "Before I even got to the specifics of the coursework, knowing UGA was involved felt like this would be great for me to button up on some in the insurance world and see exactly what's going on in the current market. You're going to learn so much from the past. But to stay ahead of the curve, you have to know what other like-minded people around the country are doing."
The program is called the Insurance Professional School (IPS) and Norton joined 40 students nationwide in the inaugural cohort. The reward for completing the intensive nine-month course is earning the Accredited Professional in Risk & Insurance (APRI) designation, a status that solidifies knowledge of the industry. But it did more than that for Norton.
"It allowed me to get a fresh perspective on things," he said. "It was a mastering of the mind, seeing different experiences that open up ideas I didn't even realize. It has helped me tremendously."
"We're offering students a competitive advantage around core knowledge fundamentals taught by a professional set of educators that have an appreciation for the importance of application," said Rob Hoyt, IPS academic director and the Dudley L. Moore Jr. Chair of Insurance and head of the Department of Insurance, Legal Studies, and Real Estate. "We've been pleased with the reaction, and the companies that sent students to participate said the same."
Fundamentals and case studies
As head of the top-ranked RMI program in the country, Hoyt understands how to educate future industry professionals. When he was approached by The Council for the concept of the Insurance Professional School, he saw the need but had questions about how to structure such a program. In the present continuing education space for RMI professionals, courses created by larger insurance companies have multi-week programs aimed at deep dives into the fundamentals of insurance. It proves to be a lot in a short time, and The Council was hearing from its members that they wanted an alternative learning opportunity.
Part of this need stemmed from a new wave of workers coming into risk management from other industries who never had extensive RMI training.
"Companies have new employees who studied finance, some who studied a general liberal arts area of focus," Hoyt said. "They've got the capabilities from a personal standpoint and the skills that would be well used in this industry. Some just don't know anything about insurance. So our mission was to offer programs that could educate folks who don't have that understanding."
So Hoyt wanted to retain the fundamentals portion of training, spreading those lessons over a longer period. New wrinkles included building a presentation skills component, adding smaller case studies, and incorporating a larger capstone project where students collaborate to build a company's risk management program. These training elements are already part of Terry's RMI curriculum, making it easy for Hoyt to tap two risk management faculty to help him in this venture. Both Jennifer Atkinson and Daniel Brown have years working in the industry and teaching at Terry, and their addition to the program was the final piece to make the Insurance Professional School a reality.
Hoyt reached out to Linda Read, Terry's director of Executive Programs, and with The Council's leadership, they developed a plan to bring this program to fruition. The pandemic interrupted some ideas the group had but allowed them to introduce digital deliveries they might not have thought of before. The team developed the process and ran a pilot program in 2020, working out a few kinks and receiving some needed feedback from the pilot participants. After partnering with The Institutes, a nationwide provider of educational content and professional designations in risk management and insurance, they were ready to go.
"From the start, the program was an outstanding collaboration between Terry and the learning and development team with The Council of Insurance Agents and Brokers," Read said. "In service to their membership, they saw a gap in professional development in the industry.  They are savvy corporate learning professionals who wanted to work with the best in the industry. They reached out to Terry because of our RMI renown — our program is top-ranked by U.S. News and World Report, has been for several years, and for good reason."  
Collaboration and building knowledge
Broken into two modules, the IPS pairs online learning lessons and activities with live virtual sessions to apply the material to real-world settings. The first four months are heavy on fundamentals, with weeks devoted to a different topic — analyzing contracts, coverage of commercial property and liability, marine, crime, auto, business income and workers' compensation. There's an introduction to employee benefits and a section on the importance of ethics and standards.
"This program is meant for somebody newer in their insurance career, and it will provide them with a broad scope of industry fundamentals and standard commercial policies," said Atkinson. "Participants can get this foundational information in an organized and efficient manner by completing the APRI. If they want to drill down into a certain subject matter, we've given them the tools to handle that."
"We're helping them look at a business, identify the risks associated with the business, determine which risks are appropriate for insurance, and which of those risks can be treated through other mechanisms," Brown said.
The second module dives into more niche coverages — including cyber and international insurance — while also focusing on carrier operations, agency markets, claims and surety. It's a lot to throw at the class but knowing a little something about everything can help them as they advance in their careers.
"Regardless of your specific industry or product line, I will always recommend maintaining a basic understanding of the industry as a whole." Atkinson said. "You're only going to serve your clients better."
"Rob Hoyt, Jenny Atkinson, and Daniel Brown are the heart and faces of this program," Read said. "Their experience shines through with the engagement with participants in the live sessions and their depth of expertise. Insurance professionals throughout the country, and some beyond, feel a connection to them and the Terry College of Business because of the CIAB Insurance Professional School."
The anchor of the module is the capstone case study, challenging the participants' ability to problem-solve, collaborate and present.
"We have a case study based on Bulldog Mechanical Group, a fictitious heating and air business that manufactures equipment and installs it in various businesses," Brown said. "We ask the participants to go through the case study, review the prior losses of the business, and ask: Do you think those are covered or not covered by insurance and why? What techniques can they put into play other than just insurance that might help prevent or mitigate future losses?"
Coming up with those answers as a team was why Norton wanted to be involved.
"One of my main focuses was to be a part of the collaboration — just to see everybody's mind," he said. "Some people had way more insurance experience than my own, and some just started in the industry. If you look at something from a different lens than I may see, it makes for a better perspective. That's something I love because I was there to see what people are doing on the West Coast, and what people are doing in the northern parts of the country. That is where I was really happy to be a part of it."
And that is the goal for the students who complete the designation — a better understanding of how insurance and risk management functions across the country. Those who embody that concept tend to stay in the business longer, maintaining a knowledge base to help their clients and employers. The IPS is now in its third cohort and has the effect that Hoyt expected.
"This program gives people a leg up in getting started and provides the opportunity to be more successful quicker, so they don't start questioning whether to change to something different," Hoyt says. "One of the positives we market to employers is that these students have focused on core skills oriented toward a particular career path or industry, and as a result, they tend to be stickier in the industry. ... There's a strong need for new talent, and the odds are very good that this will continue to be a popular program for many years."
Want more information on the Insurance Professional School or how to enroll? Visit ciab.com/insuranceprofessionalschool/
Department or Program featured: