Image:
The Georgia crowds come every year, like they have for more than three decades, to hear the traveling show. Sometimes the sounds coming from the stage aren't always upbeat (remember 2009?), and the people onstage can change from year to year, but the event's importance and message is never diminished.
Neither is its bandleader.
Once again Dr. Jeffrey Humphreys, director of Terry College's Simon S. Selig, Jr. Center for Economic Growth, is ready to hit the road to share a year's worth of economic research. The 2019 version of the eagerly awaited Georgia Economic Outlook (EO) series, the college's largest and most important public service program, will reach more people than any other non-athletic University of Georgia program. Terry College Dean Benjamin C. Ayers — EO's frontman — joins speakers in nine cities over two months to deliver the forecast to corporate and community leaders who take notes like undergrads preparing for an exam.
Community leaders such as Jones Hooks, executive director of the Jekyll Island Authority, have come to depend on the significance of the Selig Center's look-ahead and its decades-long record of accurate forecasts. 
"Jeff really is a reliable voice of economic forecasting and as a result of that, I've kept up with him over the years," says Hooks (BBA '75). Hooks first encountered the forecasts when he was CEO of the Albany Area Chamber of Commerce. After moves to Atlanta and Norfolk, Va., Hooks landed on Jekyll 10 years ago and was delighted to learn Jekyll is the site for the annual Terry forecast luncheon for the Golden Isles. "We're very interested in Jeff's prediction. It affects how we plan and budget. Jeff is a great guy with a huge pedigree of credibility attached to him."
Over the years, Humphreys (AB '82, PhD '88) has been able to drill down deeper into specific parts of the state and its industries, enabling him to greatly increase EO's size. Traveling the state year after year brought him into contact with virtually every top business and community leader in Georgia, and many now turn to him for individualized reports.  
It all translates to a mind-boggling amount of research and travel. To find the time, he says, "I don't watch TV. But I try to walk two miles every day." He follows the swirl of news online and said the effect of policy decisions, such as tariffs, "are very difficult to predict."
The center provides attendees at the popular luncheons with codes to download an e-publication of 150 pages or more of commentary, charts and data that businesses use to plan. These figures don't just look at the state's overall economy: Humphreys prepares a local outlook for each of Georgia's metro areas and forecasts for the state's major industries. Following the dean's presentation, a local economist gives attendees a view from the micro level.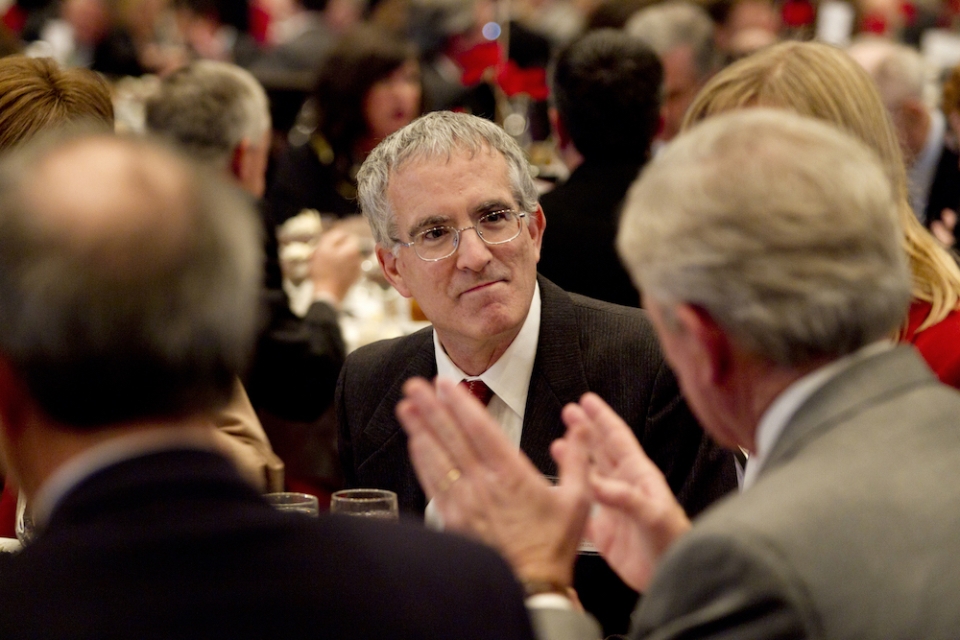 Humphreys has found a niche in looking out only one or two years. He doesn't try to peer far into the future, preferring a smaller window through which he can be more accurate. "It's pretty much as far as we can look with a high degree of certainty." As he prepares the 2019 forecast, his bottom line is: "I don't expect recession in the remainder of this year or 2019. The risk is well below 50 percent in 2018 and 2019. I'm more concerned about 2020-21."
Robert Morris, senior director of corporate communications for the Georgia Ports Authority, attends the forecast luncheon in Savannah each year and has the Selig Center do an economic impact study for the authority every three years. Morris said it is too soon to tell if current trade negotiations will impact the operations in Savannah or Brunswick, but the authority's offices are watching it closely.
"Dr. Humphreys' forecasts allow us to put the port component of our immediate area in perspective as it relates to the rest of the economy," he says. "He's really great. His forecasts are spot-on."
•••
With a main responsibility of conducting research about Georgia's economic and demographic growth, the Selig Center employs a range of projects to help guide business decisions and public policy directions. 
It produces the Multicultural Economy report each year, which provides state-level buying power estimates broken down by race and ethnicity. It created economic studies for the Georgia Department of Transportation and the Georgia Ports Authority, and has tracked Georgia housing market data month-by-month since 2000.
But the Economic Outlook series, in place for 36 years, has become the most comprehensive and detailed look at the future economy in Georgia.
Today's series is a far cry from the pre-internet beginnings of the forecast under former Terry Dean Al Niemi in 1983. Humphreys, fresh out of Terry with a PhD, joined the center in 1989 and became director in 2000. In the early days, he had to hike around campus to gather reports, publications and reels of data for mainframe computers.
"I really built up my calves with all that walking, but now everything I need is at my fingertips and there's a lot more detailed data," Humphreys says from his home office in Tucker. The location puts him within easy reach of Interstate 285 and I-85 for his frequent forays around the state, as well as to his other offices in Athens and at the Buckhead campus. The Selig Center (with Humphreys, two full-time researchers and the award-winning veteran managing editor Lorena Akioka, plus an occasional student worker) plans to move from their offices in the Bank of America Building in downtown Athens into Phase III of Terry's Business Learning Community next summer.
The center is named in honor of Simon Selig Jr., a 1935 graduate of the business school who was chairman of Selig Enterprises from 1968 until his death in 1986. His children Steve (BBA '65) and Cathy endowed the research center in his memory, and in 1990 the Selig Center for Economic Growth was dedicated. It improved upon its predecessor, the college's Division of Research, which had operated since the 1940s.
Humphreys' research into Georgia's 14 Metropolitan Statistical Areas can produce surprising results. From 2017 data he learned that, by far, Georgia's fastest-growing economy was Gainesville's, which grew at 3.5 percent, compared to the state's 1.8 percent average. Athens grew at 3.1 percent and Atlanta at 2.2 percent.
Long known as a poultry capital, Gainesville's growth was led by health care, followed the poultry business and tourism. The Northeast Georgia Health System is nationally recognized for excellence, he says. Plus, Gainesville has manufacturing with Kubota, which makes tractors and farm implements. Retirees are moving to Hall County to live near Lake Lanier and it's increasingly a choice for commuters to jobs in the metro area. 
In some parts of the state, particularly South Georgia, health care is a critical economic issue, with the closure of small hospitals. "The big problem is who is going to pay for it," he says.
•••
Humphreys was born in California, where his father, Walter J. Humphreys, was working on his PhD in zoology at the University of California, Berkeley. The family moved to Athens, where his father spent his career in UGA's zoology department, teaching graduate level courses and directing the electron microscopy lab. 
Humphreys graduated from Cedar Shoals High School in Athens and entered UGA as a forestry major, hoping to become a fish and wildlife biologist. But two economics courses, particularly one taught by Charles Delorme Jr., now a professor emeritus, "really grabbed my interest. I changed my major at the end of my sophomore year and never looked back," he says.
"I'm a big Jeff Humphreys fan. That economic forecast is the gold standard for economic forecasts in Georgia. It's the most respected and most anticipated."
He met his wife, Oksana, who was a Russian educator, online. They married within a year and their early Internet romance was featured in a story in The Wall Street Journal. Oksana (MMR '00) earned her master's in marketing research at the Terry College and works as a marketing research manager for the Southern Co. in downtown Atlanta. This November they celebrate their 22nd anniversary. 
Their son, 14-year-old Max, bilingual in English and Russian, is a freshman in the Magnet Program for High Achievers at the Chamblee Charter High School. 
"He's taking two AP courses and he's really having to work," Humphreys says. 
Today, Humphreys sees the forest of the Georgia economy through the trees of the enormous amount of data he gathers. The forecast is just one of three major pieces of his work at the Selig Center. 
"I do a lot more than forecasting," he says. "I also do contracts and grants and what I call 'joy of discovery' research." Typically, the contracts and grants are with state agencies within Georgia, but some are for large Georgia corporations such as Gulfstream and Georgia Power. The largest contract he has handled was a landmark study for the United Negro College Fund, producing economic impact studies of all 100-plus Historically Black Colleges and Universities and suggesting how their graduates could increase their lifetime earnings.
"I'm a big Jeff Humphreys fan," says UGA President Emeritus Charles B. Knapp, who served a year as Terry's interim dean in 2013-14. "That economic forecast is the gold standard for economic forecasts in Georgia. It's the most respected and most anticipated. "
Knapp formerly served as the board chair of the East Lake Foundation, which has spearheaded the economic revitalization in and around the East Lake Golf Club in southeast Atlanta. The project was the brainchild of Tom Cousins (BBA '52) the highly respected Atlanta developer. Cousins and Knapp wanted to clearly establish the economic benefits of the East Lake project.
Knapp went to Humphreys for an analysis. "Jeff assessed the economic impact of all the East Lake projects, and it came out with a very positive result," Knapp said.
Under Humphreys' heading of the "joy of discovery research" comes his widely cited study of minority consumer buying power. He has made presentations of his findings to Walmart and Macy's Inc., but small businesses are also eager to see the report. 
He also is the longest-running columnist in the state's leading business magazine, Georgia Trend. Susan Percy (ABJ '66), editor at large for Georgia Trend, says, "Jeff writes in a very straightforward and easy-to-understand manner that is the perfect vehicle for his complex information. He just puts it out there. Having the state's foremost economist and the connection to the Terry College has been a great plus for the magazine. He is just awfully good at what he does."
After the Economic Outlook luncheons conclude, Humphreys stays on the road making speeches to various groups. He annually addresses the Valdosta-Lowndes Chamber of Commerce at its economic outlook breakfast. He's also given talks in most every city and county seat from Dalton to Thomasville.
Humphreys' economic perspective is respected from the Piedmont to the Coastal Plain, and he has maintained nonpartisan credibility in these fractious political times. "I call it the way I see it. You don't get a bias in my forecast or my rhetoric."
But he does admit to one strong bias: "I have a bias toward growth."
Department or Program featured:
Simon S. Selig, Jr. Center for Economic Growth