Friday, 4:23 p.m.
While other students are getting ready to go out or studying for finals, Hayden Swank only has one thing on his mind as he watches his competitors circle the track at Greenville-Pickens Speedway. His best lap time is 0.3 seconds behind the leader. No matter what his team does, they can't manage to close that last gap.
Between brainstorming sessions in the trailer and running out to make last-minute changes, Swank is intensely focused on his car.
The skill to navigate a racetrack at top speed is one that Swank has been working on since he was a small child. Members of his race crew say that he has been a sound driver since the age of 7, when he first started racing in quarter-midget cars on local tracks.
As the tires wear down and the light fades, the team calls it quits for the day. After all, they spent all day Wednesday following the exact same motions to dial in every point of contact between the car, the track, and Swank.
Saturday, 7:16 p.m.
Swank dons his fireproof suit in the trailer as the previous race runs its last laps. His race should start at 7:30, but an old transformer blows on the back half of the track, killing the lights. This means a later start for Swank and more time for strategy.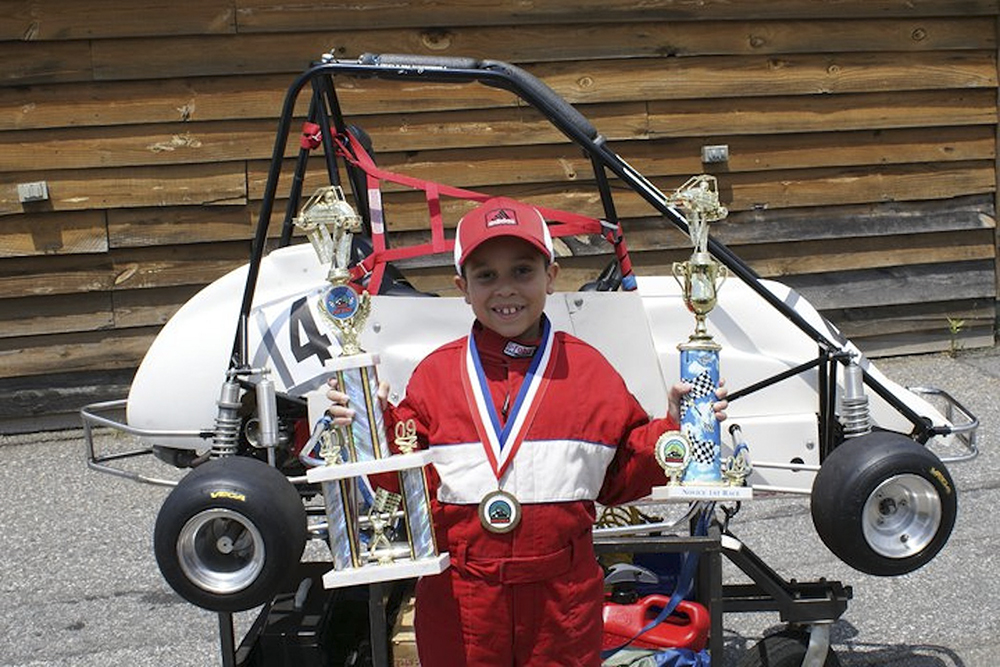 Swank has spent his entire life preparing for the wave of the start flag. His opponents now are big names with big money backing them—racers like Josh Berry and Chad McCumbee.
"It's like, man, I asked him for an autograph when I was 12 and came to watch these races," Swank said. "And we haven't looked out of place against them. But for me, this isn't the end goal."
Swank's ultimate target is to race in the NASCAR Cup Series, a future goal that his team says Swank is always working toward.
While it is tough for Swank to compete against teams with seemingly endless financial backing, this isn't the only hurdle that Swank has had to overcome in his racing career.
"Nine times out of 10, I'm going to be the only Black driver—not only in my division but in the whole competition," Swank said. "It's not uncommon for me to walk into a track and not only be the only mixed driver or the only Black driver, but the only person of color on the premises."
Swank says that this division puts extra pressure on him as a driver: "I feel like I have an extra responsibility and extra obligation to represent, you know what I mean? I want to put on a good show and prove that I have a place in the sport, and I want to prove to everybody else that anybody can make it."
Despite the differences and setbacks, Swank remains unfazed as he pulls off a 13th place finish at his third race of the season, and on this tour. While not on the podium, this is no small feat considering his starting position amongst 26 other drivers, including several with more years behind the wheel than Swank has been alive.
Monday, 8:47 a.m.
Swank is back in Athens, and his focus shifts to college life.
Double majoring in advertising through the Grady College of Journalism and Mass Communication and marketing through the Terry College of Business, Swank is in his third year at the University of Georgia.
Going to school while managing a racing career is a challenge, but it's one he's up to.
"I think being one of the very few drivers pursuing a degree that's very relevant to what we do on a day-to-day basis does give me an edge," Swank said. "I take a lot of what I learn in my advertising and marketing classes and apply that to the racing industry, like the pitches I make when I have to approach a company for the funds to keep the team alive and actually go racing."
But he likes to keep those two worlds separate.
"I try not to talk about racing too much or let people know that I race because once I do, I guarantee you that's all I will talk about with them," Swank said. "I want to have a life outside of racing, and school's the best way to do that.
"But I do get a certain sense of fulfillment when I can get somebody interested in racing that would have had no exposure to racing otherwise. I've gotten my roommates to the point where they can carry on a conversation about racing. And I'm like, 'OK, I did my job here.'"