Located just south of Augusta and home to Georgia Power's newly expanded Plant Vogtle, Waynesboro is bustling. There are new businesses on Liberty Street, new jobs to fill and new people moving to town.
But like a lot of growing towns in Georgia, one thing Waynesboro needs is houses — lots of them.
"We're growing, busting at the seams," said vice mayor James Jones. "But the problem is the workforce housing issue. When people move here to work, they can't find a house. So, they're going to move to the next county, and we lose that population."
Georgia's housing shortage and lack of access to affordable housing are some of the biggest issues facing the state. Students from the University of Georgia Institute for Leadership Advancement are working with local officials to find ways to encourage new housing development.
For the last year, ILA Leonard Leadership Scholars tackled the housing crisis in Waynesboro and Dublin, Georgia — learning about the communities and providing research services that could have cost city and county officials thousands of dollars.
Each Leonard Leadership cohort completes a service-learning project as part of the curriculum to earn their Certificate in Personal and Organizational Leadership. Past projects involved nonprofits such as the Boys and Girls Club or the American Heart Association, but many are joint ventures with the UGA Archway Partnership.
Begun in 2005 by UGA Public Service and Outreach, the Archway Partnership places UGA faculty in Georgia communities to provide access to UGA resources and help them address critically identified needs and opportunities.
In cities across Georgia, workforce housing has become a critical issue.
"It's urgent we find innovative ways to make progress on this challenge," said Onyedika Ekwerike, a UGA ILA lecturer who worked with students and Archway. "That's why we have our brilliant students working on this project. Besides an opportunity to help Georgians, these projects allowed our students to exercise and develop their leadership capabilities. We strongly believe a key part of leadership learning is exercising leadership, especially around complex adaptive problems."
In Dublin, students worked with city officials to develop strategies for increasing "missing middle" housing options, said Ashley LaPrade, an ILA Leonard Leadership Scholar and Terry College finance student who graduates in May. She is part of a six-person team that presented its findings in Dublin on Nov. 13.
The "missing middle" is a term planners use to describe duplexes, townhouses and quadraplexes — housing appealing to smaller households and typically more affordable than traditional single-family homes.
"What we looked at was how to implement missing middle housing in Dublin, which is going to be more affordable because it is smaller," LaPrade said. "It's a better fit for people who may not need the space of a single-family home or who can't necessarily afford a single-family home. We were looking at policy changes that could encourage that type of development in Dublin, using case studies from throughout the United States."
In Waynesboro, a six-student team worked with city officials to develop a report on the prospect of rebooting a long-dormant land bank program.
"ILA projects are an incredible value to municipalities, providing data and best practices around the subject to help inform the community decision making process," said Aaron Redman, UGA Archway Professional for Burke County and Waynesboro. "Beyond the savings, the land bank best practices study the Terry ILA students completed for Waynesboro provides a much-needed service to the city in helping it decide how to best implement a land bank specifically to convert blighted properties into workforce housing."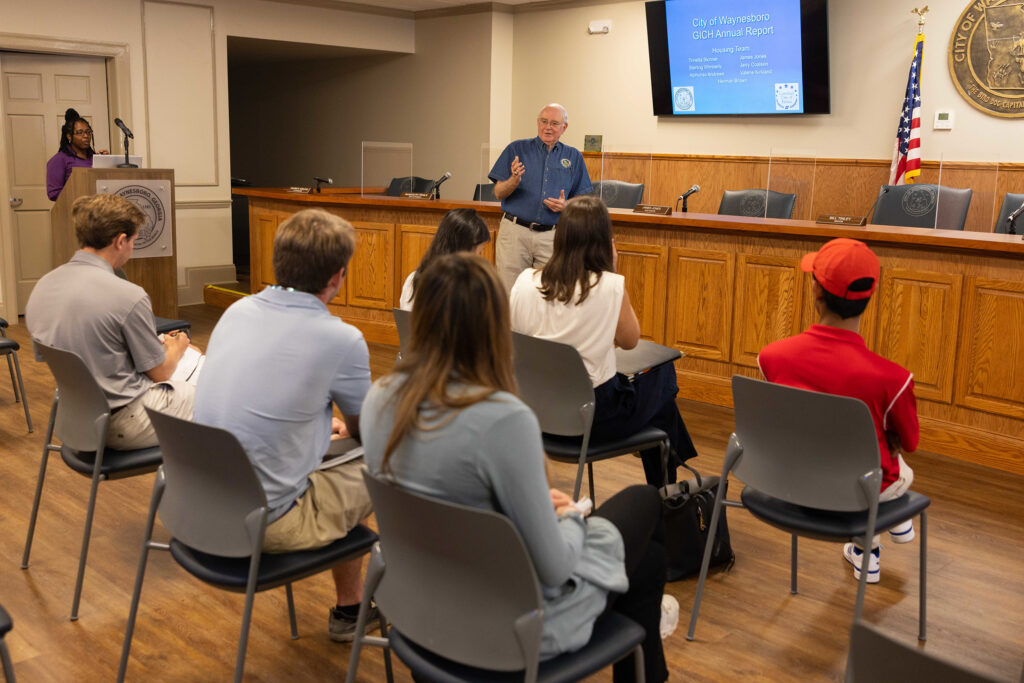 Used in Savannah, Atlanta and Macon, land banks buy abandoned properties under tax liens and sell them at a discounted rate to developers who promise to develop the property quickly to fill a documented need. In this case, the need is affordable workplace housing, said Buhusuru Ranasinghe, a Terry finance student working on the Waynesboro project.
"It's been successful in a lot of places," Ranasinghe told Waynesboro officials while wrapping up the students' presentation on Nov. 2. "We believe Waynesboro can benefit from a land bank by focusing on the problems they face by developing some of the delinquent houses, but also provide workforce housing for people who need better homes — people from the school district or people who work at Plant Vogtle. So, that will increase the benefits to all the stakeholders involved."
About 15 years ago, a previous Waynesboro City Council started developing a land bank to help reclaim some delinquent housing stock, but it never got off the ground. ILA students gathered best practices in Georgia cities that were successful with land banks, the legal framework needed to relaunch the land bank, and outreach strategies that helped other cities overcome public confusion about the novel redevelopment tool.
"This (report) will give us the opportunity to become more knowledgeable and communicate the value of the land bank," said Waynesboro Mayor Bill Tinley. "I've talked to people in the past who were confused and concerned that this an eminent domain situation. I think you've given us enough information that we can get beyond that hurdle. What we're talking about is improving our community. If you clean up one house in the neighborhood, the other neighbors will feel better about the program and their neighborhood."
Winning strategies include first starting in one concentrated area of the city to demonstrate the effectiveness of the land bank and make sure the land bank's governing board is representative of the community at large.
For the students, the yearlong process of working with Waynesboro officials and talking with urban planners across the state taught them about what leadership looks like at a community level, said Jeffrey Kempski, a management student working on the project.
"We had a client relying on us to help solve this problem," Kempski said. "It will be rewarding if 20 years from now, we can see they ended up creating a land bank and used it to provide housing for the growing population. We'll be able to say that had a small part in that."
Each member of the ILA team brought different strengths to the project. Kempski is an operations management and supply chain student. Ranasinghe and teammates Larkin Rief, Dawson Williams and Molly Garud are finance students, and Annie Li studies management information systems. Working with teammates across disciplines on a project that everyone is passionate about is one the most enlightening experiences he'll take with him when he graduates in May, Kempski said.

"The most challenging part of this project was dealing with the ambiguity of what we would produce," Kempski said. "We learned how to hear other people's perspectives and respect what they brought to the project and set priorities for the whole project to produce what we thought would have the biggest impact and be most useful."