PROGRAM
Check-In & Networking: 11:00 AM – 11:30 AM
Buffet Lunch Service: 11:30 AM - 12:15PM
Welcome: 12:15 PM – 12:30 PM
Presentation: 12:30 PM – 1:30 PM
Introduction by Cedric King
Chairman
Brunswick-Golden Isles Chamber of Commerce
State Forecast by Benjamin C. Ayers
Dean and Earl Davis Chair in Taxation
Terry College of Business, University of Georgia
Local Forecast by Don Mathews
Director
Reg Murphy Center for Economic and Policy Studies, College of Coastal Georgia
Closing Remarks by Cedric King
Chairman
Brunswick-Golden Isles Chamber of Commerce
Click to Download the Jekyll Island Program
About the Selig Center and Georgia Economic Outlook
Created to share Terry College's economic expertise with Georgia businesses and entrepreneurs, the Simon S. Selig Jr. Center for Economic Growth is primarily responsible for conducting research on economic, demographic and social issues related to Georgia's current and future growth. Dedicated in December 1990, the Selig Center expanded the role of its predecessor, the Division of Research, which was established in the late 1940s. Through its range of projects — major economic impact studies, economic forecasts, publications, information services and data products — the center's efforts help to guide business decisions and public policy directions.
The Georgia Economic Outlook, which was launched in 1983 by the Division of Research, was created to share up-to-date, Georgia-specific economic forecasts with Georgia's burgeoning business community. Over the years the Georgia Economic Outlook has provided unbiased, research-based economic data and analysis to the state's leaders and become a touchstone event for the business communities in each of the cities it visits. 
Visit terry.uga.edu/selig and use promo code 23GEO40 for your free copy of the 2023 Georgia Economic Outlook

@GeorgiaEconomic
#GeorgiaEO
ECONOMIC OUTLOOK SPEAKERS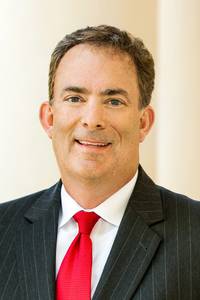 Benjamin C. Ayers
Dean and Earl Davis Chair in Taxation, Terry College of Business
Ben Ayers is dean of the University of Georgia Terry College of Business and holds the Earl Davis Chair in Taxation. He came to UGA in 1996 and served as director of the Tull School of Accounting for nine years before his appointment as the college's 12th dean in 2014. Under his leadership, the Terry College completed its Building Terry campaign, raising $121 million to support faculty, programs and facilities for the state-of-the-art Business Learning Community, located in the heart of the UGA campus. Ayers serves on the Board of Synovus Bank's Northeast Georgia Division, Benson's Inc., the CFO Roundtable, as a Trustee of Athens Academy and earned his Ph.D. in accounting from the University of Texas at Austin. Before pursuing his Ph.D., he worked for KPMG in Atlanta and Tampa and Complete Health Inc. in Birmingham.
---
Don Mathews
College of Coastal Georgia
Dr. Don Mathews is a professor of economics and director of the Reg Murphy Center for Economic and Policy Studies at the College of Coastal Georgia. He has published articles in both professional journals and general audience venues. He also shares a weekly column in The Brunswick News with his colleagues Skip Mounts, Melissa Trussell, Heather Farley and Roscoe Scarborough.
OUR SPONSORS