A lot has changed at paper companies in the last three years. They provide more technical filtration materials for hospitals while offering more efficient packaging ­for e-commerce and sustainable papers for everyone.
So when Mativ president and CEO Julie Schertell (MAcc '92) was tasked with managing the merger of culture and operations at legacy paper firms Neenah and Schweitzer-Mauduit International to create a new leader in specialty materials, she thought to herself, "we've got this."
Schertell, who served as CEO of Neenah before the merger, spent a career in the paper and materials industry — but it's a career best characterized by change and tackling new challenges.
From a one-time marine science internship where she lugged dead fish around to feed dolphins to time spent on a paper mill floor as an operations analyst, each role expanded her view of the world and taught her something new about business.
Each challenge helped her build a brand as someone with grit who knew how to get things done. She told students gathered in the UGA Chapel for her Terry Leadership Speaker Series lecture on Sept. 21 to search out experiences helping them define their brands as they moved through their careers.
"The times when I learned most is when I stepped out of my comfort zone …" Schertell said. "If somebody asks for a volunteer, volunteer — even if you don't know how to do it. You are smart; you will figure it out. You're as smart as anyone else in that room, and you need to remember that."
She graduated with a bachelor's degree in accounting from Florida State University in 1991, earning her Master of Accountancy at the University of Georgia in 1992 before starting her career with Georgia Pacific. She joined Neenah in 2008 and rose through the ranks, becoming CEO at the height of the pandemic.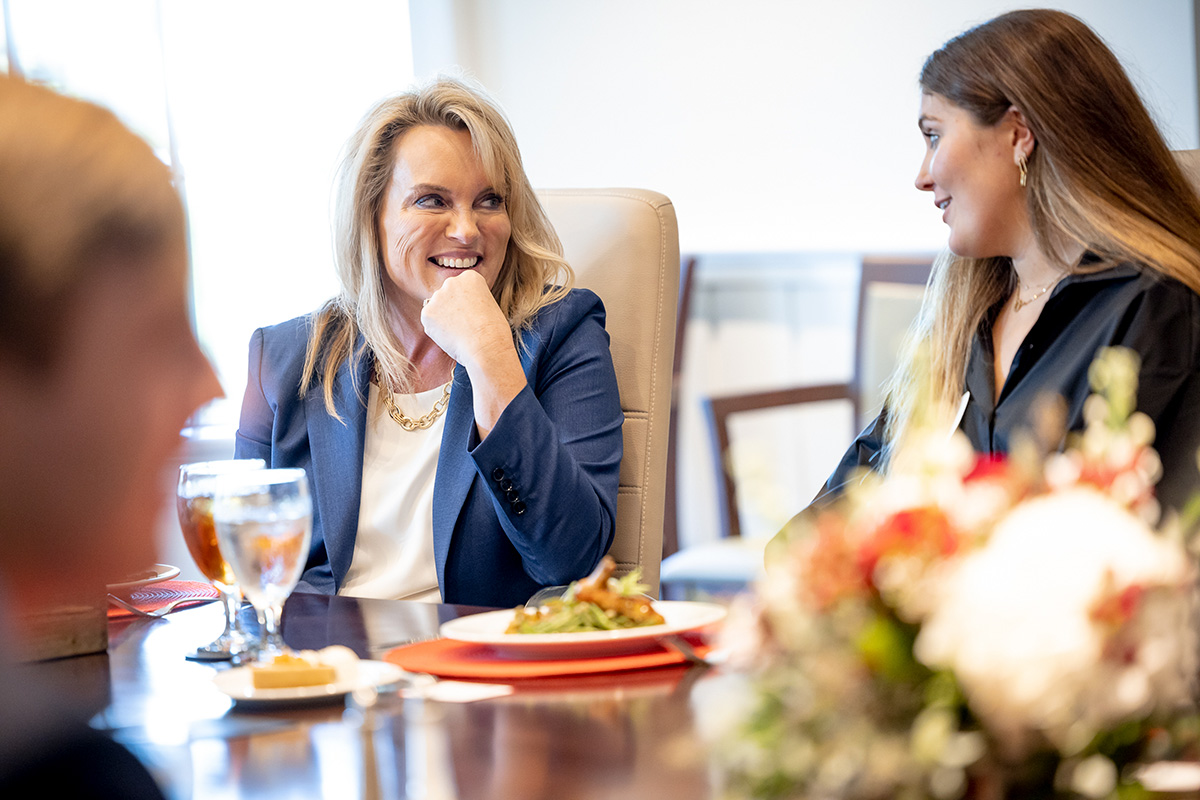 By the time the companies merged in July, years of taking chances and stretching out of her comfort zone made her an expert of the pivot.
She knew about change and that Mativ's 7,500 employees on four continents would need a shared vision and goals if they were going to shift or accelerate the $3 billion company's operations.
"We worked together to find out what we wanted to be in the future — what we wanted to see five years from now, 10 years from now," she said. "Every one of our 7,500 employees have a picture of our mission, our strategy, our values and how to bring those to life … You have to be able to articulate it easily at all levels, and we have to hold ourselves accountable to bring it to life."
Her team created clear, actionable values to define the type of company Mativ would become.
"We have a value that says, 'make it happen,' " she said. "That means we're scrappy. We're going to take action, and we're going to roll up our sleeves to get it done. We have a value that says, 'Speed with purpose' because we have a strong bias toward action. We value active experimentation — we want you to try it. It's OK if you fail. We expect you to fail; if you're not failing with your experiments, you may not be stretching yourself enough."
She said the flip side of being able to fail is authenticity and accountability.
Less than two months from Mativ's inception, Schertell is still setting the path. This new experience allows her to build a workplace where people value one another, bring their whole identities to work and feel safe to stretch themselves and try new things.
She's eager to see how Mativ's cultural underpinnings will affect the company's ability to execute its growth strategy.
"You can't underestimate strategy, but culture will eat strategy for breakfast," she said. "If we can't work together well, and if we can't get things done, and if we're not collaborative and we're not learning from each other, and we don't have a diverse workforce — we're not going to be successful. They have to go hand in hand."