For the second year in a row, a student startup from the University of Georgia Entrepreneurship Program has won the SEC Student Pitch Competition.
Terry College of Business management information systems major Matt Tesvich topped the 13-team contest, bringing home first place and $10,000 for his odorless sock brand Ox Sox.  
In 2022, UGA graduate student Vanessa Sachs's sweat-friendly makeup line SWAKE took first place at the SEC Student Pitch Competition hosted by Louisiana State University's E. J. Ourso College of Business.
This year's contest brought entrepreneurs from 13 SEC universities to UGA's Studio 225 to pitch their student startups to panels of judges invited from across the Southeast.
"This is a great opportunity for students to see what other students are working on, they can share ideas," said Bob Pinckney, the Milton Anthony (Tony) Greene Director of Entrepreneurship at UGA, housed in the Terry College but serving the entire university. "We're raising the level of entrepreneurship across the whole region. I think that's important … The mission of universities is to prepare students for life in the real world, and for some of those students that will mean starting their own business, growing them and contributing to the economic development of our region."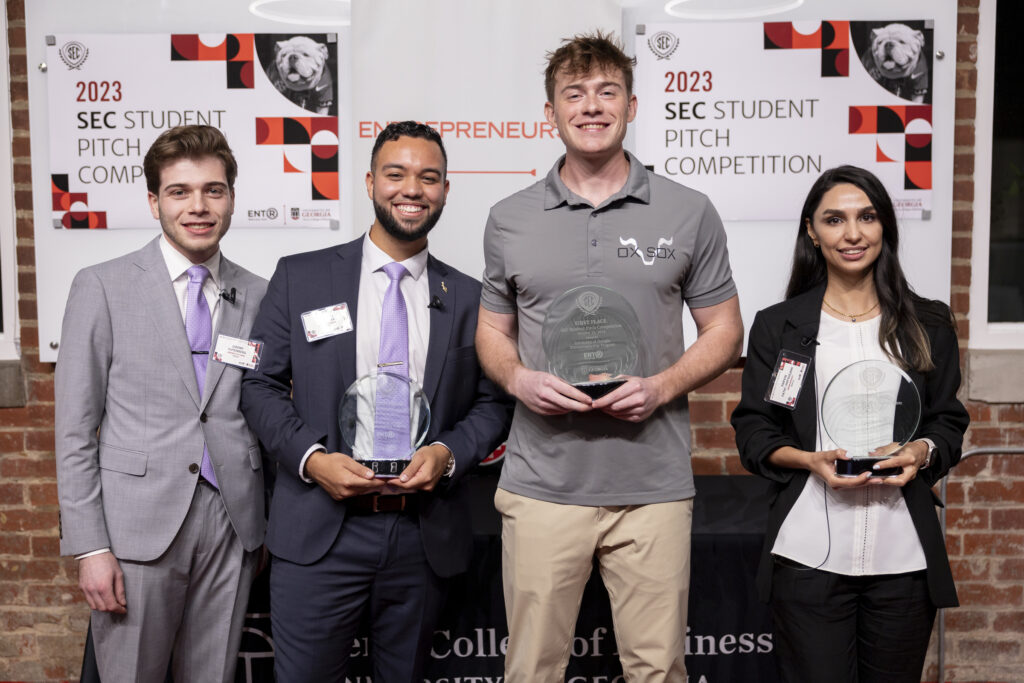 RaveBio, a lab equipment company founded by University of Florida mechanical engineering students Nickolas Saavedra and Jeremy Rutenberg, took second place and $5,000 for their updated design for a lab shaker table — a staple of biology labs that has not improved for decades. Parvin Fathi, an electrical engineering PhD candidate from Auburn University, finished third with a $2,500 prize to support Dropllel, her faster platform to test for COVID-19 and other communicable diseases.
Tesvich, a former baseball player, launched his sock company in 2022 and has refined the business through accelerator programs and mentorships offered through UGA. Leveraging social media marketing and press attention, Tesvich has sold $83,000 worth of socks since October 2023.
"It was 18 months of R&D," he said of the beginning of the process. "I must have made 50 samples and with every iteration, it was like Thomas Edison and the lightbulb. Every time you fail, you're one step closer to success. I finally found the one that worked."
Tesvich described himself as an entrepreneurial kid who spent his high school years dreaming of getting involved in cryptocurrencies to real estate. He came to UGA with plans to play baseball but tore his ACL early in his college career.
Then came his idea for the antimicrobial socks. He has worked with the UGA Entrepreneurship Program to refine the idea and optimize his sales strategy and is at the point where he can pay himself while continuing to grow his business.
"At UGA, we have several different entrepreneurship programs that help you take your business from an expensive hobby to a working business," he said. "Going through the different tiers of the programs was just really helpful."
The SEC's push to foster entrepreneurship at its member institutions is fundamental to the mission of its members to support the economic development of the Southeast, said LeNá McDonald, SEC associate commissioner for academic relations.
"We hope you all can see the future of innovation represented here and throughout the SEC," McDonald told the crowd at the competition's final round. "We take great pride in the impact we have on the economy and our state economies. Individually, our institutions give a great deal to the communities they serve with billions of dollars impact … We know that value lies in protecting entrepreneurship and advocating for small business development and the future of our business communities."
In addition to OxSox, RaveBio and Dropllel, 10 other teams participated in this year's pitch contest. They included:
Altar'd Socials, from the University of Mississippi
Bloom, from Vanderbilt University
Club Girl Golf, from Texas A&M University
DAMB, from the University of Kentucky
Flock Analytics, from the University of Tennessee
Hometown Heroes Sports Agency, from the University of Alabama
MagneBrite, Mississippi State University
ProPika, from the University of Arkansas
Solutoy, from the University of Missouri
Qatalyst Health, from the University of South Carolina