Sometimes getting out of your comfort zone puts you on track. In the case of one group of University of Georgia students, that meant donning painting clothes, driving an hour out of Athens, and helping a small town revitalize a historic railroad landmark.
Painting isn't Jacob Parker's strong suit, but the third-year real estate major from Appling, Ga., does know small towns. When Institute for Leadership Advancement lecturer Don Addison, who taught Parker's Personal and Organizational Leadership course, told him about a town needing help with its revitalization effort, he was in.
"I wasn't really sure what I was getting into. Based on my artistic ability, I wasn't sure how much I could contribute," Parker joked.
Contribute he did. An Army ROTC student who will be a second lieutenant after graduation, Parker was one of the half dozen students volunteering through the Archway Partnership last fall to paint murals with Color the World Bright — a UGA-based service organization that restores or creates murals in towns across Georgia. The effort was part of the Terry College's ongoing focus on service projects that serve the state.
The group dispatched to Hartwell where the UGA Archway Partnership has worked for more than a decade to connect volunteers and subject area experts to solve local challenges.
Their mission was to lay down the background colors for a mural on the rear wall of the town's new small business Physique Boutique, a women's only gym.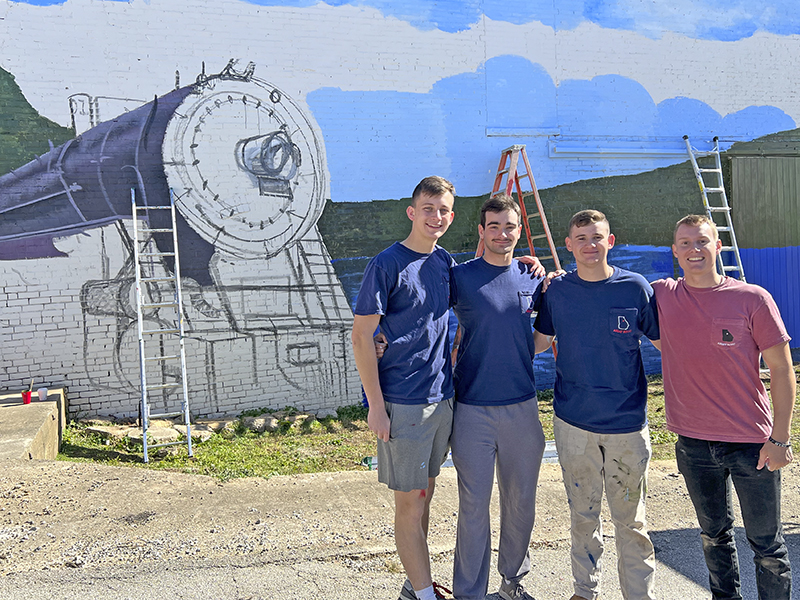 The details were added by Color the World Bright artists led by Joseph Norman, the program's director and professor at the Lamar Dodd School of Art. The train depot mural — the sixth completed through UGA Archway and Color the World Bright — will be a highlight of Hartwell's Railroad Street Park said Rosanna Cruz-Bibb, the UGA Archway professional serving Hart County.
"The students are very professional," Cruz-Bibb said. "They show up and say, 'OK, what needs to be done?' They were able to do whatever the community was asking. They weren't getting a grade for this; they were just volunteering, rolling up their sleeves and getting into it."
Many UGA students, including Parker's friends, grew up in mid-size or large metro areas and may not be familiar with the challenges faced by small towns. The hour-long ride to Hartwell gave them time to talk and think about what life in a smaller town is like.
"It kind of gave them an idea of what it's like to live out somewhere without a lot of people passing through," Parker said. "We talked about what kind of industries they might have, the role that agriculture plays and how people survive without a lot of large-scale industries. They definitely had a better appreciation of small towns after the trip."
Hartwell, the county seat of Hart County, is having a renaissance, Cruz-Bibb said. The downtown is in midst of a revitalization — 32 new businesses have opened since 2019.
"As part of Archway's model, we introduce students to smaller towns they might not have known were even there," Cruz-Bibb said. "Small towns have a lot of character; they have a lot to offer … It's really nice to show them another part of Georgia that they're not familiar with."
Projects such as Railroad Street Park and the Color the World Bright murals draw people downtown from nearby Lake Hartwell to shop, dine and maybe take a few selfies to post to social media.
"Having these murals makes people want to stop by and spend a little time there," Parker said. "Maybe while they're in town, they'll be more inclined to visit some of the tourist destinations in the county."
For Parker, spending his free time giving back to a community is a key part of leadership, and the mural workday was the kind of experience that will make him a better leader when he starts active duty, he said. 1
"A huge part of effective leadership is learning to step outside of yourself and see what others need to be successful," Addison said. "Our commitment to service in the Institute Leadership Advancement is about the importance of giving back when you're able, but it's also developing leaders who have that skill and who are not afraid to roll their sleeves up to help others achieve a goal."
The Archway Partnership is a unit of UGA Public Service and Outreach, created to empower communities to address long-standing and critical community and economic development needs. Archway Partnership communities have addressed issues related to economic development, education, workforce development, leadership, health and welfare, overall quality of life and more.
The Institute for Leadership Advancement is a privately funded unit within the Terry College of Business that combines coursework with hands-on experience. Institute fellows and scholars are selected through an application process based on their demonstrated academic excellence and leadership capability. Students who complete the program are awarded a Certificate in Personal and Organizational Leadership.