More than 100 student volunteers gathered for Terry College's annual B.A.G Event, packing backpacks with necessities for people experiencing homelessness.
The annual B.A.G. Event — short for Bringing Athens Good — is organized by nonprofit The Backpack Project, UGA student group SOUL (Serving Others Unconditional Love) and the UGA Institute for Leadership Advancement.
"Living in Athens, the homeless population is visible when you go downtown or when you're driving around," said Ashley LaPrade, a Terry College finance and management information systems major who serves as the chief operating officer of The Backpack Project.
"With these backpacks, we can ease the burden of homelessness. Homelessness is a systemic problem, and we're not set up to fix that. But through backpacks, we can form relationships with all of our neighbors in the Athens community."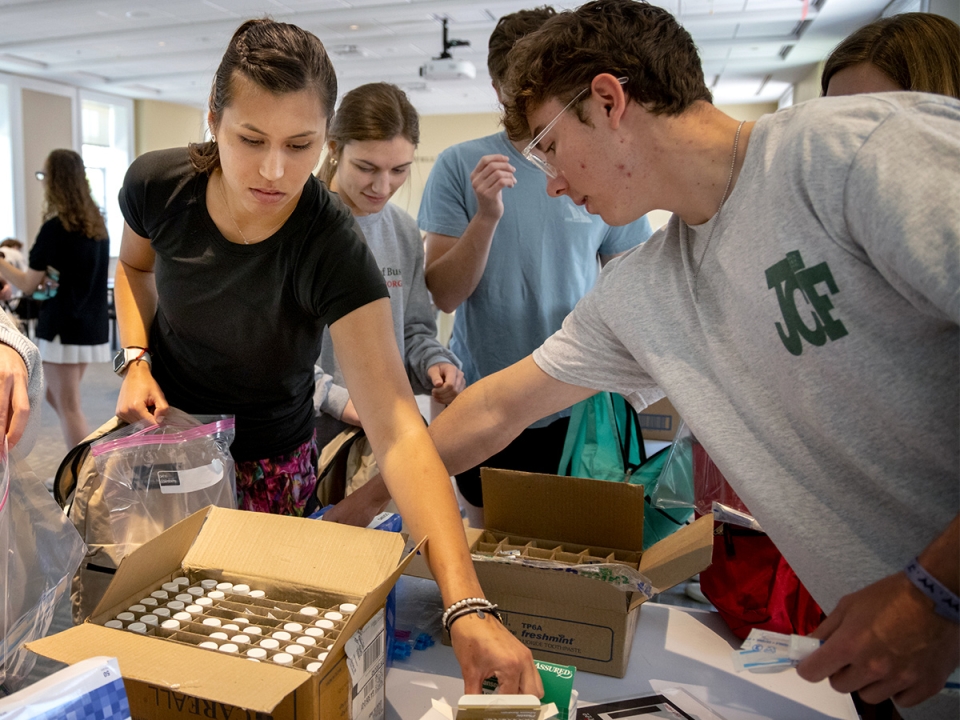 Students from Terry and across the UGA campus assembled in the Stelling Family Study on April 20 to pack non-perishable food, hygiene items, toiletries, clothing and other necessities into sturdy backpacks. The Sparrow's Nest of Athens and the Bigger Vision Community Shelter will distribute the 250 bags.
Terry alumnus Zach Leitz (BBA '18) founded The Backpack Project in 2015. While he started the nonprofit to serve unhoused people in Athens, it now has chapters in Atlanta, Columbia, S.C., Charleston, S.C. and Durham, N.C.
The UGA Institute for Leadership Advancement, SOUL and The Backpack Project have organized the B.A.G. Event for the past two years.
"Whenever you walk around downtown and see people experiencing homelessness, you often can't do anything to help them right then," said Abhay Chilakamarri, a junior MIS major who helped pack bags. "This gives you the chance to do something to help and at least alleviate some of their struggles."
In addition to students volunteering to pack bags, Terry students, faculty and staff also raised about $5,500 to buy bags and supplies for the bags.