The atmosphere was electric at Truist Park.
Heading into the late innings, the Braves held the lead. Atlanta, which won the previous night, needed a series victory against the New York Mets to chase down a fifth straight division title.
On the warning track, another contest was set to take place: Beat The Freeze, where fans compete in a foot race against a mysterious opponent who sports a skintight aqua jumpsuit and happens to be very, very fast.
Rennie Curran took a deep breath, got set … and turned on the jets.
Here's the thing: not many contestants Beat The Freeze. The alter ego of sprinter Durran Dunn, The Freeze is a "merciless speedster that's one part blueberry frozen drink, one part FroZone from The Incredibles and one part Usain Bolt," quipped one sportswriter. Though he allows opponents an exaggerated head start, he almost always overtakes them with ease.
Yet, there was Curran, crossing the finish line before his cool-blue counterpart, leaping to high-five spectators, grinning ear to ear.
"Thank God I had a prime start," the Outstanding Young Alumni Award recipient posted after the race. "Almost blew both of my hamstrings. Didn't run like that in a minute."
Those who know Curran (BBA '17) or watched him play football for the University of Georgia were hardly surprised by his victory against the odds. A linebacker dinged by recruiters as too small for the position, Curran erupted onto the scene, leading the Bulldogs in tackles during his sophomore season in 2008. The following year he led the conference and was named a first-team All-American.
But Curran's next phase brought challenges. Drafted by the Tennessee Titans in 2010, he saw limited snaps before spending several years in the Canadian Football League. Though an NFL comeback appeared within reach, in 2017 he suffered a career-ending knee injury.
Rather than let that disappointment define him, Curran forged a successful second act as a motivational speaker, author and leadership coach, inspiring audiences with his story of faith, perseverance and overcoming adversity.
"Success to me is about leveraging your gifts, your experiences, your relationships," Curran says. "It's about maximizing them and showing people how to do the same thing. As you go through life there are things you learn, skills and perspectives — there are frameworks you develop that can impact others, whether you realize it or not."
The son of Liberian immigrants, Curran grew up outside of Atlanta, the youngest of three children and the only boy. His mother, Josie, was a nurse, while Rennie Sr. owned a shoe repair store. Both worked long hours for modest pay. Meanwhile, their home country was mired in a brutal civil war, and the two committed any resources they could to help others escape the conflict. "Not only were they working hard, they were helping a lot of family members and friends come to the U.S. and start a new life," says Curran.
It was a happy, if humble, childhood. "I remember having to spend a lot of time sleeping on the floor, our home always being open, always full of different people in a three-bedroom apartment," he says.
Josie Curran has no doubt the situation influenced her son's worldview. "It was always (about) sharing," she says. "We cooked a lot of food, and everybody took from the bigger bowl, and they knew they had to leave some for everybody else."
Young Rennie displayed a blend of empathy and determination that surprised even his parents, who describe a kid who connected effortlessly with his rotating cast of housemates while always searching for the heart of the matter. "Every time he got a new toy, he wanted to take it apart to see what was inside," Josie recalls with a smile. "Once he makes up his mind to do something, he's going to do it."
Before long the Curran family, which had given so much to those in need, would fall on hard times. "As I got to middle school, that's when a lot of adversity started," says Curran. "Mom almost died from a surgery. Dad lost his business. … My dreams were to change things for our family."
That dream took form thanks in large part to a little league coach, Ronnie Benton, who saw a quiet fire in the 10-year-old. In addition to helping the Currans, Benton introduced Rennie to the sport that would shape his life. "He took me to my first Georgia game," he says.
Benton connected Curran with another mentor, Chip Smith, a sports performance expert and trainer of top-level athletes. A framed Rennie Curran Titans jersey now hangs on a wall of Smith's Norcross facility alongside names such as Champ Bailey, Brian Urlacher and Jared Allen.
Smith, who coincidentally had just returned from a mission trip to Liberia, was impressed from the jump. "Rennie was a tremendous young man," says Smith. "He was smart. He was into music. He was kind of a nerd, but he played sports. He was focused on his academics, and I knew he was going to make his family proud."
On the field, Curran matched physicality with mental fortitude. "He's undersized, but you can't measure heart," says Smith. "He went to work every day. I saw the determination and the focus. I watched his body develop along with his football IQ. He quickly picked up the defensive schemes — he learned how to play."
At Brookwood High School, Curran broke records and competed for state championships. In 2006 he committed to play at UGA. He also began to see he had another ability. "The more successful I became, the more of a leadership position I was placed in," he says. "A lot of times, I'd be the captain of my team, the guy who would give the inspirational message before a game or do an interview after the game. Speaking became a major part of my life early on, whether it was to a little league team, a church or schools in my community."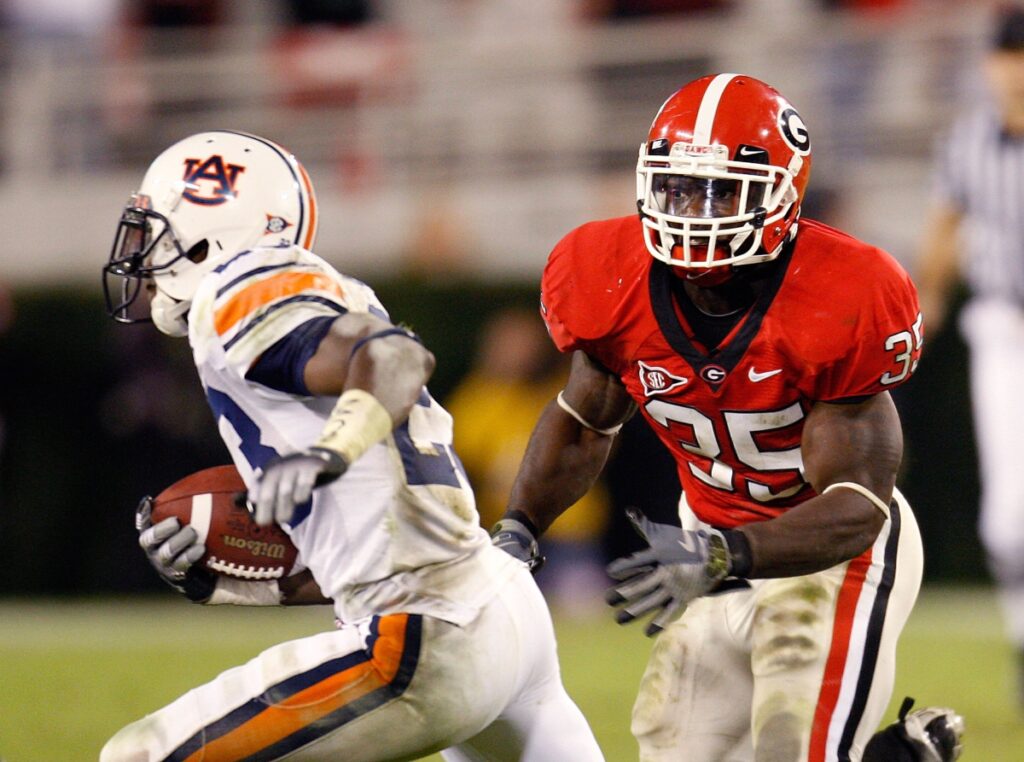 When his football career ended, Curran says, "I was questioning who I was, what I was going to do next. That's when I started to get serious about understanding how I could add value to the marketplace. How could I take my experiences, the lessons I've learned from sports — leadership, mindset, teamwork, culture — how could I apply that to the business world?"
Having absorbed insights from a long list of coaches, teachers, trainers and mentors, Curran suggests, "When I was 19, I had the knowledge of a 30-year-old." Now 34, Curran is in demand as a professional speaker, leading sessions for companies, teams, schools and nonprofits, drawing from his struggles and successes to share ways to improve leadership, teamwork, individual performance and overcome organizational challenges.
Smith marvels at the effectiveness of Curran's leadership style. "If you hang out with Rennie, you're either going to be left behind or you're gonna take your game to another level," he says. "When he walks into a room, he's got the 'it' factor. People gravitate to him. He has a gifted way of making you feel comfortable. Not talking down to you — talking to you."
Curran draws a parallel to his playing days. "I'm making an impact in a different way. When I put my suit on, it's like I'm putting pads on. Before I walk on stage is like the feeling I got before running out of the tunnel. … And after the presentation, I go back and watch the film. I look for areas of improvement, ways I can make more of an impact next time."
Spreading motivation isn't just a way to pay it forward or pay the bills — it's a passion. Through his Game Changers Foundation, Curran creates opportunities for under-resourced youth. "The goal is to help the next generation of athletes in underserved communities become leaders in sports, business and life," he says.
When he's not helping others write their stories, he's adding literal chapters to his own. He is the proud father to a 14-year-old daughter, Eleana, with whom he penned a 2017 children's book, What Does It Take to Be a Star? "I think it's so important, the self-image you have as a child," says Curran. "I thought it was important for her to understand it's not about your title. It's about who you are as a person."
And in 2017 Curran fulfilled a promise to his family by returning to the campus where he made a name for himself a decade earlier. But this time he wasn't there to play football.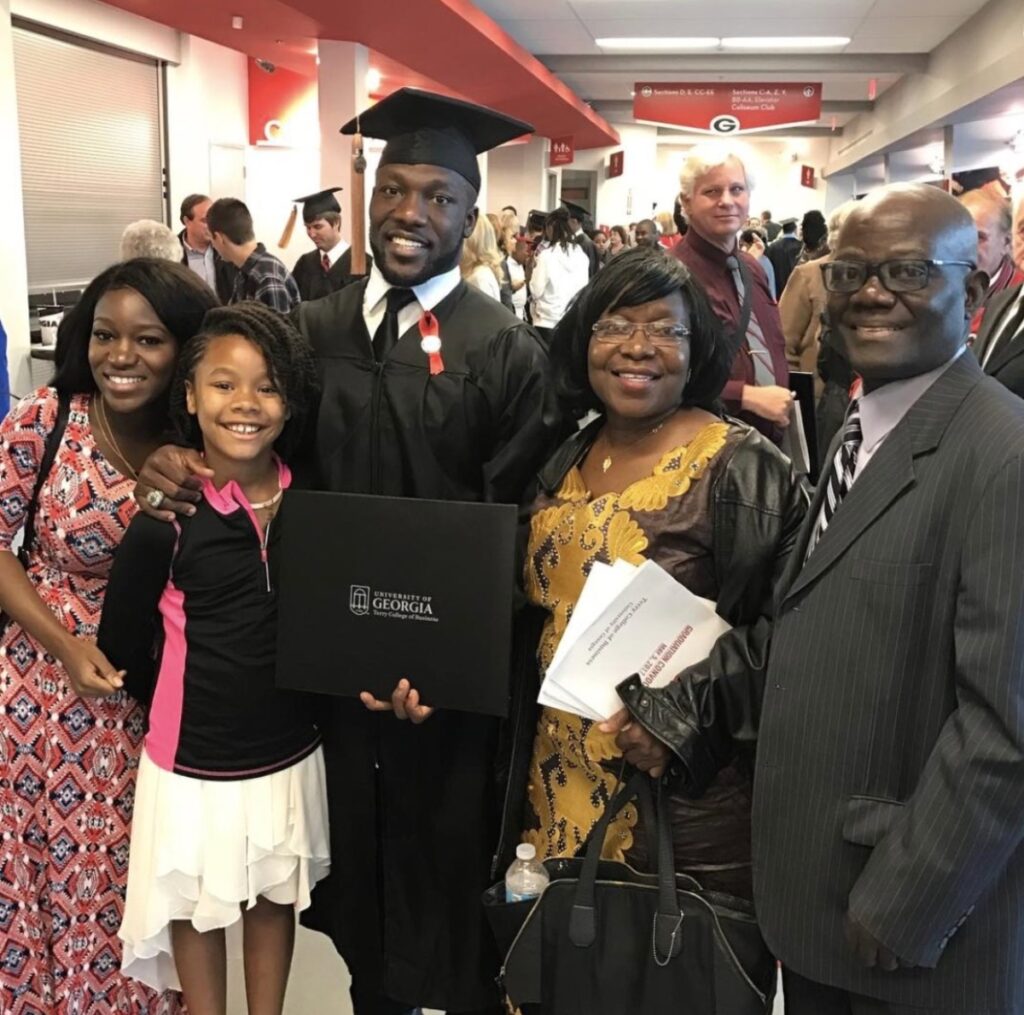 "I wanted to show people I'm not just a guy who can make tackles," he says. "When I got to UGA (the degree) was something I wanted, to honor those who sacrificed for me. I wasn't just gonna get any degree. I wanted a quality degree, a Terry degree, so when I'm done making plays, I have something to show for it and I can inspire somebody else to say, 'Hey, I don't have to take the easy route — I can be more than just an athlete.'"
He is ever mindful of those who impacted his life at a young age. On a recent Friday, a 10-year-old and his parents arrived for a tour of Smith's training center, where Curran was halfway out the door. "He wants to play football," said the mother as her son stood shyly by. Though he had places to be, Curran exchanged greetings, posed for a photo. Then he locked eyes with the boy. "Your jersey could be on these walls one day," he said. "It's all about what you put in."