Image:
Corporations are like hash browns — the more toppings on the griddle, the better the outcome.
That idea helped turn Waffle House from a hometown hotspot to a chain with nearly 2,000 restaurants in 25 states, said Vecus Miller, an executive vice president for the Georgia-based company.
"Diversity is a powerful tool," he said. "Getting other people's insights and experiences and putting those things together — that is powerful. That's what has helped me operate in the world I work in now."
Miller, on campus as part of the Terry College of Business's Diversity and Inclusion Lecture Series hosted by the Institute for Leadership Advancement, told students he never thought he would work in the restaurant industry, much less Waffle House. As a teenager growing up in the Bronx, he wanted to be an aeronautical engineer. As a college student at Morehouse College in Atlanta, where he first encountered Waffle House, he wanted to be a lawyer. And after college, he launched a dry-cleaning business.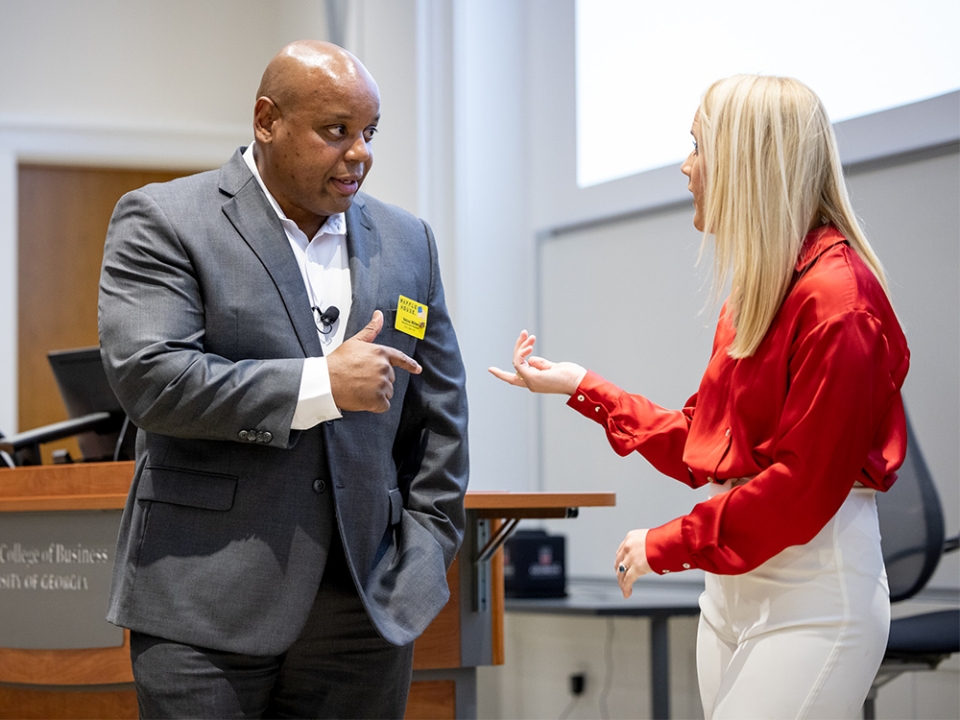 It wasn't until he was in his 30s, after his wife submitted his résumé to the Waffle House career site, that he found his calling. Twenty years later, he talks about his work overseeing stores in five states with the energy of a short-order cook working the lunch rush.
Waffle House requires executives to work in restaurants along with hourly employees, in addition to their traditional management activities. Those relationships allow hourly employees to speak up when they see something wrong, building a sense of belonging in corporate structure and an understanding that hard work is recognized and rewarded.
That's part of the Waffle House model, and servant leadership at its heart, Miller said.
The chain's workforce is diverse because inclusion has been part of its culture since the first Waffle House opened in 1955, he said.  Over the years, Waffle House has grown its culture of inclusion through intentional efforts ranging from creating and evaluating its systems for hiring, training and retaining its workforce, to its homegrown management policy for developing future company leaders, both in the restaurants and at the corporate office. 
"When I started at Waffle House, I saw a lot of people who looked like me and a lot of people who didn't look like me working behind the counter," he said. "I saw people who looked like me and people who didn't look like me being customers. I saw people who looked like me and didn't look like me at the management level."
"One of the sayings we have at Waffle House is 'I play for the team,' " Miller said. "And in my position, I work for everyone who reports to me … I think about what I need to do so you can be the best version of yourself. That's service in my mind."
Department or Program featured: