Image:
Copyright, royalty and contract experts convened at the University of Georgia Terry College of Business on Nov. 15 to discuss the challenges facing authors and songwriters and ways to strengthen intellectual property protections.
The series of roundtable discussions — "Know Your Rights: The Future of Authorship and Copyright Office"— was the third Artists' Rights Symposium convened by the Music Business Program at the Terry College. The symposium attracted a national audience of students and copyright experts in person and online.
"What we're discussing today is songwriter royalties and how they're set, and how they're collected," said David Lowery, musician, symposium organizer and senior lecturer at Terry College. "We're also curious about something parallel occurring with book authors."
Panelists discussed the need to update songwriter royalty payment systems in the digital age and other policies to help support more artists.
They also tackled a growing problem now affecting authors, Lowery said.
"At the beginning of the pandemic, the Internet Archive Project started something called the emergency public library, where they took scans of books and made them available online," Lowery said. "It's a really special type of altruism when you're helping the world by giving away other people's stuff."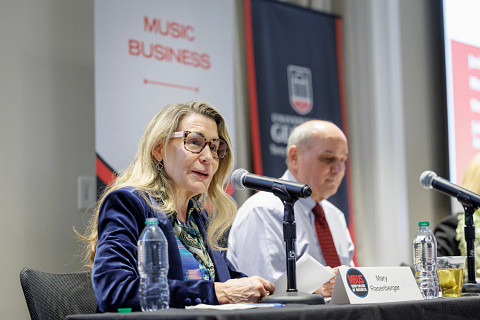 Mary Rasenberger, a Columbia University law lecturer and CEO of the Authors Guild, sat on a panel entitled "Libraries vs. Authors: The Internet Archive's 'Controlled Digital' and Fair Remuneration for Authors."
"They justified the National Emergency Library because these books were not otherwise available," Rasenberger said. "That wasn't true. At the time, authors and publishers were doing everything they could to make sure that students had access to books, and it was within the rights of the publishers and authors to grant access — not the open library."
The discussion of the issues facing authors and songwriters is available online, and more information about the Music Business Program is on its website.
Department or Program featured:
Music Business Certificate Program