Image:
DeRetta Rhodes, chief culture officer for the Atlanta Braves, knows there's more to winning than what happens on the field.
It takes a team. It takes trust and vulnerability. And it takes grit. It's that "championship mindset" that makes someone successful, she told the crowd at the University of Georgia Terry College of Business Professional Women's Conference on Nov. 10 at Coca-Cola Headquarters in Atlanta.
"It doesn't happen just at one game, or two games, it happens with everything that occurs before that," Rhodes said. "You think about everything you've done in your career and education. It happened one class at a time, one semester at a time, one job interview at a time, one job at a time. 
"When you think of having a mindset of a champion, it doesn't happen when you win that award. It happened many days, many months before and many experiences before."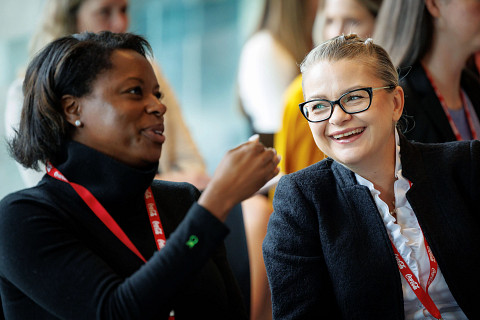 The championship mindset — the theme of this year's Terry College Professional Women's Conference — is the ability to bring your authentic self and your experiences with you on your professional journey. It's the ability to recognize the value in others' identities and experiences, Rhodes said.
Midway through the Atlanta Braves race to the 2021 pennant, the team owned a 44-45 record and its star player was severely injured. But instead of writing off the season, the Braves management doubled down. It sought out new players Joc Pederson, Eddie Rosario, Adam Duvall, Jorge Soler and Richard Rodríguez and built on the team's existing strength. 
Building a winning team in the middle of the season takes vulnerability and trust, and that's important whether you work in a dugout or a corner office. Rhodes learned this throughout her career, and it hasn't always been easy for her, she said. However, being vulnerable and bringing her whole experience and identity to the teams she works with are keys to her success.  
"I will share every failure I've had because those failures have created the ability for me to have a paradigm shift, look at things differently, and do things a different way," she said. "That's the very thing that happened with the Atlanta Braves. Last year, we were considered failures and had to make a different decision. We had to pivot. And we had to show up in a different way."
Trying new things and having the courage to pivot doesn't mean you'll always be successful, but over time your successes and failures help create a career you can be proud of, Rhodes told the conference.
"This is what I talk about when I talk about a championship mindset; it's not about winning all the time," she said. "You're not going to win every day ... But the difference is you have the resilience. You have the passion, and you have the vulnerability and the willingness to trust others. When you bring others along with you, and the journey is so much more fun."
Department or Program featured: