Image:
Susan Brown, lecturer and director of the Terry College of Business Executive, Professional and Online MBA programs, was one of nine faculty and academic leaders named by the University of Georgia to the 2022-2023 class of the university's Women's Leadership Fellows Program.
Brown, before taking over Terry's Atlanta-based MBA programs in 2021, spent 28 years in the corporate sector with companies including Cox Communications, Verizon Wireless and Daimler Chrysler. Her work focused on operations, strategy and technology solutions. She is a Fellow of the SCTE-Tuck School of Business Executive Leadership Program, and she was selected for Cox Enterprises' Top 200 Executive Leadership Fellows Program. At Terry, she's served as a faculty instructor for the EMBA, PMBA and Full-Time MBA programs, and is a 2020 EMBA graduate.
UGA established the Women's Leadership Fellows Program in 2015 as part of its Women's Leadership Initiative to provide a select group of faculty and administrators with an opportunity to develop leadership skills while gaining a deeper understanding of the challenges and opportunities confronting higher education. The program specifically focuses on issues women face in academic administration.
"The talented faculty and administrators selected for the 2022-2023 class of the Women's Leadership Fellows Program are leaders in their respective fields and on our campus," said S. Jack Hu, the university's senior vice president for academic affairs and provost. "They have made significant contributions to UGA, and their experiences in this valuable program will provide a foundation for them to make an even greater impact in the future."
Throughout the yearlong program, the participants will attend monthly sessions to learn from senior administrators on campus as well as from visiting speakers from higher education, business and other fields.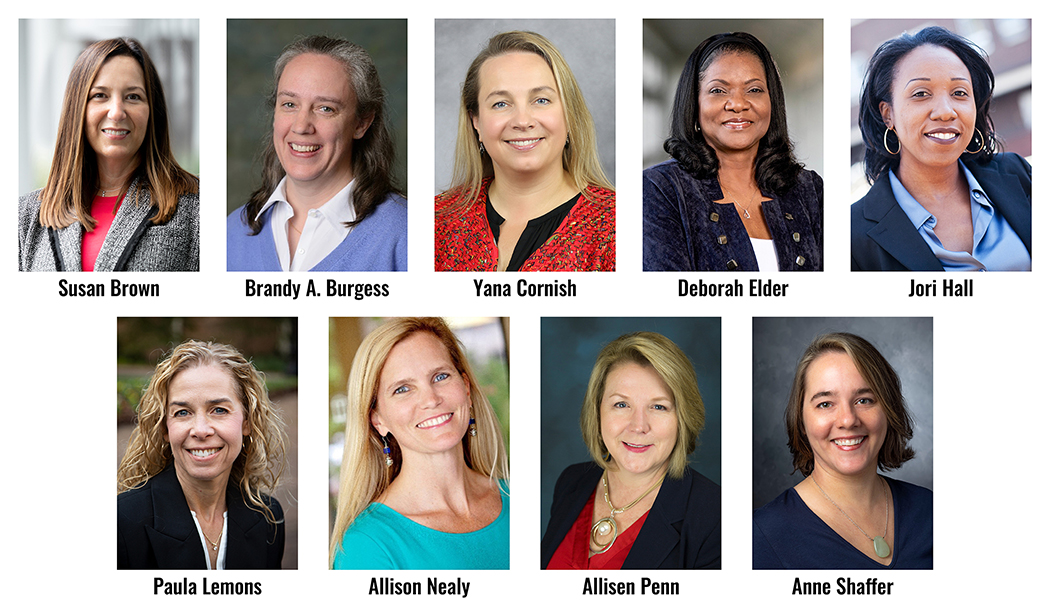 The 2022-2023 Women's Leadership Fellows joining Brown are:
Brandy Burgess, associate professor of population health and interim assistant dean for clinical services in the College of Veterinary Medicine's Veterinary Teaching Hospital. Her research focuses on the epidemiology of potential pathogens in veterinary medicine and public health, including an exploration of risk factors and rapid methods of detection. Burgess is a Fellow of the Emerging Leaders in Biosecurity Initiative led by the Center for Health Security at the Johns Hopkins Bloomberg School of Public Health.
Yana Cornish, director of global education in the Office of Global Engagement. A former exchange student herself, Cornish has a successful track record of expanding international education offerings and increasing the diversity of student participants. Over the last decade, she has served as an international education administrator in public higher education settings. Cornish received the 2021 Education Abroad Leadership Award from NAFSA: Association of International Educators.
Deborah Elder, clinical professor and interim assistant department head for undergraduate and professional education in the College of Pharmacy's department of pharmaceutical and biomedical sciences. Her research centers on optimizing treatment outcomes through the development of patient-specific and population-specific drug formulations as well as quality control of extemporaneously prepared dosage forms. Elder is a two-time recipient of the Outstanding Faculty Advisor Award presented by the Student National Pharmaceutical Association. In addition, she received the College of Pharmacy's 2021 Alumni of the Year Award.
Jori Hall, professor and academic program coordinator in the Mary Frances Early College of Education's department of lifelong education, administration and policy. Her research focuses on applying and examining culturally responsive program evaluation and qualitative research methodologies in a variety of contexts. Hall's honors include the 2021 Outstanding Book Award presented by the Qualitative Research Special Interest Group of the American Educational Research Association and the 2021 Jenny Penny Oliver Faculty Diversity Award presented by the Mary Frances Early College of Education.
Paula Lemons, professor of biochemistry and molecular biology and associate dean of social and behavioral sciences in the Franklin College of Arts and Sciences. Her research focuses on how students develop conceptual understanding and problem-solving skills in college science courses and how to facilitate improvements in STEM education at the course, department and university levels. Lemons is a recipient of the National Science Foundation's Presidential Early Career Award for Scientists and Engineers. Her other honors include the University System of Georgia Board of Regents' Excellence in Teaching Award.
Allison Nealy, clinical professor of communication sciences and special education and department head in the Mary Frances Early College of Education's department of language and literacy education. Her expertise lies in behavioral disorders, trauma-informed practices, special education policy, teacher development and inclusive K-12 education for students with disabilities. Nealy is a two-time recipient of the Mary Frances Early College of Education's Excellence in Teaching Award, and she received the Alpha Phi Omega Excellence in Teaching Award.
Allisen Penn, associate dean for extension and outreach and senior public service associate in the College of Family and Consumer Sciences. Her work centers on leadership development of leaders in land-grant institutions, core competency development of family and consumer sciences professionals, implementation science, community engagement and 4-H youth development. Penn is the recipient of the Program Excellence Through Research Award presented by the National Extension Association of Family and Consumer Sciences and the Distinguished Service Award presented by the National Association of Extension 4-H Agents.
Anne Shaffer, professor in the department of psychology in the Franklin College of Arts and Sciences and associate dean of the UGA Graduate School. A clinical and developmental psychologist, her research focuses on risk, resilience and development in the family context, with an emphasis on emotion regulation and parent-child emotion communication. Shaffer's honors include being named to the American Psychological Association's 2021 Leadership Institute for Women in Psychology. In addition, she received the Award for Faculty Excellence in Diversity Leadership from the Franklin College.
Department or Program featured:
Executive, Professional, and Online MBA Programs