Image:
Trevor Phinney (BBA '15) has been calling the dogs for as long as he can remember, but this Saturday will be the first-time yelling "sic 'em" from 1,000 feet above Sanford Stadium.
Phinney, a U.S. Air Force captain and HC-130J Combat King II pilot, joins a select club of UGA alumni when he flies over the opening of the Nov. 5 game during the national anthem.
"Since I graduated from UGA and joined the Air Force, it's been on my bucket list to do a flyover for a game," Phinney said. "It's a great chance to represent our nation and the combat rescue community in front of the Bulldog Nation."
Phinney graduated from the Terry College of Business in 2015 with a degree in finance and was part of the Air Force ROTC at UGA.
"I grew up around aviation, and I love the University of Georgia," Phinney said. "So, it was always my goal to go to the University of Georgia and become an Air Force pilot. I got the best of both worlds. I got to go to Georgia and join the ROTC at Georgia."
After graduation, he entered pilot training and became part of an elite group capable of maneuvering a 130,000-pound, four-propeller airplane safely through combat zones. He's stationed at Moody Air Force Base near Valdosta, Ga., as part of the 347th Rescue Group.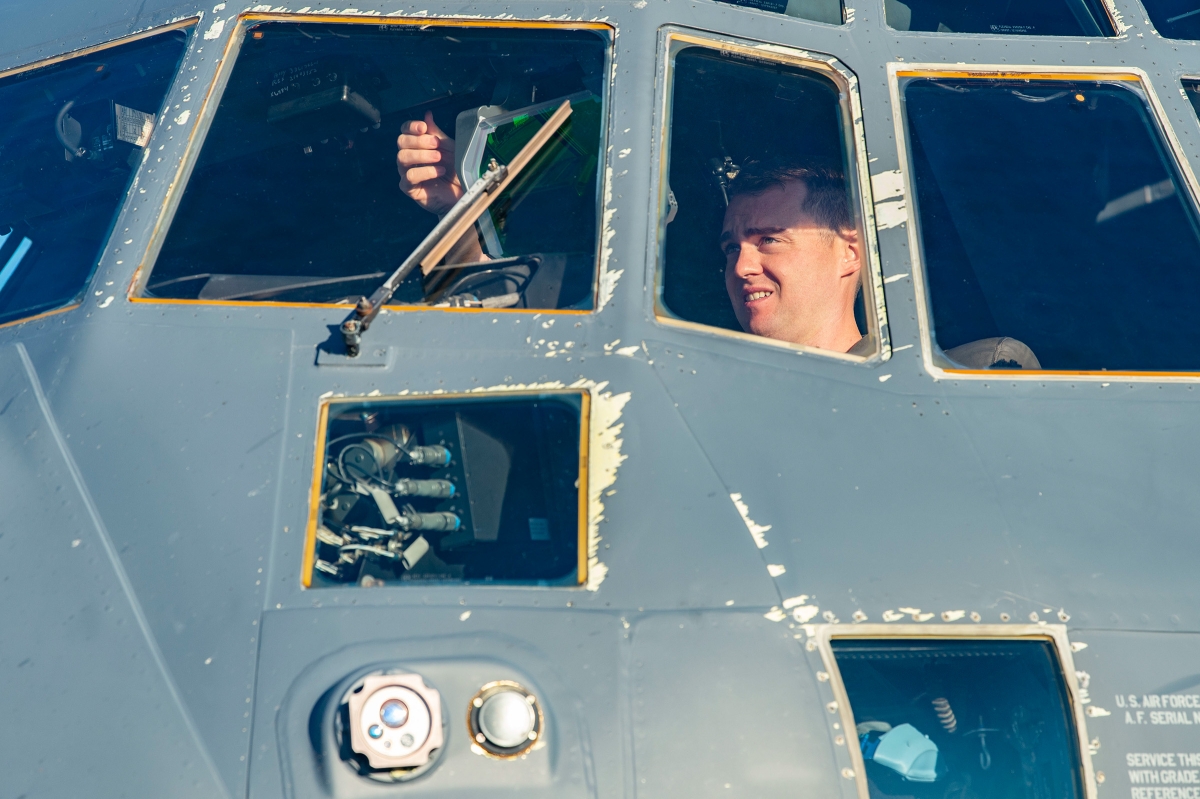 "Our job is to rescue American personnel who have been isolated," he said. "For example, we might have a pilot who had to eject, and now we have to go find them. So, our job is to find and rescue them while in a contested environment."
HC-130J crews also participate in emergency medical evacuations, haul cargo and refuel helicopters mid-air.
"They basically took a baseline C-130 and gave us some extra gadgets to help us better execute our missions," he said. "You'll be able to recognize the airplane as we fly over. It is dark gray in color and has four propellers."
It will also be the only plane flying over the stadium that day.
Phinney, the son of an Air Force pilot, knew growing up he wanted to fly. His dad always seemed to be in love with his job, and that left a mark on him from an early age. As he got older, he learned more about service and the satisfaction of being dedicated to something larger than oneself.
"Flying airplanes is fun," he said. "You get an adrenaline rush from it. You get a feeling of satisfaction when you do something successfully, and you're constantly challenging yourself to get better as an individual.
"And then you're doing this in service to something bigger than yourself. On specific missions, there are times when people are counting on you to get your job done. It's satisfying when you go out and do what you're supposed to do."
Flying over the stadium is his chance to show young people in the crowd Saturday the importance of service and the fun of flying planes. 
That commitment to service came from his time in Air Force ROTC and as a Leonard Leadership Scholar in UGA's Institute of Leadership Advancement. Leonard Scholars are Terry students selected for an intensive leadership training program that culminates with large-scale public service projects.
"The ROTC and the Institute of Leadership Advancement really complemented each other," he said. "Air Force ROTC also does a good job of teaching servant leadership and pushing those other leadership skills they talk about in ILA. ILA helped mold me into a leader, and then ROTC allowed me to put the stuff I was learning into practice in real-time in the Air Force's framework.
"The lessons I learned in Air Force ROTC and as a Leonard Scholar have been absolutely crucial to my success in the Air Force and as the officer I am today."
Department or Program featured: