Image:
In the summer of 2018, Shan Cooper was enjoying life on Florida's sunny Gulf Coast, having retired from packaging materials firm WestRock following nearly 15 years as a Lockheed Martin VP. Then the phone rang.
It was the Atlanta Committee for Progress — an advisory group of leaders from the city's business, nonprofit and academic communities — and they wanted Cooper to be their new executive director.
Weighing a return to the working world against the sparkling white sands of Destin, Cooper initially declined. But a startling statistic changed her mind. A recent study showed that a child born poor in Atlanta, a city home to several Fortune 500 companies, had less than a 5 percent chance of escaping poverty.
"Hearing that statistic about children who will never have an opportunity — having grown up poor myself — I knew I couldn't know that and not do something about it," Cooper told students gathered in the UGA Chapel for her Mason Public Leadership Lecture on Oct. 5. "They sent me the data, and seeing that, I had to come back to work."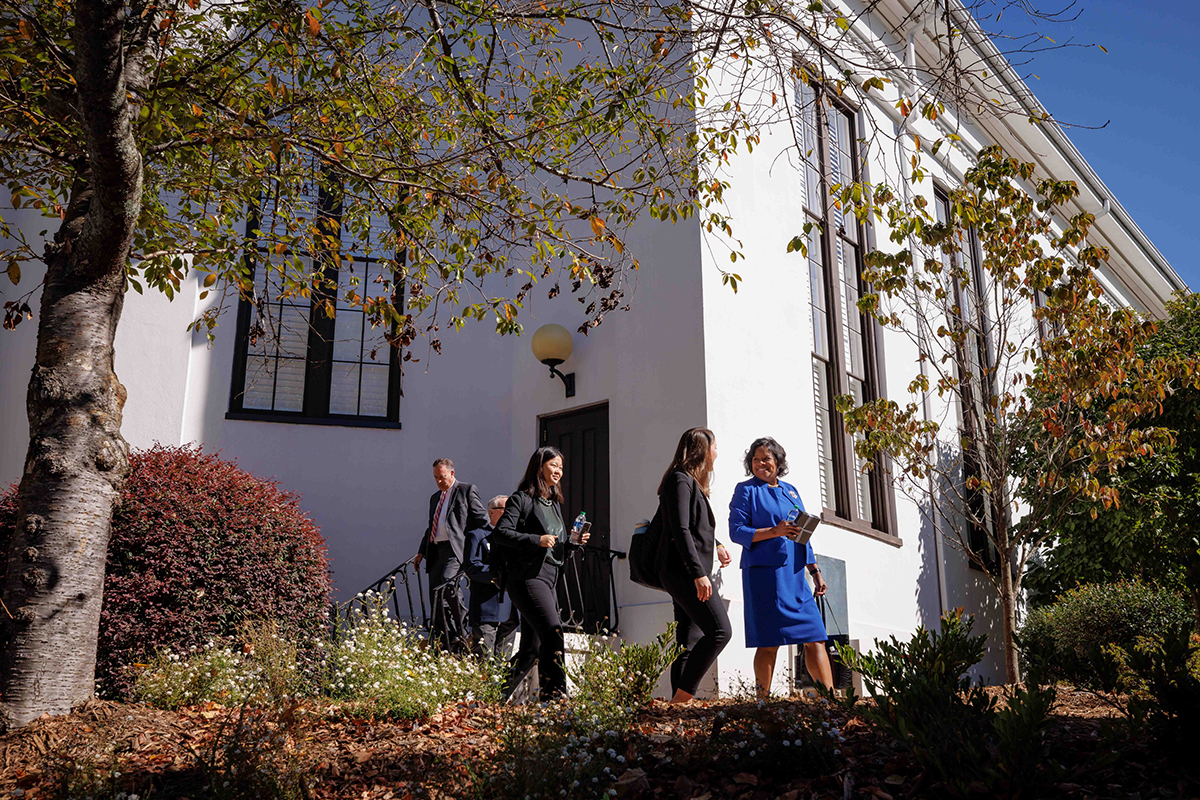 Cooper, the founder and CEO of leadership consulting firm Journey Forward Strategies, built an impressive career out of a willingness to tackle complex problems. As chief transformation officer for WestRock during a frenzy of mergers and acquisitions, she helped steer the company through an intense period of change.
"It's really important that you're a good communicator because you're making decisions that impact people's lives," she said. "It was important to me that I brought people along on the journey — that people understood why decisions were being made.
"I don't think people naturally resist change," she added. "They want to understand, how is this change going to impact me? And if you can get people there, they may not always like it, but they will at least appreciate that you took the time to help them get through the change."
After earning degrees in religion and biology from Emory, Cooper cycled through a string of jobs before returning to the university to earn her MBA. Her business education taught her that strong leadership requires understanding you don't have all the answers. "For me, as a leader, it's always about having good people around," she said.
Cooper put that into practice as vice president of human resources for Lockheed Martin, where she helped transform corporate strategy and improve efficiency by implementing a people-first approach, empowering all employees to give honest and open feedback.
"Often as a leader, you think you're doing all the right things. The reality is you're missing stuff because there are data points you don't have," said Cooper, who explained listening is as important as making people feel heard. "I'm always mindful of, 'OK, I've heard what this individual has said. How am I going to demonstrate that I've heard? How am I going to behave differently?'"
Cooper was promoted to VP of Lockheed Martin Aeronautics overseeing the company's Marietta production facility. As the first woman to serve in that role, she was met with skepticism.
"The day I walked into the job, there was a newspaper on my desk. The local newspaper had interviewed one of my employees, who talked about how the plant was going to fail, how they put someone in who wasn't qualified," said Cooper.
Again she faced challenges with confidence, immersing herself in the particulars of military aircraft construction, learning the technical language that allowed her to communicate effectively with customers and colleagues alike.
And her HR background proved valuable, as she addressed manufacturing issues by connecting one-to-one with the mechanics working on the planes. "I wanted people to be comfortable coming to me to give me the good, bad and the ugly," Cooper said.
A pastor's daughter, Cooper was guided throughout her career by values her parents instilled in her, including honesty, integrity and respect. These values continue to inform her consulting efforts, as well as her service to various boards of directors, including Georgia Power, Grady Health System and Emory University.
Citing the U.S. Army motto "Mission First, People Always," Cooper said she aims to help organizations deliver on their promise by helping people discover their purpose.
"You can't fulfill the mission without the right people, in the right jobs, at the right time, doing the right things," she said. "So that became my guiding principle, my leaders lived up to that, and we were able to get a lot of things done."
The Mason Public Leadership Lecture is part of the Institute for Leadership Advancement's Terry Leadership Speaker Series. The lecture features prominent business leaders who have contributed significantly to their communities or spent time in a public service role. It is supported by a donation from alumnus Keith Mason (BBA '82, JD '85) and his wife Twinker.
Department or Program featured: