Image:
From producing the recordings to building connections with fans, there is a lot that happens before we stream our favorite playlists or watch a new band on stage.
Students in the University of Georgia's Music Business Certificate Program learn from industry leaders in the classroom and in the real-world. Their internship experiences are as diverse as their musical tastes, but each is gaining the experience they need to build a career in the industry. 
Laying a foundation in sound
Jon Michael McKinnon's summer internship at Chase Park Transduction involves a lot of basic tasks such as doing dishes and sweeping the floor. "But I'm sweeping the floor around crazy, awesome equipment that I can nerd out about," he said. "I've always loved music, and any time I'm doing anything related to it, I enjoy it, even sweeping the floors in this studio."
In addition to basic tasks, McKinnon also sets up and takes down microphones and helps the engineers with anything they may need, but he learns the most by observing recording sessions. During breaks, he can ask questions about technique, and he said the things he learns range from how to wrap a cable so it doesn't get torn up over time to why a particular mic is used for the drums during a session.
The music production studio is tucked away off Chase Street in Athens, Georgia, and can be difficult to find. But the artists who have recorded there include such well-known names as R.E.M, Vic Chesnutt, the Drive-By Truckers and hundreds more. 
The studio is owned and operated by David Barbe, a prolific producer and musician and director of the University of Georgia's Music Business Certificate Program. Housed in UGA's Terry College of Business, the certificate program helps launch students quickly into both the local and national music scene with a variety of internships that give them an advantage by connecting them with experienced industry professionals.
"Sometimes when I ask why a producer made a specific choice, the answer is simply 'I just had a feeling it would sound really cool,'" said McKinnon. 
Helping turn a vision into a signature sound
"It's cool how quickly I've gotten experience and how many people I've gotten to watch work, considering I've only been part of the program for less than a year. It's such a quick launching pad—I've never been part of a program like that," said Hannah Huling, who interned at Chase Park the previous semester. She grew up in a musical family, but she never thought music was a feasible career path until she discovered UGA's Music Business Program.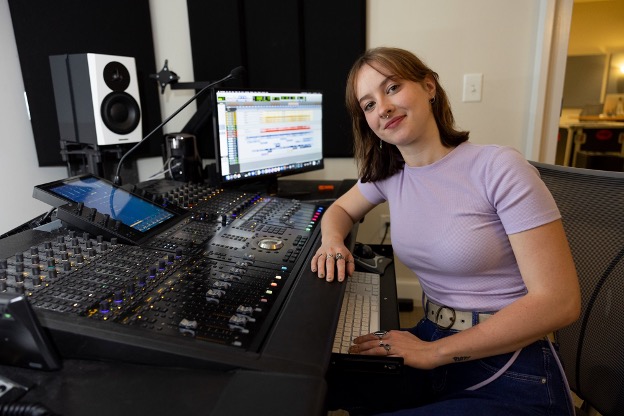 Huling, who will graduate next year, first interned at the Georgia Theatre where she prepared the green room for artists, helped tour managers, fulfilled hospitality riders and any other requests from the artists performing that night. "Working face to face with artists I've admired in the past has really humanized them," she said. 
While she learned a lot during that internship, she found her true passion at Chase Park and now plans to go into production. "Production scratches the same itch that being an artist does but from an outsider position. You get to mess with tones and sound quality or the general vibe of a piece in such an intricate way that you can't do in any other aspect of music," said Huling, who plays bass and flute and also sings. "You really get in-depth control of how a song sounds."
During her time at the studio, Huling admired the way the sound engineers really anticipated the needs of an artist. "Artists have visions that they might not know how to carry out, and producers can fill that space, especially if they're good at listening," said Huling. "It's almost a bridge role." 
Mischief Managed
Albert Chen's favorite assignment during his internship for Widespread Panic's management company Brown Cat was conducting a strategic analysis of TikTok. "Right now, they don't have a TikTok account, and their fan base tends to be older, so I was trying to figure out if it was worth creating one." 
He looked at bands with similar demographics such as Smashing Pumpkins, R.E.M. and Pearl Jam. Then he analyzed their success on the platform and translated that into a strategy that he presented to Widespread Panic's management. 
Chen, who is double majoring in finance and international affairs and earning minors in Chinese and viola, decided to add the Music Business certificate to his plate because music has always been a big part of his life and he wanted to incorporate it into his future degree.
I'm classically trained in piano and viola but didn't want to perform. I ended up taking a music production course during my sophomore year and met some interesting people." One was the band Hotel Fiction's guitarist, who suggested Chen do this program since he didn't want to play in a band. 
During his Brown Cat internship, Chen said he realized his finance degree was invaluable. "I can apply everything I learned in business to the music industry."
In addition to creating his TikTok strategy, Chen's done data analysis, organized and catalogued Widespread Panic's videos and learned a lot about the day-to-day responsibilities of a business job in the music industry.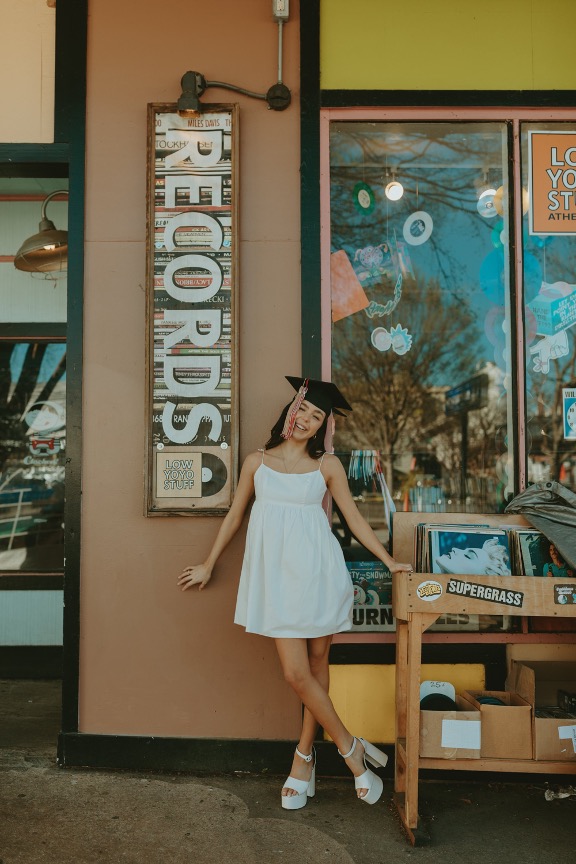 Building bridges for fans
When Randi Cass was 12, she created and ran a fan account on Twitter for her favorite musician at the time: Taylor Swift. At one point, the account had 5,000 followers. When Cass was in high school, she did a fundraiser after the Manchester bombing where Ariana Grande was performing. She and her friend created T-shirts with the One Love Manchester logo, sold over 500 of them and raised $7,000. "That was my first campaign for music," said Cass, who said she had no idea at the time there was potential to actually work in the music industry in that capacity. 
But now her internship at the startup Fanmade involves creating campaigns and experiences for super fans. And her second internship at RCA Records has her working on teams doing digital marketing for stars such as A$AP Rocky, Jack Antonoff of Bleachers (who also produces Taylor Swift's music) and Rex Orange County, to name a few. "I was thrilled to work on those projects because I grew up loving these artists," said Cass.
When Cass arrived at UGA and took her first music business class, she was hooked. "I went to so many concerts when I was young, and I saw people working and wondered how you do that? That first college class brought back those memories."
Cass played flute in middle school band but said she has "absolutely no music talent whatsoever and knew it was not a path (she) should be taking." 
The Music Business Program turned out to be the perfect fit for her. 
Department or Program featured:
Music Business Certificate Program