Image:
Juan Mencias has always been a dreamer.
The Mencias family worked a small farm owned by Juan's grandfather in San Gabriel, Ecuador, near the Colombian border. Scrimping and saving, the family managed to find money for a bicycle … for Juan's older brother, Pedro.
"I clearly remember asking for permission to push it by the handlebars," Mencias recalls. "I was way too small to ride it, but the joy I got from simply pushing the bike along was enough for me. I knew I was one step closer to the day when I would have my very own bike to ride.
"That mindset of dreaming and not letting anything hold me back has stayed with me throughout my life."
Today, Mencias pedals a top-flight Scott CR1 road bike. In 2020, he got out of bed at 5 a.m. for five straight months to train for a Half Ironman event in Augusta. He spent three hours a day biking, swimming and running, racking up more than 3,700 miles. He finished his race in under five hours, remarkable for a first-timer.
"I tend to operate at one speed, and that's 120 miles per hour," Mencias says with a smile. "My mindset, whether on the job or exercising, stays the same: Work to the best of my ability and never give up."
That mindset catapulted Mencias from the mountains of Ecuador through a challenging immigration experience as a child in the Atlanta suburbs and into an illustrious undergraduate career at the Terry College.
It propelled him into positions of rising responsibility and growing recognition at Wells Fargo and then, at the tender age of 28, into his current post as chief financial officer of Georgia Diamond Corporation and Ascot Diamonds.
Mencias mentions accomplishments modestly, quoting a personal hero.
"Success isn't measured by the car you drive, the home you own or how you compare to the person next to you," he recites. "Success is about seeing where you started and how far you've come."
Mencias has come far thanks to that hero: his big brother, Pedro.
Pedro let little Juan push that first bicycle. Pedro blazed a trail through Fulton County schools ahead of Juan. Pedro learned English first and helped guide the Mencias family into a new culture. Pedro (BBA '14) studied finance and international business at Terry, earning a place in the Jere W. Morehead Honors College.
Pedro Mencias, who works at Bridge Investment Group in Atlanta, holds unbounded pride for his hermano.
"Juan has surpassed every single expectation that anybody ever had of him — even his own expectations," Pedro says. "He's living his dream every single day. To see him become the man he has become completely fills my heart."
Entering the American dream
The Mencias family immigrated to Sandy Springs in 2000. Juan was 6, starting first grade.
"Culture shock," he recalls. "Every day my mom would drop us off at the school bus stop. I would cry, telling her I wanted to go back home to Ecuador. I got on the bus with my brother holding my hand."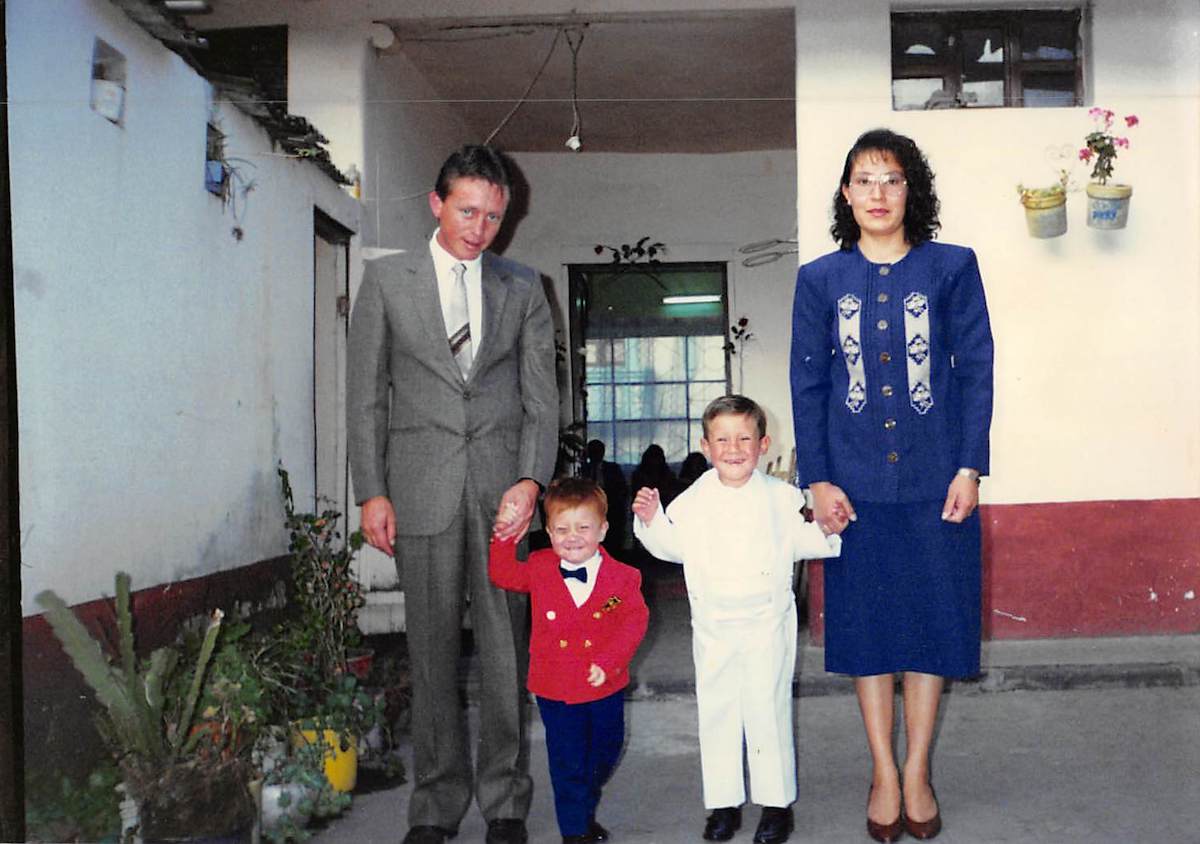 But Mencias proved adaptive and precocious. In months, he spoke English. His school work glowed. His parents, Pedro and Lorena, made education a priority, as they cleaned houses, worked at Publix, landscaped and did whatever they could to afford their two-bedroom apartment where their boys slept under the same covers.
With his parents' hard work as a model, Mencias cruised through high school. He made test scores high enough for a HOPE Scholarship and UGA, but ran into family issues that detoured him to a community college for two years. He worked full-time at a diamond and jewelry company while he earned basic college credits.
In 2013, Mencias arrived at Terry to study finance, following in his brother's footsteps.
"Oh man," Mencias recalls. "Terry, UGA — it was a whole different animal, the course loads, getting to classes, the entire university experience."
A singular talent came to the rescue: Mencias knew how to adapt. In no time, Terry helped him excel.
"What stood out to me were the great professors. Class A professors, the best at what they do," Mencias says. "And I was surrounded by students just as brilliant — I met someone smarter every single day. Having successful people around me made me want to be more and reach higher."
He reached plenty high. On his transfer to UGA, Mencias earned a Goizueta scholarship and later became president of the Goizueta Ambassador Program, leading mentoring for minority students.
In 2014, he secured a summer internship with Wells Fargo and an apprenticeship through Harvard Business School to its competitive Summer Venture in Management Program. Back in Athens, he was tapped as a Terry Ambassador, representing the college to prospective business students.
His name appeared repeatedly on the Dean's List. He, too, earned his way into Morehead Honors College and graduated cum laude.
Then the world called.
"It's unbelievable, the opportunities Terry brings, the doors it opens," Mencias says. "The network is so extensive, you can literally go anywhere."
He saw the possibilities firsthand when an ambassador friend gave a campus tour to an executive from a big accounting firm. "He offered her a job on the spot," Mencias remembers. "She got a full-time job after graduation from that meeting. It's what Terry does."
A door opened for Mencias, too: a bank vault. He walked right through.
Dollars and diamonds
The nation's fourth-largest bank saw talent in the young man from Sandy Springs and hired him after an impressive internship.
Mencias began at Wells Fargo as a financial analyst in the company's middle market banking division. He spent his first three years in the beverage finance specialty group in Atlanta, getting bank-smart. He analyzed companies' strengths and weaknesses, spotted credit issues and partnered with bankers to structure multimillion-dollar transactions.
Company leaders saw enough potential in Mencias to select him in 2018 for a special residency program in San Francisco focused on credit analysis. The four-month assignment took him the farthest from home since the move from Ecuador 18 years earlier.
Mencias returned to Atlanta with a promotion in the beverage group to assistant vice president and portfolio manager, and a year later he transitioned to underwriter in the capital finance division. Another year of experience there added to a formidable portfolio for a young professional still in his mid-20s.
But he felt something missing. Mencias dreamed of more, as on the day he pushed his brother's bike so long ago.
A CFO at 28
During community college, Mencias made pocket money working at a wholesale diamond company, Georgia Diamond Corporation, and its retail branch, Ascot Diamonds. He stayed in touch with the good people there. He liked the business, and he'd made an impression.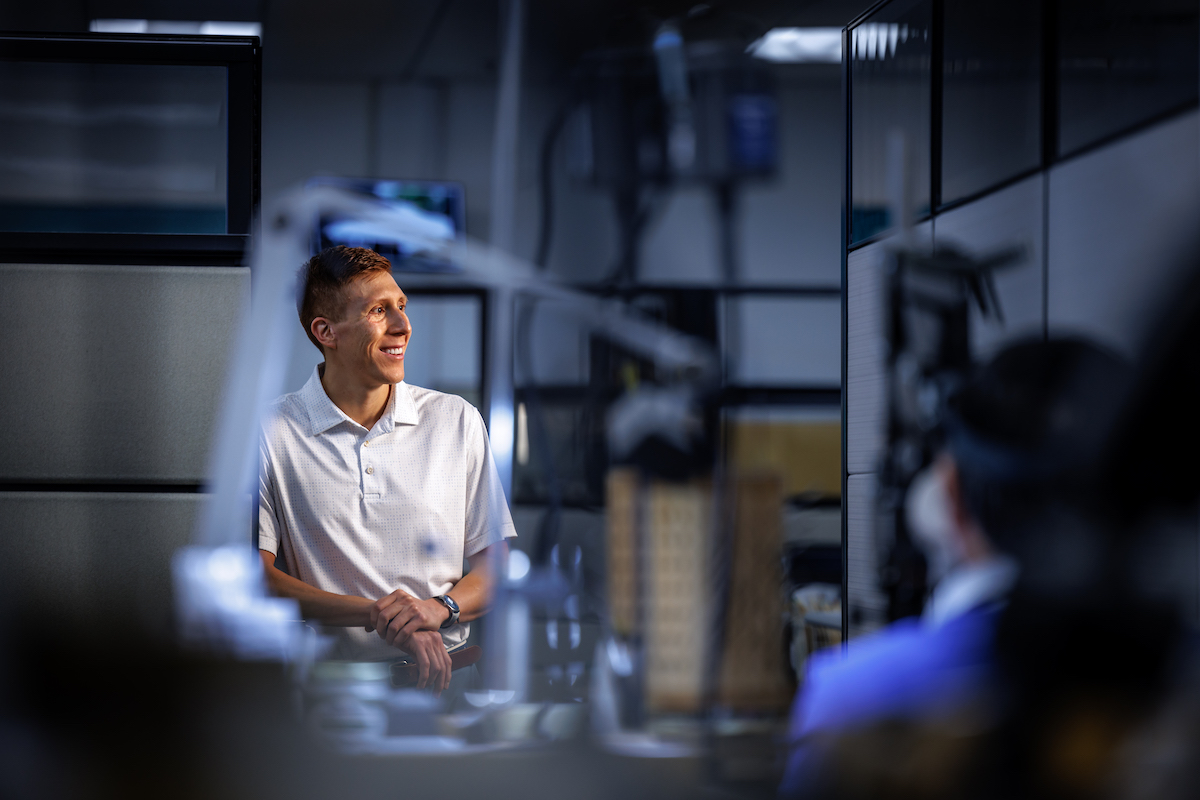 He heard the owners were looking for someone to come in, learn the business and handle the finance side of the operations. Intrigued, Mencias met for a talk.
We'd like to hire you, the diamond merchant said after their first conversation. We probably can't afford you, but we'd give you the chance to take the reins at the company and run with it.
Mencias had heard all he needed.
"The work challenged me to step outside my comfort zone," he says. "There's a lot more personal touch in this business. You have to figure out how to make things work. There's nobody above you to make a decision. The interactions are completely different, no two days the same. It's exhilarating."
The company had about 20 employees when Mencias started as vice president of operations in 2020. Today, the payroll is over 30.
The growth drivers? The COVID-19 pandemic left couples more determined than ever to buy rings and marry. Eco-friendly diamonds, flawlessly grown in labs, have made a strong market entry.
Mencias hit the ground running. Year one, he defined roles and streamlined processes. By 2022, his good work brought the reward of a new title: CFO.
"It took about eight months to get comfortable with everything, including new systems," he says. "When the old bookkeeper left, I had to dig and dig to figure out how to do things. I'm glad I'm young. It's been a lot."
Was leaving Wells Fargo the right move? "Absolutely. The bus only comes around once," Mencias says. "Either you jump on and take the ride … or you never get that opportunity again."
Getting honors and giving back
In April, UGA presented Mencias with its Young Alumni Award, bestowed on individuals who bring recognition and honor back to the university through outstanding leadership. In July, he was named to the 2022 class of 40 Under 40, which honors graduates for personal, professional and philanthropic achievements.
Mencias characteristically shares credit. "While my work ethic and dedication have helped me reach a lot of my goals," he says, "none of it would have been possible if there hadn't been others there to break down walls and clear a path for me."
Mencias now helps clear paths for others. In 2017, he founded the UGA Latino Alumni Affinity Group. He serves as president of this organization dedicated to promoting networking, collaboration and development for UGA students of Latino descent.
"It's personal," he says. "I want the group to be a welcoming environment for all, including prospective students, current students and alumni."
Celene Cervin was a close friend of Juan's at UGA — she studied to be a teacher — and she works with him at Georgia Diamond and Ascot Diamonds. She's Mexican-American, a first-generation graduate. She says inclusion motivates Mencias.
"He wants to be a role model for the community and uplift people through his service with the alumni association and in other ways," says Cervin. "He cares so much about our community. He wants to lead by example."
Rosa Arroyo Driggers is UGA's associate director of admissions for access and inclusion and founder of the Goizueta Ambassador Program. She met Mencias during his ambassador interviews and, after his graduation, helped him set up the Latino alumni group.
Driggers calls up a quote often attributed to Harriet Tubman: "Every great dream begins with a dreamer."
"During an evening in Atlanta, Juan and I met over dinner with other alumni to discuss the possibility of starting this inaugural group," Driggers says. "One conversation was all it took for Juan to dedicate the next several years to making the UGA Latino Alumni Affinity Group a reality.
"He really has a Bulldog spark. With Juan, a spark of a dream is all it takes for him to work tirelessly and tenaciously to make it a reality … Juan is a natural-born leader. He has the vision, curiosity, intentionality, empathy and innovation to inspire generations to come."
There he goes again, that dreamer. With his dreams so real.
Department or Program featured: