Image:
After almost two years balancing work-from-home schedules, proctoring remote classrooms and dealing with a global pandemic, a group of almost 300 businesswomen came together to celebrate their resilience. 
"Be gentle with yourselves, and take care of yourselves," said Deborah Roberts (ABJ '82), a senior correspondent for ABC News and UGA alumna, during the Terry College Professional Women's Conference in Atlanta on Dec. 10. "That is something that I learned during the pandemic. We have to take care of ourselves if we are going to be that powerful force we want to be. 
"Remember what you did well, and not what you did wrong in your careers, in your personal lives and as you go through life day to day. Give yourself the benefit of the doubt." 
Speakers from various backgrounds and businesses echoed the same message throughout the event: women need to trust themselves and know they are enough. The annual conference, aimed at helping professional women enhance leadership skills and build networks, was filled with workshops, roundtables and inspirational speakers. The conference was presented by the Terry College of Business and Genuine Parts Co., which hosted the event at its headquarters. Andrea Pearson (BBA '88) served as the conference chair. 
The Terry College has hosted the conference since 2015, and attendees often use it as a chance to focus on personal development and reset their priorities for the new year. 
"I've attended every conference since the first one they hosted in Athens," said Amanda Free (BBA '06). "It is just energizing to hear the speakers, and it gives me lists of books I want to read, and Ted Talks I want to watch to keep me going.  
"So, it's not just the day of the event, it gives me ideas of things to think about and work on in the next year." 
This year's conference focused on resilience and grit and featured businesswomen who bested barriers and found ways to thrive. Topics of discussion — which included career changes, returning to work, time raising children, and toxic relationships — were led by accomplished professionals who shared stories of overcoming adversity.  
Christine McCarthy, the chief financial officer of The Walt Disney Company, shared her twisting career pathway and how it prepared her for her current role leading one of the world's largest companies.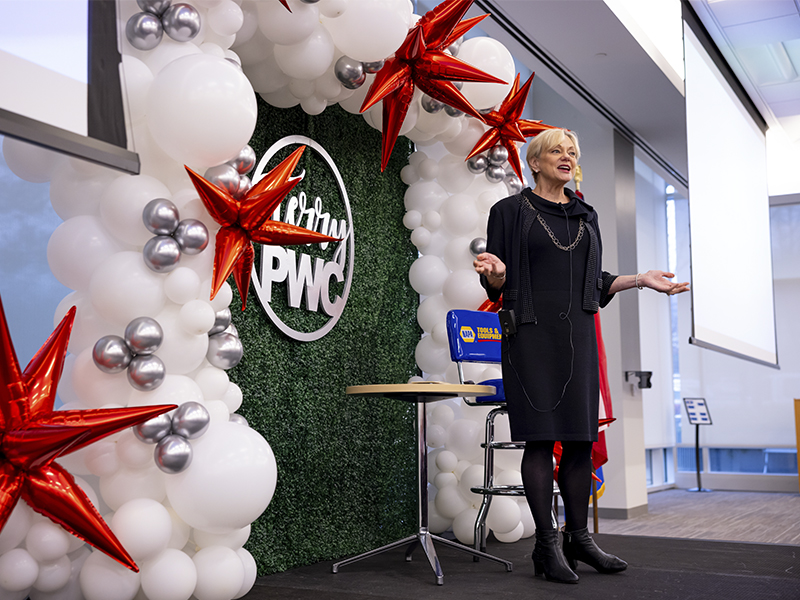 Women are good at change, they're good at adapting, and that resilience gives them an edge in leaderships situations, C-Suite leadership advisor and CEO of EDA Inc. Bonnie Hagemann told the crowd. 
 
"When you're at work, you're going to have opportunities: COVID's happening, schools are shutting down, and you will say, 'Hold on, I know what to do,'" Hagemann said. "That gives you a gap, and if you're ready, you can step into that gap. That's your leadership opportunity. Look for gaps, and when you see them get in them." 
In addition to building networks and celebrating their resilience, the women recognized Terry students who demonstrated the same grit. Four Terry students — Meritt Parker, Emma Biancheri, Madeline Copeland and Aditi Madhusudan — were honored as Mary Virginia Terry Student Support Fund scholarship recipients. 
To continue the conversation with Terry alumnae and to continue to impact tomorrow's leaders visit Terry Connect, Terry College's networking platform.  
Department or Program featured: