Image:
The Rolling Stones rolled across Latin America in 2016. 
Getting a lot of satisfaction after 50 years as a super-group and worldwide sales of 250 million albums, the Stones filled 1.2 million seats and pulled down $91 million in just seven weeks. The band's concert equipment for the América Latina Olé Tour packed 70 tractor-trailer trucks, a cavalcade that rumbled through 10 South and Central American venues from Santiago, Chile, to Mexico City.
Meanwhile, night after night back in the USA, hundreds of mid- and lower-tier bands and performers piled drum kits, amps, guitar cases and themselves into road-warrior vehicles. They headed for shows in Des Moines and Bakersfield, Hoboken and Athens —anywhere they might draw even a small crowd.
The starkly different scenes symbolize today's music business. 
The Stones and an exclusive few ultra-elite artists make piles of pesos. Elsewhere, striving songwriters face an uphill drive to earn enough notes to stay in business. On the road again means burning high-priced gasoline and living on Cheetos, praying for clear skies and a tough radiator hose. 
"Everywhere I look, artists seem to be working more for less money," says Dr. David Lowery (EDD '18), a lecturer of Business Fundamentals as Applied to the Music Industry for Terry College's Music Business Certificate Program. 
Lowery knows. Along with academic work he's a professional musician, the frontman for two touring mid-tier bands, Cracker and Camper Van Beethoven. Both Lowery's groups boast respectable critical reputations and mid-tier sales, including a gold and a platinum album. 
Lowery also knows music from the production side. He's founder of one of the first Indie-owned labels, Pitch-A-Tent Records, and a part-owner of Sound of Music Studios in Richmond, Va. He's produced platinum selling albums (Counting Crows) and penned tunes for commercials, TV, and films.
All this is to say the self-described "rockonomist" intimately understands the economics of the music industry, and he's not a happy camper.
"I believed in the promise of the internet to liberate, empower and even enrich artists," says Lowery. "I'm less sure of it than I once was."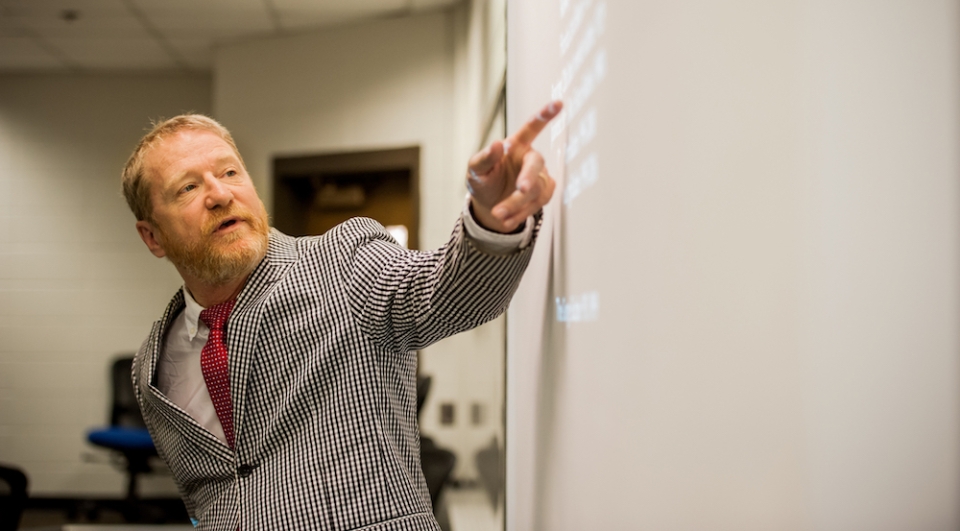 In Lowery's view, Digital Age changes in the economic model have threatened the livelihoods of creative artists — the people he calls "rights holders."
"I feel that what we artists were promised has not really panned out," he says. "The music business never transformed into the vibrant marketplace where small stakeholders could compete with multinational conglomerates on an even playing field."
Lowery insists that today's internet-based model of the music industry limits the prosperity of musicians even more than the old model did, back when music came on vinyl or CD and just a few powerful record labels called the shots.
"In the last few years," Lowery says, "it's become apparent the music business, which was once dominated by six large and powerful music conglomerates — MTV, Clear Channel, and a handful of other companies — is now dominated by a smaller set of larger and even more powerful tech conglomerates, and their hold on the business seems to be getting stronger."
What the world needs now?
Ironically, the work of songsmiths today, thanks to the internet and its file-sharing, streaming, and downloading features, can be enjoyed more easily than ever before. Anyone with a computer or smartphone can click to hear Cracker and Camper Van Beethoven tunes on YouTube. 
Fans can pay and download work from Amazon or iTunes. Subscribers to Spotify or other digital streaming services can easily hear the classics or hidden gems. 
The rub? Somehow, what music consumers once paid to hear can now be enjoyed for free, or uncomfortably close to it. 
In 2016, the Recording Industry Association of America reported that for the first time in the U.S., customers paid more for music by streaming services ($3.9 billion) than for recorded music (CDs and a small vinyl disc subculture). 
Globally, streaming now accounts for 59 percent of digital revenues.
Consumers don't buy music any more — they download or stream it. 
So, struggling to replace stagnant or falling sales, more artists go on tour. They play more shows — for fewer concertgoers. Artists' recording budgets and the length of their recording sessions have decrescendoed, a clear sign of tight revenues. 
Here's Lowery.
"I've owned a studio complex for 18 years. We've recorded everything from hobbyists to high school punk rockers to octogenarian blues singers. My wife is a concert promoter of some note. [In 2010, Lowery married Velena Vego, manager of his two bands, and talent buyer for Athens' 40 Watt Club and Atlanta's Buckhead Theatre.] She probably books over 300 artists a year. We share an office, and from where I write this, I feel like I have a comprehensive view of the music scene in the southeastern United States, if not the entire U.S.  
"I generally know what artists are grossing. I also have a pretty good idea of what they are netting. If a four-piece band shows up at the 40 Watt Club here in Athens with two crew members and a beat-up old van, and they sell 200 tickets? They are probably making about 150 bucks a day each. And if a band shows up with two buses, a truck, 10 crew members, and an eight-piece band? Well, I can tell you they need to sell it out or they are losing money."
"I feel that what we artists were promised has not really panned out. The music business never transformed into the vibrant marketplace where small stakeholders could compete with multinational conglomerates on an even playing field."
The bottom line? It's the bottom line. Without reliable sales of recordings, artists face a growing struggle for attention … and even survival. 
"In the digital music economy," Lowery says, "artists have seen their most important assets collectivized by file-sharing or as 'user generated content' on social media."
Meet The New Boss
Lowery has emerged as a digital-age champion of music artists' rights. He put on the crusader's cape in 2012 after publishing a widely read essay, "Meet The New Boss, Worse Than The Old Boss?"
Think "Common Sense," the foundational document by Thomas Paine that helped launch the American Revolution. Only for songwriters.
That essay, convincingly and in minute detail, took to task the greed of online digital giants and their indifference … or worse … toward the plight of middle-tier and rising recording artists. "Meet The New Boss" was a cri de coeur against the negative effect of the new digital economic model on the majority of American musicians. 
Lowery, trained as a mathematician and with deep geek credentials (early tech adopter, years as a derivatives trader/analyst, multiple computer languages), went stridently public with his views after calculating that listeners on Pandora, a web-based streaming service, had downloaded his Cracker hit, "Low," more than a million times. 
Lowery received royalties of less than $17.   
"I just want to let all those young bands out there touring know what the economics of streaming really mean," Lowery wrote. "There will be no middle class or niche ensemble music unless streaming revenues increase. Flat price per stream revenue is a net transfer of wealth to top artists and streaming platforms."
"Meet The New Boss" brought Lowery a surprising new kind of celebrity. The music stalwart suddenly found himself fronting a different kind of microphone, speaking out as a defendant of artists' rights in January 2014 before the U.S. House of Representatives Subcommittee on Courts, Intellectual Property, and the Internet. 
Through his online advocacy website, The Trichordist, Lowery chronicled industry abuses and exposed hypocrisies that prevent rights holders from receiving fair payment for fair use of their creations.
In January 2017, Lowery took on the government itself, speaking out in an interview in the Washington Post.
"I don't know if people realize this," he said, "but all your pay as a writer of songs — with the exception of something placed in a film or television or a commercial — is governed by federal government. They literally set the rates that you're paid." 
He went on to complain that "federal overregulation that has clearly been distorted by the levers of government power that set the prices for songs have been clearly manipulated in favor of large multinational corporations."
In late 2015, Lowery filed a class-action lawsuit against Spotify. The legal action seeks $150 million in damages, alleging that the streaming service reproduces and distributes copyrighted songs without the proper licenses.
In January 2018, Lowery and Terry's Music Business Program hosted a symposium on artist's rights in the music industry. Musicians, producers, filmmakers, law enforcement, and elected officials came to Athens to explore artists' rights advocacy and other timely themes. 
"I just want to let all those young bands out there touring know what the economics of streaming really mean. There will be no middle class or niche ensemble music unless streaming revenues increase."
"I wanted this conference to do something different," says Lowery. "The goal was to get more people involved in the discussion, including people who play a very big role in the way that artists' rights are handled." 
A Change is Gonna Come
Disruption has been steady as a metronome for the economic model of the music industry. At least seven times, technology or trends changed the business formula that affects rights holders of musical work. 
The first commercialization of music sales came between the 1830s and 1850s, a time when sheet music vaulted new tunes and their creators into the popular consciousness. In the 1890s, clever music publishers in New York and London sold millions of songs while capitalizing on new kinds of licensing for music halls, Vaudeville, and promoters.
The phonograph emerged in the early 20th century, and the creation of albums for the device blended artistry, publishing, production, and distribution more closely than ever, raising new questions about who deserved payment for what. Next up, radio exposed the work of artists to an even broader public — and once again dialed in a whole new set of issues on royalties and rights.
Television with its hundreds of millions of viewers raised even more questions for rights holders. The DVD then added its wrinkles, followed, in rapid progression, by increasingly personalized music technology — 8-tracks, cassette tapes, the Sony Walkman, the compact disc. 
Then artists confronted the evolution … and the revolution … called the iPod, the potent symbol of the internet's takeover of musical presentation. Pioneering song-sharing services such as Napster weren't far behind. Today, digital downloads and streaming minutes dwarf all other forms of musical presentation. 
And there's some … a little … good news.
The Global Music Report, published by the International Federation of the Phonographic Industry, reported in 2016 that the music industry grew just under 6 percent (most of the growth in streaming). That marks the biggest bump in sales for the global music industry in the past 20 years. The valuation of music as a global industry approaches $16 billion.
Growth is good. But is streaming growth best for artists? Lowery confesses to mixed feelings. 
"The 'new boss' doesn't really tell me what kind of songs to write or who should mix my record," he says. "But on the other hand, I'm a little disturbed at how dependent I am on these tech behemoths to pursue my craft."
Lowery chides this "Innovation Industry" for its half-blind eye toward artists. 
"They think their services and networks are the only thing of value in the digital ecosystem," he writes. "This is like the owner of Shoreline Amphitheatre thinking people are paying for the privilege of sitting on the chairs.
"The tech true believers … ecstatically shout, 'things have never been better for musicians!' While that is true for [top-tier, super-group] musicians, is it true overall? Is it better for musicians as a group?" 
"I … can say the same thing about lottery winners. I can find three or four jackpot winners and say, 'things have never been better for lottery players.' And this would not be true because we are not accounting for all the losers. The house or the lottery always wins, but there are just enough winners so that people keep playing the game.  
"This is exactly how the new digital paradigm works. It's a lottery. A few musicians win every year. But overall money steadily flows to file-sharing companies, YouTube, AdSense, Google, Apple, Amazon, Spotify, and the record labels. 
"Artists haven't been liberated." 
Department or Program featured:
Music Business Certificate Program