Before she started booking acts there, Jordan Anderson (AB '13) had never stepped inside the Troubadour in West Hollywood. But like every music industry professional—and millions of music fans around the world—she knew its reputation.
For 65 years, the legendary club has hosted rock history on multiple levels. Not only is the Troubadour one of music's most coveted stages, but the venue is also a rendezvous for generations of the music-minded.
Don Henley and Glenn Frey first met at the front bar. Carly Simon and James Taylor did too. Guns N' Roses earned their first record contract after a Troubadour show. Artists ranging from Elton John to Fiona Apple to the Fleet Foxes made their LA debuts on the Troubadour stage.
"You know, when I told my grandparents I took this job, they were, like, 'Oh my God, you're going to book the room that Elton John started in?' They knew," says Anderson, referencing John's first U.S. concerts at the Troubadour in 1970—a moment memorably recreated in the Academy Award-winning 2019 film Rocketman.
Opening Act
Anderson was born in another legendary rock destination: Tupelo, Mississippi. She came to UGA after falling in love with Athens while visiting a childhood friend. While a student, she quickly got a taste of the music industry, interning with Widespread Panic's management team.
After graduating with a communications degree and music business certificate, Anderson moved to Nashville and landed a marketing gig at the popular clubs Marathon Music Works and Exit/In.
In Nashville, marketing and booking go hand in hand, and as Anderson gained experience, her reputation grew. But in 2020, the pandemic shut the industry down. And while Anderson experienced the career uncertainty most everyone in the entertainment industry had to navigate, a cold call from the West Coast in the summer of 2021 changed everything.
"Would you ever consider moving out to LA to book the Troubadour?" asked Evan Bright, a California-based music manager who Anderson had known for years.
Hesitant to upend her life, Anderson turned down the offer. But when the club came back to her, she said yes and took the job just before it reopened. Her first show was Twenty-One Pilots.
"I remember walking in and they turned on the Troubadour sign and just got chills," Anderson recalls upon entering the room for the first time. "This is where so many artists started in the United States but in LA in particular. And it's pretty much exactly the same as it was. The crowd's always stoked to be here; you can feel it in the room. There is a lot of history in these walls."
And history continues to be written most every night.
The Headliner
Grammy Award-winning singer-songwriter-violinist Amanda Shires is Americana royalty and right in the wheelhouse of artists tailor-made for the Troubadour stage.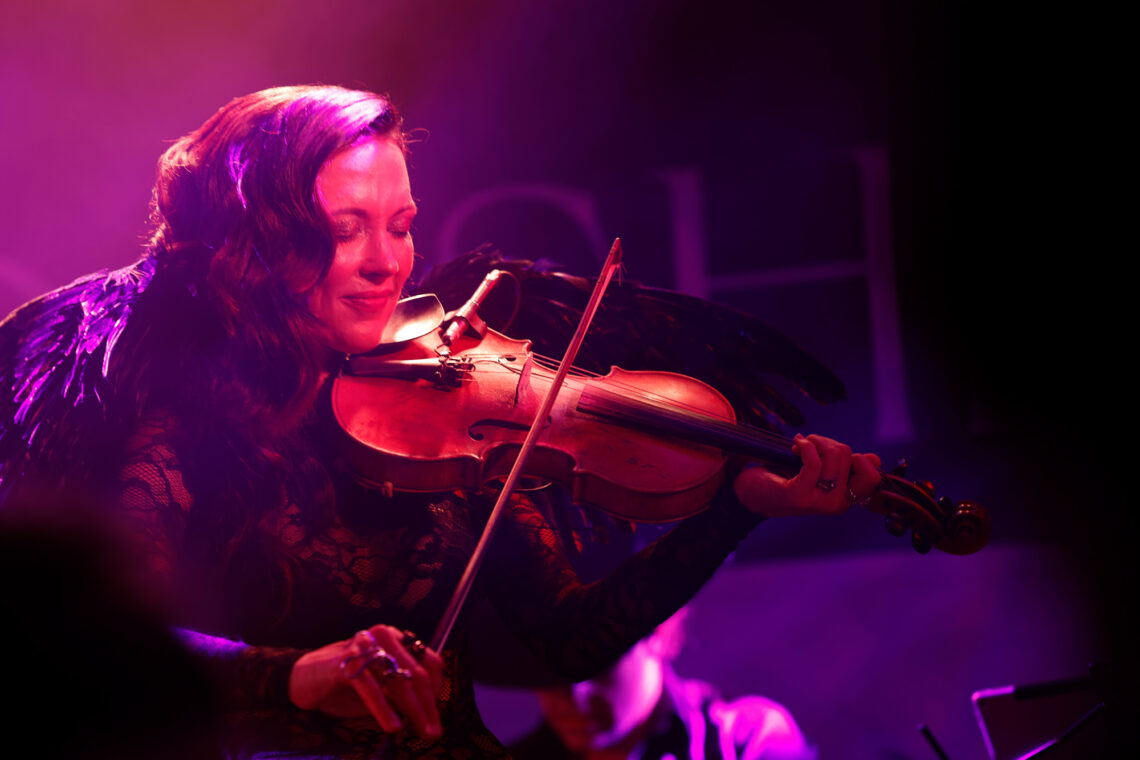 Shires is a little bit rock, a lot country, and all attitude. She also has multiple Athens connections. Shires met her husband, fellow Grammy-winner Jason Isbell, following a concert in the Classic City. Her Nashville-based booking agent Jonathan Insogna AB '04 is also a UGA grad. Insogna was acquainted with Anderson before she moved to California, and that rapport made booking his client's first solo headlining show at the venue that much simpler.
"Jordan's a great communicator," Insogna says. "She's easy to talk to, she's fun, and she's enjoyable to work with, which is, honestly, 90% of it."
The Amanda Shires show falls in the middle of a run of more than two weeks straight of bookings. And the roster is diverse. The week ends with two sold-out nights headlined by Laufey, an LA-based singer-songwriter-instrumentalist who bills her style as "Icelandic jazz."
Not quite Guns N' Roses territory, but the artistic shape-shifting is by design.
"We are a room that helps launch artists," Anderson says. "Through the years, you had the hair metal of the '80s, and you had the alternative rock of the '90s, and then the 2000s have just been a cluster of absolutely everything. It's cool to be a part of an artist's story."
Encore
Shires had initially been booked to headline the Troubadour in March 2020—before Anderson had even been hired. More than two years later, she and her seven-member backup band made the most of their new opportunity. They played for two hours, rocking the whole time. Variety named the show one of the 50 Best Concerts of 2022.
Coming at the end of her workday, Anderson staffs most of the shows—mainly as a helping hand. Frequently she'll haunt the bar just inside the front door. But she always makes her way toward the stage eventually.
"I find it in those moments when I'm sitting out there watching a show," she says. "The crowd's focused on that artist, and I'm like, 'This is how it's supposed to be.' And it feels awesome."
This story will appear in the Winter 2022 issue of Georgia Magazine.