A three-person team of University of Georgia undergraduates from both the Terry College of Business and the College of Agricultural and Environmental Sciences claimed the top prize in an annual competition that challenged students to design the ideal campus workspace.
The Summer Design Sprint was sponsored by the College of Family and Consumer Sciences, Terry College of Business and the UGA Entrepreneurship Program in partnership with Cox Enterprises.
A design sprint encourages students to practice human-centered design methods to create an innovative solution to a complex problem with the help of industry partners, said Dee Warmath, a faculty member in FACS.
"It was wonderful to see these students engage with the human-centered design process to produce very thoughtful solutions to improving the workspace and classroom experiences," Warmath said. "Every time we give our students the opportunity, they exceed our expectations.
Following a six-week program in which the teams worked closely with industry partners on designing the project, the students presented their ideas to a panel of judges on Aug. 15 at UGA's Delta Innovation Hub.
Four teams of three students competed in the final event.
The team of Sejal Khanna and Shourya Seth from the Terry College of Business and Conner Dunahoo from CAES took first place and a $1,500 prize for their project, MINT (mutualism, integration, nonlinearity and thoughtfulness).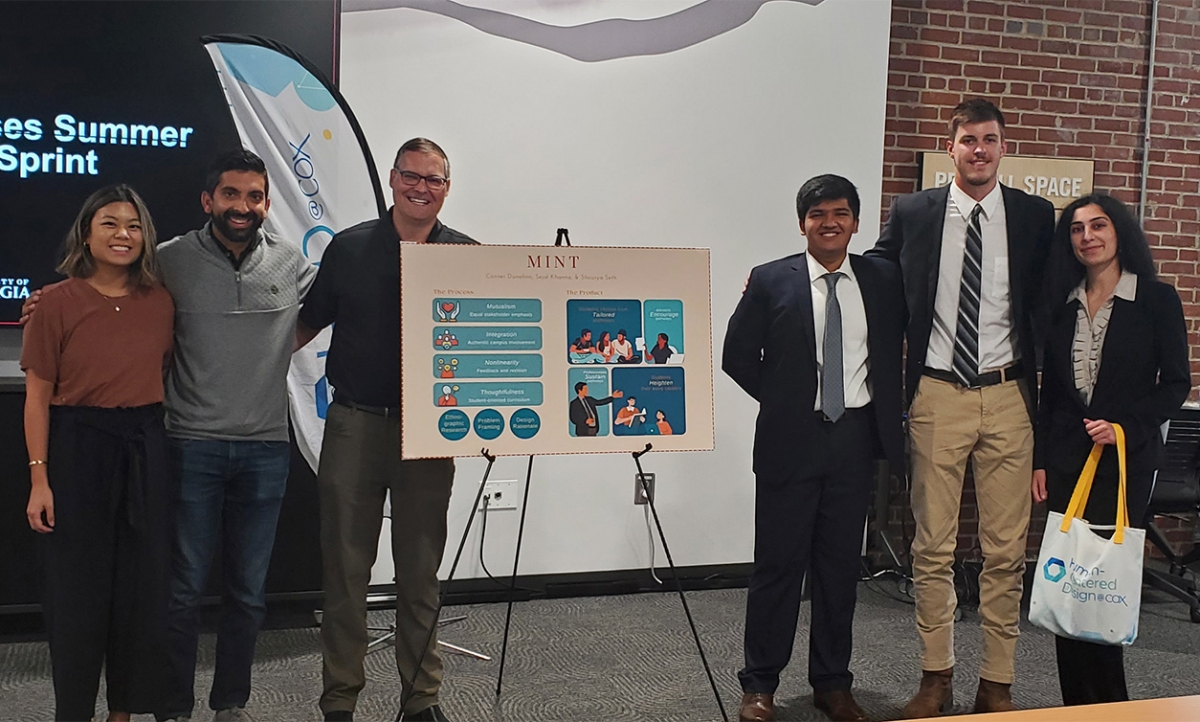 MINT would be a university program that would partner with outside companies to create new courses, organize interactions with company representatives and internships to create a real-world experience for students and lead to possible job offers after graduation.
The judges were impressed by the potential impact of the idea and how it would address the needs of students, the university and industry partners.
"While we were all from different majors, different backgrounds and did not have too much in common at first, we realized we were all passionate about heightening university-student-corporation relationships," said Khanna, a management information systems major in the Terry College of Business. "Together, we believed that students would greatly benefit from a program that was based on catering to different learning styles, providing work experience and focusing on relevant, up-to-date techniques and technologies."
Cox Enterprise representatives who also served as judges were Brian Anderson, senior director of enterprise, human-centered design; Amy Lin, senior manager, human-centered design and user experience; and Amit Vyas, vice president, team member experience.
Andrew Potter, director of experiential learning at UGA, and Don Chambers, associate director of UGA Entrepreneurship, also served as judges.
The second-place team of Milan Richard (School of Social Work), Catalina Giang (Franklin College of Arts and Sciences) and Maggie Wang (Terry College of Business) took home a $750 prize for their Study Space Hub app idea that would allow students to quickly find their own personalized study space.
The team of Joyce Anne Shepherd and Shweta Sainathan from the Terry College of Business and Shanne Low from the University of Wisconsin placed third and claimed a $250 prize for their project, LiveLearning, a platform for students to connect with professionals via a university-sponsored entity.
"I was impressed with the level of rigor of the research conducted considering the short timeline for the project," Anderson said. "The teams didn't propose just one solution, and I liked the flexibility of options presented, ranging from a low-tech approach that could be implemented almost right away to more sophisticated options that you can plan budget and resources to make happen."
The design sprint was funded by a generous gift from Cox Enterprises and facilitated by Camryn Cobb, a doctoral student in FACS.
"It was wonderful partnering with Cox and giving the students an opportunity to share their ideas in a professional setting," Cobb said. "This design sprint allowed us all to share ideas and make new connections, which is crucial to the college experience."